Interview
Inside Brit Drozda's Creative Process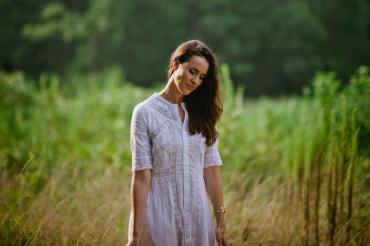 Folk-Rock singer-songwriter Brit Drozda is fresh off the release of her new EP "You Can't Take It With You When You Go", which contains a plethora of fun rock tracks paired with enchanting melodies. This EP tells the story of Drozda finding her voice and strength as a woman. She has shared her journey through her music, and we had the chance to ask her a couple of questions that music alone may not be able to answer.
What is the inspiration behind your new single "You Can't Take It With You When You Go" and where does the title come from?
Oftentimes, I write songs with a message in mind that I could benefit from hearing day in and day out. This song is all about reminding myself to live life to the fullest. By performing and recording it, I wanted to be able to pass on this mantra to anyone else who might find truth and a positive impact on their daily life from listening to it too. How often do we find ourselves comparing our lives to one another and measuring self-worth by accomplishments, our bodies, material items? The things that truly matter in life, are not things at all, but the day to day human experiences. I want to always cherish and treasure the people around me. I also wanted to motivate myself to live each day as if it were my last, to throw myself into my music, into my family and into the actions I want to be remembered for.
When writing songs what comes first; music or lyrics?
Music and chord changes greatly influence my songwriting. I like to start by sitting down at the piano or with my guitar and playing until I feel inspired or can envision a song idea.​
Do you enjoy recording or performing more? Why?
​I truly enjoy them equally. There is something so empowering about bringing a song to life in the studio. Having a song idea in your mind and then building it with each track and each instrument layer to create what was trapped in your head is incredible. I love collaborating with a producer who can translate my idea and initial two track recording to what I'm imagining. Performing though, is like having the best secret and being able to shout it to the world. I love to entertain people and to sing. It's like having a gallery opening for a painter. Being able to put your artwork on display, in person, is an incredible part of being a recording and performing artist.
What are your favorite venues to perform at? ​
I love the Evening Muse and The Visulite in Charlotte, NC. ​
Where do you draw the most inspiration from for your lyrics?
I draw from personal experience and inspiration that comes from daily encounters and the situations or relationships that draw out the most intense forms of emotion. As a listener, relate to songs that elicit an emotional response, and I hope to in turn create songs that do the same for my audience. Some of the best songs I've written were inspired by a specific emotion that I was feeling and wanting to share that state of mind. I also like to think of the messages I'd like to pass on through my lyrics. I'd love to inspire people to connect to one another, relate more often, be thankful for the relationships and feelings we get to experience in our lifetimes.
Who are the top three musicians that have had a profound influence on your sound?
Brandi Carlile, Norah Jones, Sheryl Crow
This year has already been a huge year for you. What do you hope to accomplish in the remainder of 2018?
I'd love to gain a larger following of listeners and audience members through performance opportunities and via playlists and sharing forums on the internet. I'm also hoping to land a licensing deal over the next year. Being able to perform and create new music is a huge priority for me, and I hope through hard work and time that I'll be able to sustain a career as a recognized singer-songwriter and performing artist.
Find Brit Drozda via: Website . Instagram . Facebook . Twitter