Interview
Inside the Music of "Nashville": An Interview with Laura Benanti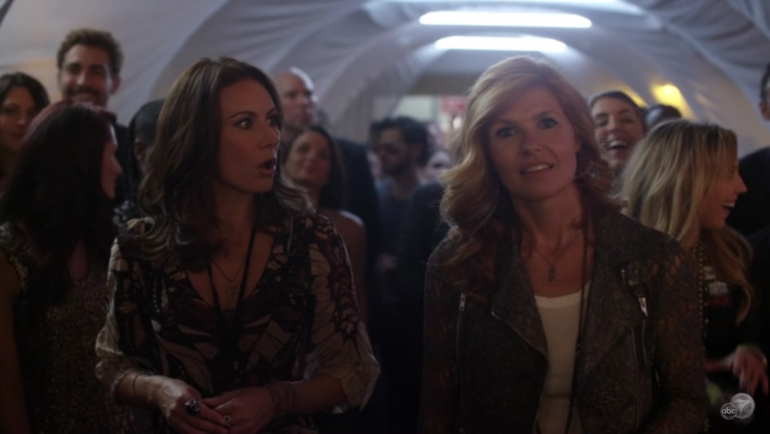 By now, it's fairly well-documented that I'm a fan of the TV show Nashville. I don't actually own a television, mind you, so my TV selections (via Hulu) are few and far between. But, Nashville's themes and storyline are pretty much squarely within my realm of interest: unknown songwriters strive toward their dreams; complex divas duke it out on the charts; the closeted guy is on the verge of coming out; Nashville hipsters are all new to town; Buddy Miller mans the music supervision. Just when I started to think maybe Nashville couldn't fit any more of my favorite things into one place, they went and hired a Tony-winning Broadway star to play a Brandy Clark-type character, who had a decade-long songwriting career before bursting onto the performer circuit with considerable success.
Before joining the cast of Nashville, Laura Benanti (Sadie Stone) scored a Paper Mill Playhouse award at the age of 16 for playing the lead in her high school's production of Hello Dolly!She eventually landed on Broadway, where she had the storybook Broadway experience -- she was an understudy for Maria in Sound of Music, and garnered considerable critical praise during the week when she actually got to fill the role. From there, it was one Broadway hit after another, until she fractured her neck during a rehearsal for Into the Woods and her career flashed before her eyes. She clawed her way out of that, though, and back to the stage, eventually winning a Tony for her performance in the 2007 revival of Gypsy.
Plenty of Broadway stars have tried transitioning to the small screen before: Kristen Chenoweth briefly starred in Pushing Daisies, Sutton Foster in the ABC Family show Bunheads -- both disappointing wastes of some extraordinary talent, to say the least, unforuntaely. Of course, on a larger scale, there's also been Glee (Lea Michele started her career in Spring Awakening; Matthew Morrison starred in South Pacific, among many others) and the Broadway-themed SMASH, whose incredibly gifted cast was treated to some horrible scriptwriting in its final season(s). But no recent TV musical has carried the kind of smart-and-digestible-if-occasionally-overly-soap-operatic storylines that have propelled Nashville.
This season, already, the show has made a joke of "bro country" -- smartly distilling all the stuff critics have drawled on and on about into a few eye-rolls and one-liners. It's emphasized alt-country and challenged its Americana songwriters to create some great songs. And now, to hear Benanti tell it, they're adding a storyline featuring an artist who's there, really, just to be an artist -- no catty girl vs. girl bs (as has occasionally existed between the Rayna and Juliette characters, although even that has been more about maturity and experience versus bitterness and juvenile behavior, than it has ever been about blind cattiness).  
Which brings me back to what we're on this site to discuss in the first place: stuff that has to do with great rootsy music. In that spirit, I give you my brief Q&A with Laura Benanti.
Kim Ruehl: How did you get involved with Nashville?
Laura Benanti: My manager is Hayden Panettiere's manager, in Los Angeles. She asked me what show I'd be most interested in doing an arc on and I told her Nashville. [laughs] So, she got me a meeting with [show creator] Callie Khouri. Callie and I chatted for about an hour and a half, and then over Fourth of July weekend, I got an email from my manager saying they had a character they thought I'd be right for. It happened as easily as that, which is pretty rare for Hollywood. But, I'm a big fan of the show -- I have been since the beginning. I tweet about it all the time, so I'm excited to be on it.
It's one of those rare TV musicals that's actually successful.
Yeah, absolutely.
How different is it for you to do a TV show than live theater?
It's just a different energy. When you're on stage performing live, you're trying to sell it to 2,000 people who are in the audience. The thing about the camera I've learned is that it's really like a lie detector. If you're false or overacting, it pickes up on it immediately. It's just a different energy. You're just trying to talk like a person, but you're acting for a camera. It's a little more elevated than [acting] for live performances.
It's interesting. In Broadway musicals, the music is part of the storyline in a very different way from how they use music in Nashville. What's the difference for you between singing in a theatrical performance versus singing a song that may be downloaded on iTunes that night.
I feel like, in a theatrical production, you're singing your character's innermost thoughts. What you're singing is moving the story forward, so it's almost a scene in its own right. On Nashville, these characters are singers and these characters are songwriters, and we're watching them perform a number in front of people. The thing I like about country music, the thing I think is very similar is that country music is storytelling, for the most part. A lot of times, you're getting a beautiful story out of it. There's a  lot of emotion that goes into country music and singing in a country style. It's all part and parcel the same thing, it's just singing in a different voice.
Can you share a little about where your character [Sadie Stone] is going to go?
I can say a little bit about her – there's some other stuff I can't tell you. But, she's a singer-songwriter. She's been writing for other people for about 10 years and then she has this breakout song and this breakout album. Her deal is up with her current label, so she has some [work] to do around that. Then she ends up on Rayna's radar and they develop an interesting, supportive friendship. What I really like about this arc I'm doing so far is that there haven't been any romantic entanglemens. It's just about this woman navigating the second phase of her career. And also the friendship between two talented, successful women that isn't catty… it's a great story to tell. 
Benanti's character Sadie Stone will make her country/Americana debut this week on Nashville.