Interview
Interview: Alisa Gurova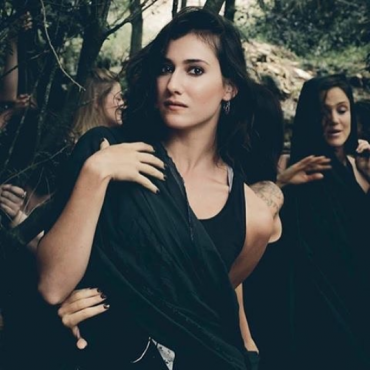 Dance is form of music as well. The body composes rhythms and melodies that evoke feelings, stirring emotions of love, joy, or sadness.
Alisa Gurova has established a global reputation as a premier tribal dance performer. Her performances combine tribal fusion, belly dance, and contemporary dance with ballet. This has led her to winning "The Challenge" in the Ukrainian International Competition for Contemporary Jazz in 2015 and 2016, and winning Miss Belly Dance Ukraine in 2010. Her expertise is well known as she has been asked to judge the Let's Dance Festival in Prague 2016, the Bellydance Festival in Dnepropetrovsk, Ukraine in 2016, and the Bellydance Festival in Kiev in 2015.
Q: How long have you been dancing?
A: I've been dancing since I was 13-years-old in a professional capacity. Before that I was still attending rigorous dance lessons but 13 is when I saw myself pursuing this professionally rather than just as a hobby. Unlike some of the other dancers who start off very very young, I knew I had some work cut out for me, so I guess I overcompensated by working really hard as I knew my competetion were dancers who probably started dancing and stretching as young as three-years-old.  
Q: How does dance inspire you?  
A: Dance gives me the possibility of telling a story, to express my feelings to challenge my body and emotions and get to the new level of myself. As human beings we experience a  diverse set of emotions;  sometimes language can rather be limiting to completely encapsulate one's emotions. I've found dance to be a form of transcendence because it sets us free from language. I feel it is transcendental because If you really think about it, dance is about expressing emotions by moving ourselves through space and time. Not a word can be said and yet the audience can understand the feelings, emotions, and intensity the dancer or rather performer is trying to convey.
Q: What styles of dance do you do?
A: I do tribal fusion belly dance, classical belly dance, contemporary, ballet, and I love to mix them altogether and merge 'acting' with it.  It's the marriage of multiple disciplines.
Q: What got you into dancing?  
A: I started to do dance as a teenager and then I realized that I can be true to myself while dancing,  I can be bigger, wider and live different lives through this art. For me it was that it freed me from the confines of language and allowed me to express in a multi-dimensional way. It was as if though I'd suddenly learned to 'talk' except talking here was dancing.
Q: How did it feel winning"The Challenge" in the Ukrainian International Competition for Contemporary Jazz in 2015 and 2016?
A: Totally unexpected. Somewhere inside my heart I  knew I was going to win but it was still one of those unreal fantasies, so it came to me as a shock. It was my the first time ever in this style on the stage! This was also one of the first times I decided to present a multi-disciplinary art form . But this experience helped me to took the best parts of tribal fusion: snake arms, soft upper body, and of course, the presentation. I walked on the stage knowing I will pour my heart out.
Q: Had you competed there before?
A: 2015 was my first time.
Q: How would you describe the dance style you did for that competition?
A: The basement was contemporary and jazz styles and it was natural for me to do tribal fusion arms and undulation because from the beginning I was trained like this and I couldn't resist incorporating them so it was soft mix of all styles of dance that I did.
Q: How do you feel when you perform? 
A: When I am performing I feel lost in time I have no thoughts in my head, just pure bliss. For me, dancing is the most still I ever feel. It is truly that moment where I achieve my zen-like headspace or what i call the void.
Q: What inspires you to keep on dancing?  
A: Different dancers with different styles. I love watching different videos and then I feel full of ideas. And, of course, my friends and my family.
Q:  What is your favorite part about dancing?  
A: That you can be whoever you want while dancing and training your body; you can lose your identity and simply embody feelings. Dance brings about an awareness that I can only best describe as 'mystical' in nature.
Q: What has dance taught you?  
A: To be organized, never give up and achieve your dreams and that at our core all humanity is connected through a deep emotional experience of life.  When I perform and I see people of all colors, races in the crowd, with very much the same reaction after my performance, I know I'm connecting with them on a human level, something that goes far deeper than the physical or socio-economic difference. It's taught me concepts such as unity. Things that were theoretical abstract concepts like persistence, love, respect, appreciation, unity - dance has allowed me to experience these concepts on a daily basis and truly understand them beyond just a dictionary definition.
Q: Do you have a favorite dancer? Who?
A: I really love Sylvie Guillem and from the tribal fusion world, Rachel Brice. She actually inspired me when I was a teenager to keep dancing and grow.
Website:
https://www.instagram.com/gurovaalisa/