Interview
Interview: Americana artist Chuck McDermott talks about his life in music and politics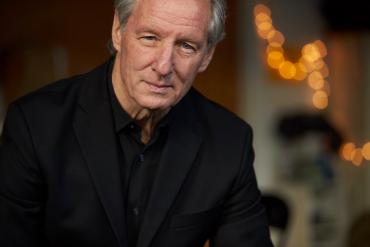 Few artists have the fortune of enjoying a music career that lasts a few years, let alone a few decades. Chuck McDermott not only has managed to maintain a successful career as a professional musician over the past four decades but also forged a fruitful career in politics for three of those decades. I'm happy to have had the pleasure of talking with Mr. McDermott about his 30+ years working to save our environment as well as touring with the illustrious John Stewart Band and his own band. McDermott gives us a glimpse into his own evolution as a songwriter over the years leading up to his new album, Gin & Rosewater, which he plans to release on May 22nd of this year. This new album has something for everyone -- from songs about (as he puts it) "finding light inside the dark" to his unique, tango-like take on "I Walk the Line" by Johnny Cash to an ode to the slain correspondent, James Foley. One of the standouts is the song "Hold Back the Water," which is McDermott's musical rant about how climate change is effecting rivers rising. His new album is definitely a good listen not only for the music but also for the life stories from a man who has lived a full life. Read more below for a deeper look inside the mind of Chuck McDermott...
AMERICANA LADY: Having had full-blown careers in both music and politics, did you find one more gratifying than the other? Were you able to join the two in some way?
CHUCK MCDERMOTT: I consider myself lucky to have been able to do both. I'm proud of the work my colleagues and I did in Washington. I've worked on climate change-related issues for over 30 years. I worked hard on the passage of a law that addressed environmental justice concerns in communities of color. I helped build a coalition to modernize the electric power grid. For the last 18 years, I've been a partner in a fund that helps launch start-up companies in sustainable industries. And yes, all that work has been very gratifying and I'm proud of it.
But nothing I've ever done touches me in the place that my music does. Nothing matches the satisfaction of finishing a song and sensing that you nailed the feeling you were hoping to capture. Nothing beats the sense of community I feel when I play music live, with great players who are great friends, to an audience that has come to hear your stuff. For me on both the personal and communal level, music rings the louder bell.
And as life would have it, I've been able to mix the two quite a bit over the years. I've played at nearly every Democratic Convention since the mid '90's, often joined by proud liberals like Stephen Stills and others. On those occasions, the people I worked with every day on environmental policy certainly saw a different side of me. And on an internal level, those issues that I've worked on over the past few decades have become part of my fiber. They are a lens through which I now see the world. And I believe that finds it's way into the music I'm making today.
AL: Having returned to music from a career in politics, how was the transition back to music, especially after a 30 year break?
CM: I stopped playing music for a living but I never stopped playing music! I make several pilgrimages a year back to California to play with the seasoned players who for the last 37 years make up the Chuck McDermott Band. I continued to perform a few times a year with John Stewart when he would tour in my neck of the woods. A core group of us who were his sidemen tour and record as the John Stewart Band, our way of helping to keep his music alive. So there has been a fair amount of continuity for me in the making of music over the years.
The transition back into the business of music has been an eye-opening one. I came of age in the era of the record label, where the label handled promotion, media and touring. I am humbled by the  "Do-It-Yourself" aspects of getting your music out there today. I am learning the crucial role of social media and its voracious appetite for content. There are fewer great music venues than before so the dynamics around touring have changed.
On the positive side, the technology of music making and recording has vastly improved. We musicians have access to incredibly powerful, affordable, creative tools. And most importantly, there are a wealth of great players - in every city, in every state, in every part of the world. I play both with musicians my age, who bring the distilled wisdom of decades of performing, and with players in their late 20's and early 30's who have the fire of youth and chops that few of us had when I was that age. Mixing both age groups makes for some great gumbo.
If one of the goals in life is to learn continuously, then this transition back into my music has fulfilled that goal. It's made me a better musician.
AL: Tell us about your new album, Gin & Rosewater. How is this album different from your previous ones?
CM: My first two albums, with my band Chuck McDermott and Wheatstraw, were flat-out alt-country, or as I used to describe it "Jazz influenced progressive underground outlaw country ROCK"! In 1984 I released "The Turning of the Wheel", an album which contained the origins of what has more fully matured on "Gin & Rosewater". Threads of country music still weave through my music today, but I've given myself permission to open the aperture on groove and melody more than I did in the past. And the subject matter that I'm interested to explore has evolved. I have songs on this album that are just plain fun; that is an irrevocable part of who I am. But my recent songwriting pokes around in some contradictory places: human frailty, deception, faith. It's an exploration of what I call "finding light inside the dark". It's my way of reminding myself that inside the tumult there can be wonder, gratitude, even serenity. I still write songs about love lost or found but they are seen from a more battered eye. I have songs on the record about the world getting washed away, a song about the martyred journalist James Foley. I just have a lot more living under my belt at this point, and that naturally finds voice in my music. I wasn't ready to write these songs until now.
The other thing about this record is the quality of the production and musicianship. This is the best sounding work I've ever done. Producer Lorne Entress did a masterful job from start to finish and he gathered a world-class group of musicians to add life to the songs. Marco Giovino, Kevin Barry, Richard Gates, Duke Levine, Mark Erelli, Lyle Brewer – they're all world class musicians. My old friend Stephen Stills was kind enough to join us on a tune also, which added his special mojo to the mix.
AL: With your experiences performing with John Stewart for many years as well as the likes of Linda Ronstadt, Lindsay Buckingham and Roger McGuinn, how did that shape your songwriting and/or live performance?
CM: John Stewart became one of the best friends I will ever have in this lifetime. Musically, working with John was to experience a master class in songwriting, production and performance. John was hands down one of the greatest songwriters of his generation and his recordings going back to the late 60's, through the 70's and beyond are really cornerstones of what we call Americana today. I met John shortly after his big hit "Gold" in 1980 that was produced by Lindsay Buckingham and featured Stevie Nicks on vocals. And that's one of the unique things about John. Artists like Lindsay and Stevie – and Rosanne Cash, Steve Earle, Lucinda Williams, the list goes on - revere John, yet there are a lot of people who aren't that aware of his work. But John's sense of poetry in service of songs that chronicled the world around us was best in class. He was very facile in the studio and a gifted performer. He could silence a room with power of a song then raise it to hilarity with his razor sharp wit. Being John's friend and partner was one of my life's great blessings.
Linda Ronstadt was a study in being "comfortable in your own skin". She could not have been a more approachable, affable person. She was also on another dimension when she opened her mouth to sing.
Lindsay Buckingham, the self-taught guitar virtuoso and master all-around musician, is passion in a bottle. Passion does not just pour out of him when he plays, it explodes. From the first note, Lindsay is totally committed.
To me, Roger McGuinn embodied "integrity". When John and I shared bills with him, he was performing solo. He'd get out there with his 12-string Rickenbacker and play "Eight Miles High" – by himself, and PULL IT OFF!
If there's a common thread for me among all these artists, it is to totally commit. Making music is not just an opportunity to lose yourself in the song, it's your duty, your mission. I try to honor that whenever I have a guitar in my hands.
AL: As a staunch environmental activist, how do you feel your music can help make a difference for saving the environment?
CM: In all honesty, I think that my music can play only the most limited role in "saving the environment". But I strongly believe that art shapes culture, and that those changes in culture do – over time – impact policy and politicians. I think the best message songs do their preaching subtly. One of my favorite "environmental" songs is Van Morrison's "And It Stoned Me". He doesn't preach about protecting our precious water supplies, he celebrates the beauty of water in every verse. He and his buddy head out fishing and get soaked in a rainstorm. They swim in the fishing hole. They savor a thirst-quenching swig from a farmer's jug. Each one of those events "stones him down to his soul". That's killer! I have a song on the record called "Hold Back the Water" that is my private climate change rant. But I never mention climate change. I tell a story, and hope that in the telling there is a message.
So I say you just keep putting the message out there. Have it be part of the air we breathe.
AL: What are your music plans for the rest of 2017?
CM: I look forward to performing the songs from this record. We're working on lining up dates on both coasts for this summer and fall, and I'd like to get back to my home state of Iowa given that several of the songs on the record refer to that spot on the globe.
And since we finished up "Gin & Rosewater", I've been writing a lot. So I look forward to working on those tunes in the studio and on the road.
Having been away from the fulltime pursuit of music for so long, I don't take any aspect of this for granted. I savor every time I get to make this joyful noise. I appreciate every time that the spark jumps from a song of mine to the heart of someone who hears it. It's all upside. I'm a lucky guy.
You can learn more about this fascinating artist on his Website and Facebook page. 
Here's a track, "Belvedere," from McDermott's new album, Gin & Rosewater: