Interview
Interview: Daniel Biro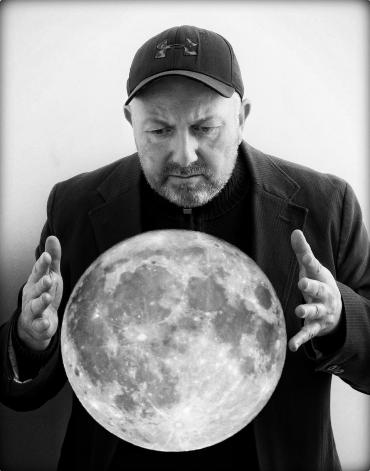 England-based Daniel Biro has just released a compelling new album, 120 Onetwenty, that delves into '70s-influenced synthesized atmospherics and progressive jazz fusion.
Q: What was your introduction to music? How old were you, and how did it affect you?
A: I was nine when I started learning the piano. I wasn't pushed into it. It was just something I wanted to do and quickly became the main thing in my life. I guess I was quite introverted as a kid so I found it easier to speak through music. Still today when I play I tend to be completely immersed in the music. It's definitely a spiritual thing.
Q: Did you grow up in a musical environment?
A: Well, my mother played the piano and the accordion. She loved jazz and was very open-minded. My father was an opera and classical nut. Both of them encouraged us kids to listen to music as art and not just entertainment. They took us to concerts and played records. The classics but also other stuff. In return, when we were teenagers, we played them the music we liked and they were really keen to discover new things. I could really share this passion with them.
Q: What styles of music had the greatest impact on you creatively?
A: Early on there were bands like Santana, James Brown, Motown artists, and especially Pink Floyd. I remember watching Live in Pompei, seeing Rick Wright making these amazing sounds with his keyboards and thinking "I really want to do THAT!" Then one day my brother brought home some jazz-rock fusion albums and that really blew my mind. Chick Corea, Mahavishnu, Herbie Hancock, Weather Report - that was just so new. The energy, the playing. I couldn't get enough of it. At the same time I also discovered more experimental electronic music. Tangerine Dream, Vangelis, Mike Oldfield. There was something very futuristic and cosmic about all that music. Epic but emotional and very exploratory.
Q: What instruments do you play, and how did you learn?
A: I play piano but my aim from the beginning was to get into keyboards and synths. When I was twelve, my mum found out about this jazz school in Monaco and, since I wasn't very happy with what I was learning at the local classical conservatory, she took me there. The director was this maverick Belgian jazz musician Roger Grosjean who took me under his wing and taught me everything. Not just about jazz but also about life as a musician. How to have the right creative attitude. I stayed there for eight years then went on to study for a music degree at Nice University. But all the while I was getting into electronic sounds with my own bands and writing lots of music.
Q: What was the first song you ever wrote?
A: The first things I wrote were lengthy instrumental piano suites. I put together these fantasy stories in my head and told them through music. My family would occasionally gather and I'd play these pieces for them. Of course they thought I was a genius. I guess I'm still doing that kind of thing today.
Q: What songs on your album are most personal to you and why?
A: Well, the whole album is very personal as it is dedicated to the memory of my brother Nico who, when we were kids, introduced me to much of the music I love. He was always bringing home these albums and was really excited that I should listen to them. He was also my best supporter and fan. Sadly, he died a few years ago. So 120 Onetwenty is my way of saying thank you. The album sort of brings together all these early influences. I miss him.
Q: What artists influenced you the most growing up?
A: As a keyboard player I obviously was very much influenced by all the bands and artists I mentioned before but after that there were still occasional epiphanies when discovering something new. Like Steve Reich and the whole minimalist thing. It really grabbed me and opened a whole new horizon. As you get older it's harder to have those moments of total surprise and awe. But it sometimes still happens.
Q: How have you evolved creatively?
A: Well, I've certainly been through a lot of phases and explored a lot of genres. But I think that the cliché of 'coming full circle' is very true. In the end you go back to your beginnings. But you've got that whole extra depth of experience which allows you to come back 'home' with a better understanding of why it's important. My early influences made me who I am musically and so today I need to keep trying to be myself as interestingly as possible.
Q: Where were you born?
A: In Johannesburg, South Africa. But I never lived there. I grew up in Italy first, then the U.K., then France. After my studies I went back to London and have been there ever since. It's a great city, if you manage to make the most of it.
Q: You just released a new album, 120 Onetwenty. How would you describe it?
A: I've always wanted to do a solo keyboards-only instrumental album, so this is it. I used all the sounds I love: Moog synths, Hammond organs, string machines and especially the Rhodes electric piano which has always been my favourite instrument. I wanted to have those thick electronic textures while at the same time fly off into more ethereal soundscapes.
Q: In terms of musical style, how would you categorize yourself?
A: I'm an eletrojazzambientgroovecosmicminimalistprogster. Will that do?
Website: