Interview
INTERVIEW: Denver Americana Artist Andy Sydow gives us Reasons for Departure - new video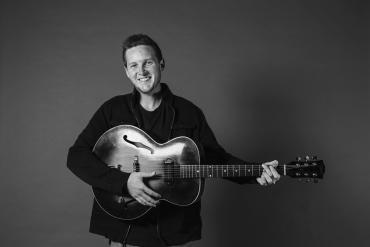 Having interviewed several singer-songwriters from around the US, it gives me pleasure to uncover a younger artist who is laser-focused on succeeding in the music industry. 26-year-old Denver Americana artist Andy Sydow has already had a decade of experience as a music professional, having toured the US and Canada and released three previous albums. He continues to build his career and plans to release his fourth album, Reasons for Departure, on May 11, 2018. He shares his journey with us in the interview below along with his amazing new animated music video for the title track on his new album, which we are proud to premiere today!  Read more on this talented young artist below...
Congratulations on your upcoming fourth album, Reasons for Departure! How would you say your music has evolved over your 10 year music career?
Thank you! It has evolved a lot and is still continuing to. I think that's necessary in any career, probably. 10 years ago I was only influenced by a small handful of things and I would try to imitate those. I'd find a new artist and want to do everything just like him/her. I've done that with enough different artists now, plus the addition of my own experiences and education that I'm starting to sound more like me.
On your new album, you share some very personal stories in your songs. Do you find it easier or more challenging to write songs when you are personally connected to the subject matter?
I think all songs are autobiographical to some extent. Even if it isn't something that specifically happened to me, it at least somewhat draws my own life experiences. I think in general, the closer I am to a song, the easier it is to get out. Even if it's just an emotion as opposed to a specific event, it's a lot harder for me to write about something that I don't relate to as well.
You started your music career at  age 16. What has been the biggest challenge and the biggest success you've had so far in the past decade?
That's a tough one, there's a laundry list of challenges. Maybe the biggest one is realizing just how much of a DIY world we live in. Trying to sustain a career as a full time musician while constantly trying new things and making mistakes. Realizing that it's not just about your instrument and voice and songwriting, but also your branding, social media skills and ability to wear all sorts of different hats and do a lot of things well. That's also
a good thing though! I wouldn't trade being in the music industry now in 2018 for any other time period. The fact that we have so much to our disposal is a huge advantage, it just makes for some big challenges as well.
The biggest success has been realizing that I can and am going to be a full time musician for the rest of my life. Also, I got to open for one of if not my biggest musical influence, Anders Osborne on New Year's Eve a few months back. That was pretty cool!
Your new video "Reasons for Departure" is a pencil drawing animation, which goes along with the beautiful simplicity of the song. How did you come up with this idea and what was the video-making process like? 
Greg Carr did the music video as well as the album art. He is an incredible talent! For the music video, he actually drew hundreds and hundreds of sketches and sequenced them all together. It blows me away every time I watch it. It took him weeks to do, but the actual filming was done in just one night. Carr along with his partner in crime, Scott McCormick filmed me performing the song about four times on an upright piano in front of a green screen. Then one of my friends (and former student) sat on the piano bench and was filmed at several different angles. She got to play the "antagonist." Greg took the images from the video and drew everything.
After your album release in May, what are your plans for the rest of 2018?
The biggest thing on my mind right now is the album release, which will be May 11. We're having a CD release show at Lost Lake in Denver on the 11th as well. After that, I'm going on tour with my full band at the end of May and in to June. We're hitting Montana, Idaho, Washington, Saskatoon and Edmonton on this upcoming run. If you're in the area, come see us!  Dates at www.andysydow.com/shows