Interview
Interview with Greg Bucking of the Vine Brothers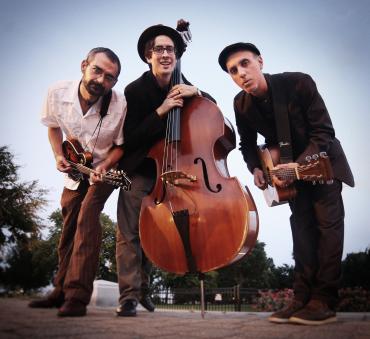 The Vine Brothers recorded their album No Candy in the Ozark Mountains of Arkansas. Their ability to balance a variety of roots styles - Gypsy jazz, folk, and blues - seems to emanate from that environment. Unlike a number of other acts jumping on the Americana bandwagon, there is a warm sincerity to the Vine Brothers that cannot be denied. Greg Bucking, guitarist/vocalist/songwriter for the band, discusses how it all came together.
Q: What was your introduction to music? How old were you, and how did it affect you?
A: My first intro to music was cartoon soundtracks, particularly Tom and Jerry and Bugs Bunny. Some of my earliest memories were the Big Band jazz tunes playing in the background and Tom singing "Is You Is Or Is You Ain't My Baby" while plucking an upright bass with his toes as he tried to impress the girl cat. I thought that was the coolest thing ever. The music seemed so unfathomably complex with so many layers and I thought if I could some day play something like that, I'd have it made. I even named one of my stuffed animals Scott Bradley after Tom and Jerry's musical director.
Q: Did you grow up in a musical environment?
A: I didn't grow up in a musical family. Maybe that's why it all seemed so alluring and mysterious to me. By the time I was 10-years-old, I started to bug my mom about getting guitar lessons and soon enough, that's what I was doing. Garrett Jones started even earlier on the upright bass. He was short so they tried to get him to do cello, but he was adamant about playing bass. Joe Credit III did grow up in a musical family. His mom was a pianist and theater director and his dad (who has performed with us on guitar and bass) is a folk singer/songwriter.
Q: What styles of music had the greatest impact on you creatively?
A: We absorb so many styles in this band that it's hard to pin any one down as having the most influence. For me personally, I started with '60s rock & roll and then just went from one genre to the next, learning all I could about the vocabulary, instrumentation, artists, and song forms of each. For the Vine Brothers, it was probably New Orleans and Gypsy jazz that initially inspired our sound and pushed us to mix it with all the blues, folk, and bluegrass background to come up with something new.
Q: When instruments do you play?
A: I play guitar and do a little harmonica. Joe Credit plays mandolin, and Garrett Jones plays the upright bass, sometimes with a bow. We all sing, though Joe and I do the lead vocals. And we all do a little percussion, usually just in the studio, though Joe is very good on some hand drums.
Q: How did the Vine Brothers form?
A: The Vine Brothers have a unique and convoluted origin story. In 2007, I was living in New York and I got a call from an ex-girlfriend's ex-boyfriend, who told me about a singer/saxophonist named Opal Fly he was traveling with. They had a couple of shows in Brooklyn and needed a guitarist. The music was some blues, some Gypsy jazz, and some tribal improvisational stuff. I loved it. Joe was playing mandolin with the band and the two of us just hit it off, personally and musically. Over the next couple of years, I'd head to Arkansas when I could do short tours. That's how we met Garrett, who would sometimes play bass in the band. Around 2010, that band dissolved and Joe and I started writing songs for what would become the Vine Brothers. We eventually got Garrett full time and really started to tour in 2012 when we released our first album Low Rent.
Q: Where did the name come from?
A: Joe came up with the name. When we first started writing songs for the group, we drank our fair share of beer and wine, and thought we'd do great as an acoustic trio traveling the country performing at wineries. At least that's how it started.
Q: What artists influenced you the most growing up?
A: So many artists have influenced me. Duane Allman, Sonny Boy Williamson, The Band, Dr. John, Gram Parsons, Django Reinhardt, and on and on. A better question would be who hasn't influenced me!
Q: What is the indie music scene in Arkansas like?
A: There is a great underground scene in Northwest Arkansas, from artists to venues to local media. Kyle Kellams at KUAF does so much to promote local and regional talent on his radio show, and the Fayetteville Public Library is just fantastic at providing a good comfortable space for intimate, listener-based performances. There's a ton of places for musicians to play and a supportive base of fans who come out time and again. And there is so much talent, especially in the folk/roots scene.  We've been lucky to have some of our favorites perform with us in the studio. Adams Collins is a wonder on vibraphone and banjo, and Candy Lee from the duo Melody Pond graced our latest album with her sweet and lovely voice.
Website: