Interview
Interview: Hanna Kim of H&J Quintet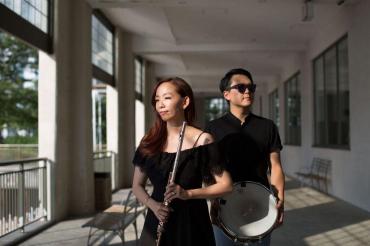 Q: Where were you born?
A: I was born in Seoul, South Korea.
Q: How did H & J Quintet form?
A: My band's name "H&J Quintet" comes from my husband and my first initials, H for Hanna and J for Joseph. Even back when we were dating, we used to say that our first band name would be "H&J" in the future. It wasn't until many years later, when we came to Berklee College of Music in Boston, that the rest of the band came together: Marcelo Maccagnan, Tristan Garrity, and Seyun Park. When I started working as a core music tutor at Berklee, Marcelo (bassist) was my co-worker, and I knew that he is a really good musician but never had a chance to talk. One day, I sat in his music theory lesson, and I was deeply inspired by his teaching. Since he has joined our band, we have played some great concerts together. Tristan, our guitarist, was Joseph's classmate when he took the John Scofield Ensemble at Berklee. I knew he was a talented musician from the first time we played together. Seyun, our pianist, had always been a good friend but we never played together until Joseph's senior recital. She brings a creativity that just catches my ear.
After I graduated from Berklee in 2016, I started working on my first jazz album. After many rehearsals, we finally recorded our debut album Reminisce in the spring of 2017, and released it in December 2017. After Seyun moved back to her country, another pianist, Anna Unchu, joined our quintet's rehearsals and recitals. She has played at several recitals with us, including Spring ArtWeek in Massachusetts this year.
I am so thankful that each gifted musician in our quintet is musically expressive and has a great awareness of music in the moment. Each of them is extremely talented, and they listen carefully and respect the playing of their fellow musicians. I'm at my best as a creative artist whenever I play with them.
Q: What was your introduction to music? How old were you, and how did it affect you?
A: My musical journey started around age 3 or 4, listening to my grandmother singing Korean hymns. In my earliest memories, I can hear her favorite hymns and how they comforted and soothed me. Christian hymns were my lullaby and my first memory of music, and I still play them to this day. I started learning the violin and piano when I was 7, but after attending a flute concert, everything changed. I had never seen such a beautiful instrument before. The flute was shiny on stage, and it sounded gorgeous and silky. After the concert, I asked my mother if I could play the flute. As I grew up, I met great flutists and music teachers during my high school years. I think each music lesson led me to become a better musician and a flutist. When I think of my childhood, I realize that I had no idea it would lead me to where I am today. I am really thankful that my parents invested in me learning music from a young age, and for the great teachers I had along the way.
Q: Did you grow up in a musical environment?
A: My parents loved listening to music ever since I was very young. They played all kinds of music at home. My dad was a big fan of old Korean pop music and my mom loved listening to all kinds of music such as jazz, classical and folk music. One of my earliest jazz listening was "What a Wonderful World" by Louis Armstrong. I remember hearing it our house on our LP/CD player. I have fond memories of the huge LP/CD player in our home, and I loved the moments when we all listened to music together.
As I grew up, my younger brother John started learning the guitar. When he was finally able to accompany, he played during our family worship in our home. Our family enjoyed my brother's guitar playing together alongside my flute playing and my mom's singing.
Q: What styles of music had the greatest impact on you creatively?
A: In my early high school years, playing and listening to CCM (Christian Contemporary Music) really helped me to become a more creative musician. When I started playing with my church, I started creating improvisations with different instruments over the chords. That's how I got started thinking about improvisation and creating musical lines of composition. I would say CCM/gospel music and listening to well-known CCM artists like Hosanna Integrity, Don Moen, Michael W. Smith, Hillsong Worship, and Israel Houghton really influenced my creativity in my high school years and early 20s.
Since I got into Berklee College of Music in 2012, jazz has had the biggest impact on me creatively. Each kind of jazz has different elements and style, but the most important element of jazz is improvisation, which gives room for musicians to create their own music spontaneously. During my Berklee years, I played in many jazz ensembles, as well as Afro-Cuban and Brazilian ensembles. I especially enjoyed the Brazilian ensembles because the style is really suited for the flute. It was those unique ensembles that inspired me to write my jazz arrangements and compositions. This is what helped me to embrace the creative process of making music.
Q: In terms of musical style, how would you categorize yourself?
A: I am a flutist, composer, arranger, bandleader and improviser excited about creating new style of jazz hymns and Brazilian jazz. My recent compositions are inspired by elements of contemporary jazz, Brazilian jazz, choro (Brazilian popular instrumental music), and traditional hymns. As an improviser and arranger/composer, I do not want to limit myself to only one genre or style but want to try to expand my style to be a creative musician. My new album Reminisce is a good example of how I draw from different styles of music. Bringing together my Christian background and the rich tradition of hymnals with the influences of Brazilian music led to my band H&J Quintet's debut album, Reminisce. It is a collection of old hymns alongside an original composition ("Prayer for Boston"). Combining elements of Brazilian music and rhythms with old school traditional jazz (baiao, samba, bossa nova, odd meter, swing, and ballad), I wanted to bring long-standing hymns to life in an original way.
My arrangements bring both styles together so that the harmonies are relatable and understandable to the general public, yet are challenging to the jazz musicians and true to genre. My co-bandleader and husband Joseph Seo is an exceptionally gifted drummer and artist who always challenge me to perform and practice with different style of music. As a composer, arranger and flutist, I want to keep pursuing this inspiration and continue to communicate with my audiences.
Q: What was the first composition you ever wrote?
A: My first complete composition that I was satisfied with was "Prayer for Boston," included on the Reminisce album. I composed it right after the Boston Marathon bombing. During this tragic event, Berklee was closed for almost a week, and it was really difficult for me to adjust to the fact that we were living in this world where no place will ever be safe. However, that experience also showed me how people come together during hard times. During those times I prayed to God about our neighbors who were affected by the tragedy, and I was inspired to write this tune and complete it that week.
Q: What songs on your album are most personal to you and why?
A: "My Father's World" is very special to me, because when I arranged the tune, I deeply thought about my dad's life and tried to put some of my personal story into my arranging. My father passed away when I was in a senior year of my first college. He supported and took care of our family until he died. The lyrics "This is My Father's World" refer to God as the heavenly father of mankind, and I wanted to make a connection to my dad and my memories about him as well. In my instrumental arranging, I used many different musical meters such as 5/8, 6/8, 9/8 to represent different elements of the lyrics in the original tune. When the song goes from 5/8 to 6/8 or 9/8, I wanted to create a feeling about the incompleteness of life until the perfect moment when we face our heavenly father, which refers to God. Compared to the original hymn, my arrangement evolved into a contemporary jazz style with sophisticated harmony and rhythms as it includes each of my band members' artistic solos as well as our drummer Joseph's exciting and energetic grooves. When I listen to my arrangement, it brings me good memories of my dad. Meditating about the original lyrics of the hymn "This is My Father's World" also tells a personal story of mine that relates to my strong faith in God.
Q: What artists influenced you the most growing up?
A: During my high school years, I used to visit the community library often. They had a great collection of CDs and LPs in their music room. I would spend many weekend afternoons there. One day, I found an album by Laura Fygi, and I fell in love right away. Her album Bewitched always gave me the "butterflies in my stomach" kind of feeling. I really liked listening to her version of "Let There Be Love," which made me dream about finding my own true love one day. Laura Fygi's music always brought me to a special place, somewhere I could travel to someday.
In my early 20s, I used to like listening to Lisa Ono. Her voice and music really made me fall in love with bossa nova and Brazilian jazz. During my free time, I always listened to her and I used to play improvisations over her tracks. I really love her bright and smooth voice, sung over rich chord progressions on the guitar. In my heart, her music is like a watercolor painting. Lisa Ono's music also led me to the legendary Antonio Carlos Jobim, who also inspired me to listen to more Brazilian music. As I started getting into Brazilian music more, I started listening to various famous Brazilian artists such as Djavan, Gilberto Gil, Elis Regina, Eliane Elias, Cesar Camargo Mariano, and others.
These days I am also listening to different style of Brazilian popular music, choro and modern choro artists, who inspire me to write and play music. I love listening to choro of Jacob do Bandolim, as well as Hamilton de Holanda and Anat Cohen. Besides Brazilian music, I listen to influential jazz artists like Chick Corea, Fred Hersch, Stefano Bollani, Avishai Cohen, Hiromi, Hubert Laws, and others. These great musicians' recordings always push me to grow more and more as I pursue jazz music.
Q: How have you evolved creatively?
A: Every musical moment is very precious and leads me to be more creative: writing lyrics, composing, arranging, practicing, rehearsing, or even just jamming. In particular, performing on the stage leads me to create various musical improvisations. I really enjoy that musical moment when I play music, and my sound is present with other sound. It is a great musical moment when I also discover my band member's beautiful improvisation lines while I am playing together. Listening to my band member's musical line also leads me to create different musical improvisation.
Outside of music, my inspiration comes when I am deeply thankful for the beauty of nature, which is uniquely designed by the creator. For example, listening to the sounds of birds, the breeze, the sea also brings me a great inspiration to be more creative. Ordinary moments sometimes bring inspiration as well. In my home, my husband paints in his free time. His presence at the canvas is a regular fixture in our home. One day, he was painting a beautiful cherry blossom with many bright colors. That colorful painting made me to finish my new tune "Primavera de Boston." Without that inspiration, I wouldn't have been able to finish my new composition. Being content with life's ordinary moments leads me to be more creative. I am writing more music these days, which I hope to include in my next album.
Website:
https://www.hannakimflutist.com
Album: