Interview
Interview: Keyboardist/composer Samuel OBie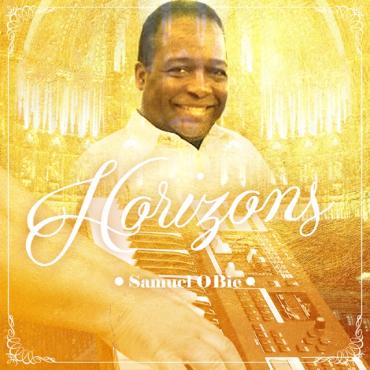 Q: What was your introduction to music? How old were you, and how did it affect you?
A: My late mom, Joyce Long OBie, taught pulled together all the knowledge I'd acquired at the age of 14. I started asking her at age 10. She didn't respond. So I started asking others for chords and was working on it seriously. She rented a Wurlitzer Spinet organ for 90 days and gave me explicit tutoring and guidelines. She also gave me Shirley Caesar's first LP I'll Go, telling me that I'd work for her and I did three years after she told me. I was so excited about the music and felt like I could do it. She told me that I wasn't in competition with anyone, but be the best that I could.
Q: Did you grow up in a musical environment?
A: Yes, my mom was a church musician. My father purchased a hi-fi stereo record player, and we heard music all the time. He had a singing group of his own.
Q: What styles of music had the greatest impact on you creatively?
A: Jazz, out of all the Gospel I've listen to, has really spoken to me. Joe Sample is my favorite keyboardist and Billy Preston is my favorite organist. My trio will be styled after the Jimmy Smith Trio with me playing the organ and bass and hiring a lead guitarist and drummer.
Q: When did you start playing the keyboards?
A: I started playing at age 14, in '67.
Q: What is the meaning behind your new album's title Horizons?
A: Horizons is where I see my career matriculating. I've just retired from secular job as school bus driver and am focused. Right now I play every Friday night at a local Charlotte, NC restaurant, Freshwaters, then there's Saturday night gigs and I work at a local church on Sunday mornings. So music is my focus and I'm in the best of health as I eat well, exercise, and rest.
Q: What is it about jazz that appeals to you?
A: The freedom to express your gifting is what appeals to me about jazz. In church, you play only what's on the hymn book, but jazz allows me to "let my hair down" and like Michael Jackson said, let that fool loose deep down in my soul.
Q: What artists influenced you the most growing up?
A: Joe Sample, Billy Preston, Michael Jackson, Stevie Wonder. and all the Motown, Stax, Philly International, and Atlantic music I listened to after I left home.
Q: How have you evolved creatively?
A: Well, I hear music all the time. I listen to talk radio as to not duplicate others music. My SESAC catalog has 87 songs not counting the new eight for next year's project. Even with Horizons coming out in May, I'm mailing next year's CD music of eight songs to the Library of Congress today. At this point in my life, I've learned how to be quiet and  hear all this great music that's probably been waiting on me to get quiet enough to hear it.
I'm also an author. THNX MOM is my first eBook about my family featuring her wish for her children to be in the music industry. The eBook is at Barnes & Noble and other digital outlets. Our music is available at Amazon, iTunes, CDBaby and other outlets. Lastly, my memoir GIFTED is complete and will be out in the fall about this wonderful life that I lived which includes having played at the Apollo Theatre twice and the White House in '79 for President Jimmy Carter with Shirley Caesar from '71-'80, only missing '75-'77 pursuing an Associates Degree in Accounting because I knew someday I'd be working for myself and would need the business training to be successful. Now it's jazz and I'm having the most fun I've ever had and am looking to traveling the world sharing this gift I've been given.
Website: http://samuelobie.org