Interview
An Interview with Miko Montgomery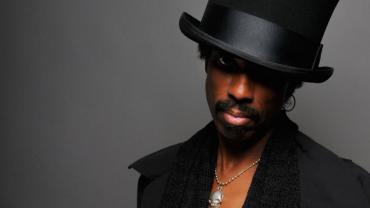 Breaking the barriers of jazz is an act of courage. With genre purists, mostly stateside, preferring that jazz be stylistically preserved in amber, Miko Montgomery is pushing forward, mashing together with jazz, funk, and electronic influences with a Gothic sheen. Montgomery's inventive, dreamlike music -- he defines it as technodelic jazz -- is as colorful and beautifully lit as his Las Vegas stomping grounds. But trying to revolutionize an aging genre shouldn't be a surprise; Montgomery is from a family of jazz pioneers. There are legends coursing through his veins, so much so that his last name could be a brand. In this interview, Montgomery spills it all, his impressive lineage and his aching desire to hit that perfect groove.
Q: What was your introduction to music? How old were you, and how did it affect you?
A: I was born into a musical family. My uncles are internationally known jazz musicians. Wes Montgomery revolutionized jazz guitar. Monk Montgomery introduced the bass guitar to the world. A third uncle, Buddy Montgomery is a celebrated pianist and vibist. All are deceased. My mother plays piano in the church. In the neighborhood where I grew up, everyone played some kind of instrument, so I grew up in a musical environment. Yet, I never picked up an instrument until I graduated from high school. I'm still trying to figure out how that happened. Even though I started to play an instrument somewhat late in life compared to other people, I was an rabid listener throughout my childhood. I was lucky to be exposed to quality music. By the time I decided to play, my ears were highly developed because I'd grown up listening to the right stuff.
Q: Did you grow up in a musical environment?
A: Being a Montgomery, there was obviously a lot of jazz around the house, and I really loved it. I was also exposed to a lot of classical music as well. Even as a young child, I never listened to kid's music. I listened to jazz, classical, and the funk of James Brown. Those styles were my holy trinity of music.
Q: When instruments do you play?
A: I started playing bass guitar just after I graduated from high school. I was self taught and played professionally for about 20 years.
I was in the right place at the right time to be a bass player. I was living in Milwaukee, Wisconsin at the time. Because Milwaukee is a liquor capital, there were tons of places to play. Clubs and bars were everywhere. Lots of music festivals. So I got to play a lot; at least four and five nights a week for many years. Jazz and particularly blues were very popular in Milwaukee. It was also the days of disco and funk. That time was definitely the "golden era" for bass. The bass had taken a prominent role in popular music.
I gave up the bass guitar years ago when I moved to Vegas and never touched one again. I was burned out with bands. When I got to Vegas, I focused on video production and writing. I worked as a cameraman, wrote a novel and sold a couple of screenplays. I only took up the keyboards about six years ago which is extremely late in life. I picked it up as an afterthought. I owned a business called MovieBrat which was a combination DVD store, bookstore, and poster shop. A guy came in one day to sell some books. He was a keyboard player. He also had a little synthesizer he was trying to sell. For some reason it caught my eye and I bought it, too.
My business got hit by the Great Recession in the middle of my lease. It was a sad and scary time for me. My store was my baby. Businesses were dying like crazy all over Vegas at the time. I managed to survive, but only barely. The only thing that kept me from going insane was teaching myself the keyboard. I found out that I really loved the instrument. Even so late in life, it felt very comfortable and natural to me. Plus, I had a youthful enthusiasm for learning it. It was like falling in love again late in life.
I play the keytar exclusively now. I've also designed a keytar with a good friend of mine. We've been working on it for over a year now. We'll debut it this year. People are going to be amazed when they see it. There's never been another keytar like it. We intend to sell it. I'm on a mission to bring greater awareness to the keytar. Most people dismiss it as a goofy toy from the '80s. But the keytar has been around since the 18th century. Back then, they were called "strolling pianos." Beethoven wrote music for it. So the keytar actually has a long history. I love it because it's portable like a guitar or horn or violin. For me, it's the ultimate instrument because I can make music anywhere, anytime, I get inspired. My playing seemed to improve overnight once I took up the keytar. The instrument changed my life. It got me back into music again.
Q: How would you describe your sound?
A: I call my style technodelic jazz. It's very much bass driven. The bass tells the story in my music. Bass is the place. The jazz element comes by way of the chords, changes, and solos. But the beats and grooves are decidedly more "hard" than "smooth." This isn't your typical R&B-inspired smooth jazz.
Q: How do you feel about pushing the stylistic boundaries of jazz?
A: For almost ten years, I worked as a nightlife photographer here in Vegas, so I spent a lot of time in the clubs. It gave me a chance to absorb a lot of modern dance music. I use a lot of techno and house beats in my music. I like industrial stuff, too. Hard beats. But I want to bring a jazz sensibility to these kinds of grooves. I think what I do is every bit as valid as smooth jazz. And I wouldn't be insulted if people thought of my music as disco jazz. People tend to forget that back in they day, jazz was dance music.
I released my first CD a couple years ago. It was called Cryptic Roots, and it was all over the place musically. There was funk, reggae, Latin, and even a couple of waltzes. But lately, instead of doing CDs, I've been releasing singles. That seems to be the popular format. And the music is more focused on technodelic jazz. In the past few months I've been lucky to get some airplay overseas, particularly in the U.K., New Zealand, and Australia. Most of my music is instrumental. Unlike the States, Europeans are still open to instrumental music. Plus they love techno, funk, and jazz big time.
Q: What artists influenced you the most growing up?
A: First and foremost would be the Montgomery family of course. I love Russian classical composers, especially Prokofiev. There's a jazz quality to Russian classical music, i.e., the dissonance of some of the chords. James Brown and all the old school funk bass players are extremely influential. All my funk comes from them. I learned a lot about pop-song construction from The Beatles, Burt Bacharach, and Gino Vannelli. I've always loved the sound of the synthesizer. I consider Giorgio Moroder to be the godfather of techno dance music. He's a huge influence, along with Ryuichi Sakamoto of Yellow Magic Orchestra. There's another artist who is somewhat obscure. He called himself Mandre and played synth/funk. His music was really ahead of its time and very influential on me. I was also heavily influenced by all the jazz players who played synthesizers, i.e., Herbie Hancock, Chick Corea, Jan Hammer, Joe Zawinul, and George Duke.
I have a lot of musical influences. But my musical direction is defined by three albums, all jazz. The first is Ahmad Jamal's At the Pershing. That was my favorite album as a child. It's a textbook example of space and melodic virtuosity. Monk's Dream by Thelonious Monk is another favorite. Lots of space, cool chords, and solos. Charlie Parker with Strings is hugely influential. Maybe the most influential of all. Charlie Parker is still probably the greatest jazz soloist of all time. Yet with that album, what he did was put a jazz sensibility on top of the popular dance music of his day. And yet he doesn't sound compromised. That's the exactly what I'm trying to do with my music.
Q: How have you evolved creatively?
A: My uncles used to say that jazz was more than just music. It's a mentality, an attitude, and a way of life. The music is just a reflection of everything else. Jazz is about striving to create, to improve, and to have a unique voice. That's what I try to do with my music or anything else in life that I'm doing. Even though I'm basically doing techno/funk, the spirit of jazz is still in the music. Particularly the improvised solos. I'm obsessed with improvisation because it's instant composition. Improvisation is by far the most satisfying part of music. Six years ago, I couldn't play keys at all. Even though I'm still just a beginner, I now have some command of the instrument. I can express myself musically, even as a beginner. I'm living proof that you can take up an instrument as an adult. You don't have to be a virtuoso to make music or to have fun.
Website: