Interview
INTERVIEW: NYC singer-songwriter Jenny Bruce introduces GHOSTE project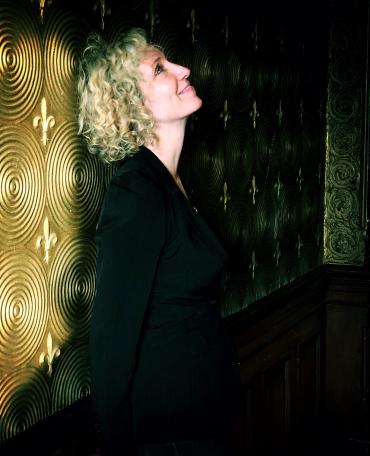 It's October and Halloween lurks around the corner. A perfect time to introduce GHOSTE - the new name for a songwriter we already know well at No Depression, Jenny Bruce. She already has an impressive artist résumé to her name, including several songwriting awards (Billboard, International Songwriting Competition, John Lennon and dozens more) and an enviable list of TV shows and films that showcased her music (Dawson's Creek, Ghost Whisperer, The Today Show, King of the Hill, All My Children, etc.) One would think she need not change her name. But this fall, Jenny introduces her new alter ego, GHOSTE, along with her new sound and single "Haunted" that is quite...well, haunting. The song - which we are pleased to premiere below - is the first release off her upcoming EP, appearing in early 2019. I had another wonderful opportunity to speak with Jenny Bruce as GHOSTE about her new project and artistic identity...
Hello, Jenny! It's great to see you again. I see you've taken on a new persona, called Ghoste. What was the idea behind this new name?
Good to be back. Thank you!
The way I see it, I'm just coming into my own. For one thing, since childhood , I have been fascinated with the ephemeral. The unknown. Some part of me has always been drawn to ghosts and what they represent. The possibility. The mystery. The hope. Yes, I do believe.
From a less esoteric perspective, as an independent artist and a middle-aged woman, I began feeling increasingly invisible and voiceless. Like a ghost. Then I had a dream. Seriously. A vivid, lucid dream. That I was on stage. Dim blue lighting. A voice introduced me as "GHOSTE" and the letters lit up behind me on a screen (with the E). I woke up and had the chorus for "Haunted". Pretty weird.
I didn't finish the song right away, but after that dream, I knew. I wasn't going to fight that feeling anymore. I would own it. I am GHOSTE. And I will not be invisible. The "E" may be silent, but I sure as hell am not.
I'm enjoying your new track, "Haunted" which has a very different sound from your last release, Firefly in a Jar. What was your inspiration for this transition? And are we to expect a whole body of work with this new sound?
Yay, thank you!
It is incredibly liberating to write, record and sing as GHOSTE! Yes, it's a pretty different sound. I think, perhaps, I explained this in my response to the first question. I'll add that as "Jenny Bruce," I am a mother, a wife, a daughter (caring for an ailing father), a full-time Communications Director and a graduate school student. So "Jenny" was feeling a bit crowded! Needed some creative space. Writing and recording as GHOSTE allow me that space.
A big part of the new sound comes from many conversations and collaborating with producer/composer, Matt Anthony, to find the vibe and sound that spoke to both of us. Unlike my deeply personal EP Firefly in a Jar, which Matt also produced, I came in totally open-minded and invited Matt to experiment to his heart's content. Not that these songs aren't personal. They most certainly are.
Simply put, it has been creatively freeing for me to not have my name attached to the music. I'm such a people-pleaser and it's sometimes challenging for me to let go creatively when my name is attached to something. GHOSTE is like a magic umbrella that gives me enough room to explore and express myself in new ways.
How has your new sound changed the way you perform live?
Well, this is all pretty new. Matt and I performed live at The Kreischer Mansion Sessions last week (video coming soon) and I just sang - which felt odd but awesome! Matt played keys and triggered parts of the track with some elaborate, cool rig. I don't know what was going on behind me. There were a lot of pedals, lights, and buttons. But it sounded so cool. I love tech, but when it comes to music, I leave that to Matt. Again, so freeing to just sing and not have to deal with playing an instrument, although I won't be giving that up completely... ever! Hoping to do some live gigs down the road. They'll be a hybrid of electronic tracks and acoustic. Still sussing that out.
The track comes out on Oct. 19th just in time for Halloween. Are we to expect a video to come with it?
Yes! The video will be coming out closer to Halloween. It should be out by October 29. Just in time. I filmed most of it in France this summer in multiple "haunted" locations. Three different 14th Century castle ruins. It was exciting roaming around these historical grounds and fun to imagine who might have lived and died there over the centuries. A beautiful, haunting experience!
There will also be The Kresicher Mansion live video coming very soon. Can't wait!
What else do we have to look forward to from Ghoste in 2019?
Gearing up for a Kickstarter campaign in November so that I can finish recording a full EP's worth of songs. I have another single recorded and am ready to launch, but I have so many more songs still unrecorded. I'm so energized by this direction and hope others will share my excitement and will join me in this adventure. We all have a voice and each and every one of us can make a difference. You don't have to be invisible or silent. It's a choice.
If you don't believe me, let's talk.
Thank you again!
New single - "Haunted" - out October 19, 2018
For more info:  ghostenyc.com