Interview
An Interview with Parker Millsap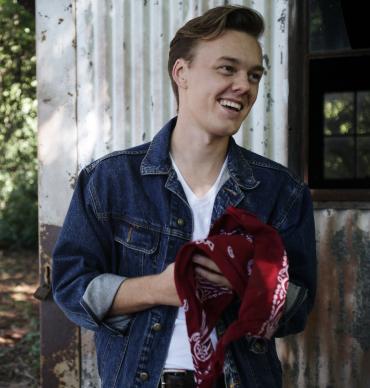 In a preholiday banquet of Oklahoma musicians, Tulsa's Cain's Ballroom serves up roots rocker JD McPherson with young Purcell native Parker Millsap opening the show November 21.
These Oklahoma boys are blazing trails on the national scene. In 2012, McPherson was selected as a Rolling Stone "Artist to Watch" and an NPR Music "Artist You Should Know." Signs and Signifiers, released the same year, was a huge hit, and this year's, Let the Good Times Roll, is following the same path to critical acclaim.
Millsap, just 22, has had a tremendous couple of years, including signing to a prestigious booking agency, opening for Americana phenoms like Jason Isbell, Patty Griffin and Old Crowe Medicine Show, and garnering a 2014 Americana Music Association award for "Emerging Artist of the Year."
With influences as diverse as Tom Waites, Smokey Robinson and Bruce Springsteen, it's not hard to understand why Millsap's music doesn't slide easily into any one category. His songs range from quiet, acoustic folk tunes to all out rockers while blending elements of blues, country, gospel and pop. This musical mix attracts an equally eclectic audience.
"When people ask about our audience, I don't know what to say," Millsap confessed. "We started in the singer songwriter scene, which is mostly ages 45 and up, doing house concerts and things like that, but then they all started bringing their kids. So, we have kind of a weird audience. I feel like JD probably has the same thing. He's got people that are into the throw back thing, but he's also pushing things forward in a really interesting way. People like that, and they latch on. Hopefully, there's some crossover. If not, then we'll still have a party," he laughed.
Millsap is a big fan of the Cain's and is excited to be performing there with McPherson. "I love it; it's a great venue," he said of the Ballroom. "I'm pumped. I'm really excited about it. I love JD, and I love his music. I'm excited to finally get to go out on the road with him."
Millsap and his band, Michael Rose (bass) and Daniel Foulks (fiddle), recently relocated to Nashville, although Millsap has retained his "405" area code. "Yeah, my parents are still paying the bills," he laughed. "So, I'm going to hold on to that as long as I can. I'm on the family plan."
The move and the additional support personnel have made Millsap's job a little easier. "It's good. It's weird," he said of having management and an agency representing him. "I don't have as much to do. When you go from booking your own gigs to everybody else dong that, I have all this free time. It's nice. It makes it a lot easier to focus on what I like to do, which is play music and hang out," he laughed.
Millsap's been recording music, too. A new album is in the works, a follow up to 2014's self-titled release. "We're mixing and mastering it right now," Millsap noted. "It probably won't be out until March, but in relative terms, 'that ain't too long at all.'"
Millsap brought in some reinforcements for the recording. "We played with a drummer from Tulsa named Paddy Ryan. We got a guy here in Nashville to put some keys on it. We got some girls to sing background vocals. It's cool. It still sounds like us, but there a little more rhythm and a little more stuff going on." Millsap will be playing a mix of old and new songs at the upcoming Tulsa show.
-With permission from Currentland.