Interview
Interview: Singer/songwriter Jordana Talsky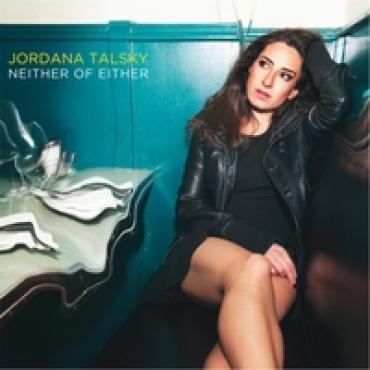 Singer/songwriter Jordana Talsky operates with an indie aesthetic, one that is free from the genre's conventions yet embracing its quirky appeal. Talsky is more sophisticated than many of her peers, though, as she weaves through pop, jazz, and alternative music with style and spellbinding harmonies like on her latest album, Neither of Either.
Q: What was your introduction to music? How old were you, and how did it affect you?
A: My first active interaction with music was singing in a school play when I was 6-years-old. I was given a solo, and my teacher and parents noted how much I enjoyed performing and that I had some skill, so my mother arranged for me to start piano lessons after that. Later I joined a children's choir. An old schoolmate recently told me how he remembers walking by that classroom and hearing me sing in front of the class, so I'd say that was the time when music took hold and became something to me.
Q: Did you grow up in a musical environment?
A: Both of my parents enjoy music, and my mother was an accomplished pianist in her youth. My memories of listening to music with them are mostly from car rides and occasionally around the house. All of us in the family are into music in some way, as listeners or performers.
Q: What styles of music had the greatest impact on you creatively?
A: Hmm. That's tough. I am often pulled in different directions, musically and otherwise, so some days I might answer that classical music and jazz have influenced me the most, but I can't deny that the groove found in soul, funk, and R&B speaks to me. It's a mixed bag.
Q: How did you learn how to sing?
A: I learned the foundations of singing in a children's choir called the Canadian Children's Opera Chorus. I developed sight reading skills, ear training and vocal technique from my time spent in that choir. In high school, I was in a performing arts program and studied opera with vocal instructors. I also picked up a lot through listening to other singers.
Q: What was the first song you ever sang?
A: "Why Do Fools Fall In Love" by Frankie Lymon and The Teenagers. I was five, and my dad had a cassette of their hits. I walked around the house playing it in my walkman and singing along to all the songs.
Q: What is the most personal song on Neither of Either and why?
A: "Bitter Sweet Heart," because it is about a relationship that was meaningful and significant for me, though troubled.
Q: What artists influenced you the most growing up?
A: As a kid I listened to '50s and '60s oldies hits that my parents played for me, and also musicals. So it was more about the songs than the artists. As a singer, I was drawn to proficient vocalists like Barbra Streisand, Frank Sinatra, Ella Fitzgerald, Sarah Vaughan, and as a songwriter, strong female artists like Alanis Morissette, Fiona Apple, Joni Mitchell, and Feist have also inspired me.
Website: https://jordanatalsky.com