Interview
Interview: Singer/songwriter Ken Dravis and his labor of love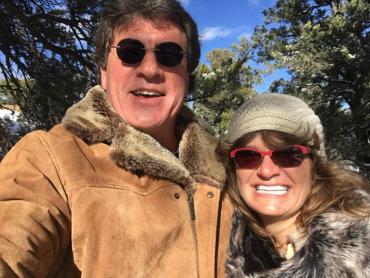 For singer/songwriter Ken Dravis, it's about love. On his latest album A Season of Jenny, Dravis sings warmly and eloquently about his profound affection for a woman who has lit the chambers in his heart. To the listener, it's an opportunity to peek into a man's soul and swim in his emotions.
Q: What was your introduction to music? How old were you, and how did it affect you?
A: My step dad, who I always considered my dad, could play about anything and we always had tons of musical gear and instruments around the house as I was growing up. He started teaching me to play guitar when I was about seven. My dad was a real gadget guy, into recording gear and drum machines, etc. In particular, dad had a sound on sound tape recorder which I found absolutely amazing. This was way before the days of multi-track and digital recording. To be able to play guitar once through, then rewind and play another guitar track and have them both recorded on the same tape, was like magic. The effect on me was very profound and impacted the rest of my life still to this day. My mom and dad were nothing but supportive of my music and later my writing and performing.
Q: Did you grow up in a musical environment?
A: My dad was absolutely amazing. Though none of the rest of my family played or wrote music, my dad was certainly the most influential music person in my life at an early age.
Q: What styles of music had the greatest impact on you creatively?
A: The first real impact on me and my music was at an early age of about 11. My dear uncle Scott had a few albums of Glen Campbell, and I was just enamored by those recordings. I would listen to all of the parts, and they just soaked into me. The vocals. The flutes. The violins. It all made great musical sense and Glen was, and still is, a huge musical mentor on my life. I learned many things through those 1960s recordings.
Q: The songs on A Season of Jenny were written for a real-life woman. How did you meet her and how was she able to influence an album's worth of beautiful music?
A: Wow! This is a really loaded question and quite complex! A Season Of Jenny was truly written for the love of my life. Jenny's real name is Allison. One day, she and I were sitting on the steps of a very small chapel when I had my arms wrapped around her. I told her that I was so very comfortable with her that I felt like "she was my Jenny" - the name "Jenny" coming from the movie, Forrest Gump. We were inseparable. There was a night that we were in a Colorado mountain cabin all alone and I asked her if I could just hold her. I said it was nothing sensual but rather I felt that she was a path, a conduit of a spiritual water flowing through her and into me. I told her that I felt that I had had a dry spiritual sponge inside of me for a long time and that I could feel spirit flowing through her and into me. I just held her for about 20 minutes and wept. She was refilling my heart and soul with spirit and love, a love I had longed for a long time.
Every song on the album came "through me" one might say. Every song is absolutely genuine and from the heart, describing my unconditional love for this woman. I'm not aware of any other album ever released that was completely dedicated to one theme and one person. On A Season Of Jenny, there are a variety of songs but the theme of each is about "Jenny."
Q: What is the most personal track on the LP and why?
A: Every song on the album is personal and at different times have different meanings. There's a few lines from several songs that really hit and affect both Allie and me at different times. Two our our favorite songs and personal ones are,"I Know How You Feel" and "With You."  I find there's some very profound things in the song, "With You." The lyrics being, "Without risk, there's no reward/and without love, there's nothing more." I believe that without the love of something, there is nothing more. Also within that song, it talks about living life as the status quo and in mediocrity. I believe that's no way for anyone to really live. Life is full of risks decisions and chances. Without taking these risks and chances, one is not truly living and certainly void of great rewards.
Q: What artists influenced you the most growing up?
A: Besides Glen Campbell, John Denver is quite clearly my biggest influence and mentor. When I was 16, I heard "Annie's Song" on the radio. I went to my local record store and bought the Back Home Again LP. I learned to play every song on that album and I was just so struck by the music, the melodies, and the message behind every song. A couple of years later, I saw him in concert and remember thinking that I would like to meet that guy one day. I believe it was divine intervention that 15 months later, I was working for him.
Q: What was it like working with John Denver?
A: I did have the amazing opportunity to work for Starwood security in Aspen. It's kind of a long story with the bottom line being that I worked in security for John and Annie Denver and the kids. I asked to work the graveyard shift because many times I would see John after midnight and then I would sit up all night and work on my songs. I wrote quite a number of songs during those couple years.  Two years after I was hired, I had the opportunity to sit with John in his backyard and handed him a tape of music that I had been writing and working on. John listened to it the next day and we had a great talk about what he had heard. He told me that I could continue working for him as long as I wanted but if he were me, "he would go out in work on music full-time." I took him up on that suggestion and began a full-time career in music. Being around John is a time in my life I will never forget. He was honest and open to me even saying that I could come to him, call him, visit him or send him my music to him at anytime. We'll get into this later but it was because of John that I learn to fly and become a professional pilot as well.
Q: How have you evolved creatively?
A: I feel that my music has really, really grown in the past few years, especially since being with Allie. I have so much to say to her and through my music. I know that I am able to reach many others as well. I continue to write feverishly and so enjoy what the good Lord continues to give me and by working through me. I especially love assisting others with their visions and to help them create the music that they want to get out to the world.
Q: When did you start your recording studio, Aspen Leaf Recording?
A: I began recording very simplistically when I was probably 10. My dad bought me a sound on sound recorder and I wore that thing out! I've had a number of basement studios until 2005. I then had the means and the knowledge to create my dream facility, and Aspen Leaf Recording. For the past 10 years, Aspen Leaf Recording has been an amazing facility. We've had hundreds and hundreds of people come through here and my vision was to help them create their music. I think we've been very successful. We are in a state of change right now as Aspen Leaf Recording is moving to a new location in Weston, West Virginia and soon that information will be up on the website.
Q: Love is so powerful. Is this first album you recorded with such a personal, unified theme?
A: I have written love songs before but Allie has touched my life such a amazing way; this album just had to be written. I know these songs will reach other's hearts and hopefully through my music, allow them to share their feelings for those they really love. Without doubt, this is the most exposed, personal, heartfelt album I've ever written and released and I believe this about my 12th album.
Q: What did "Jenny" think of the record? Are you still in contact with her?
A: "Jenny" and I are very much still an item, lovers and best friends and I seek her thoughts and advice often. She played violin on a number of tracks and even sang on one of them with me. She's extremely familiar with every note and lyric and of course was the inspiration for every song.
Q: Some of your earlier releases had an airplane angle to them. Are you a pilot?
A: I learned to fly in 1983 and have been a busy professional pilot for most of my life. I just retired from a very prestigious private airline and now I am concentrating full time on music. It was because of John Denver that I learn to fly it seems amazing to me what a profound effect his life has had on mine. I have three albums all about flying. I believe I was the first "singing pilot." I have performed at airshows and aviation banquets all across the U.S. including Alaska. All of my albums are available on iTunes.
Q: What are your goals, artistically, for the future?
A: My biggest musical goals and goals in life in general are to help others. I find it amazing that people around the world have downloaded my music. That music was a gift to me and if people are gifted with my music, then so be it. I thank the Lord for the music that comes through me and to have had such a great studio and I have such amazing personal friends and musical friends. The music keeps getting better and better and I don't feel it's because of me but rather it's because of what comes through me from the Lord and for the talents that my musical friends have added to my songs and message. It was never in my mind to become financially wealthy through music. But it has been in my mind and heart that Lord, if there's other people that get something from this music, then that's what it's all about. I hope I've been able to contribute in my life to this world through my music and through the person I'd like to be. More than anything, I believe that Allie was brought into my life for a reason and I know that musically and otherwise, we are amazing together.  A Season Of Jenny is all for you, Allie. I told you that I was going to tell the world about this album and you and I am keeping my promise.
Website: