Interview
Interview: Singer/songwriter Lucky Bamba from Argentina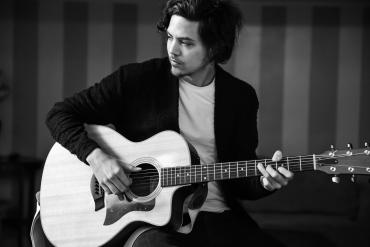 Born and raised in Argentina, singer/songwriter and multi-instrumentalist Lucky Bamba is about to hit the U.S. music scene later this month.
Q: You're about to release your debut single, "Let You Go," on October 27th. How does that feel and where can fans find it?
A: I feel very excited about it as it will be my first piece of original music. I really can't wait for the moment of being able to share my own music with the world. It will be available on all streaming and download services.
Q: What was your introduction to music? How old were you, and how did it affect you?
A: When I was six, my parents bought an electric piano for our home, and I started taking lessons with a classical piano teacher.  That was my first experience learning an instrument and was a key moment for kick-starting my love and passion for music.  The piano is such a complete and complex instrument, and beginning to learn it from such an early age made me immerse myself into this new amazing world of sounds and emotions.  I started to learn from a classical approach, playing classical pieces from Mozart, Beethoven and Bach, and learning how to read and write music.  I remember I was really young, but started finding a refuge inside the music, the same shelter I travel today, almost 20 years later, every time I play or sing a song.
Q: Did you grow up in a musical environment?
A: Well, none of my parents are musicians, nor did they play instruments when I was little. However, they always had a sympathy for music and were very supportive during my process of learning to play different instruments and developing my musical side. Either way, I didn´t grow up in a strong musical environment, but rather I discovered my passion and my way through music on my own.  After some years learning to play piano, I remember I was very intrigued by the guitar and so when I was 12 I told my parents I wanted to learn how to play.  That was a breaking point for me because my parents bought me my first guitar, a small wooden classical guitar, and it was pretty much like love at first sight.  From that moment on, I knew that music, and especially the guitar, would have a very important place in my life forever. I started connecting more and more with the music, starting to understand this universal language and developing a strong passion.  At the age of 15, I also started playing bass and drums because I was very attracted to the idea of understanding the different roles inside this art form.  Years went by, and I found inside the music a way of expressing what words couldn't.  I knew by then that music needed to be inside my life, much more than just a hobby, but as a way of living.
Q: What styles of music had the greatest impact on you creatively?
A: I have been pretty much over different styles during my musical growth.  It's very hard to choose one or two because I think every one has given me something important and has added up to my artistic development.  I went from learning classical pieces to tango and bossa nova songs, from playing in pop/rock bands to blues/jazz groups, covering many places.  Either way, if I had to choose, I would go with blues and jazz.  I think that although nowadays I have developed myself as a mainly pop singer/songwriter, those styles have taught me a very deep sense inside the music as a whole, opening up an immense world of sounds and feelings.  They definitely had an impact on my creativity and my way of approaching my music and songwriting.
Q: How did you learn how to sing and write tunes?
A: My first experience singing was at a pop/punk-rock cover band I had with some high-school friends when I was around 15-years-old.  I used to play the guitar and sing, and started to feel the energy of having that leading role inside a band.  That band didn't last for long, and I kept on learning music and playing different instruments, but not singing much.  Some years went by, and I got to the point that I felt the necessity of making my own original music.  I wanted to know how was the path to create something totally new to the world.  In my personal experience, learning how to properly sing and writing my own songs went hand by hand. I combined that necessity for writing something original, with the idea that I wanted to make music that could have lyrics, reach a greater audience and be understood and have an emotional influence not only through instruments, but by the combination of music and lyrics.  I felt I was ready to write something original from the music perspective, but I still felt I needed to grow my ability to accurately portray my emotions and messages through a vocal standpoint.  So I decided to start studying proper vocal training, attending several classes with different vocal coaches and teachers.  In the meantime, having my guitar as my best ally, I started to create some chord progressions.  These chord progressions started to be accompanied by melodies.  Melodies that later on turned into words. Some time went by, and nowadays I have many original songs written down.  
Q: In 2016, you toured with the multi-ethnic group Noflag. What was that experience like?
A: Amazing! I really value every musician in Noflag Band, and the group itself is so special.  We have musicians from France, Poland, Japan, and Argentina playing together.  This intercultural mix was incredible for our performances.  Inside the band we strongly believe that music is the number one universal language.  That no matter where you are from nor what language you speak, music will reach out to you, and fill you with feelings and emotions.  You don't need to play an instrument or study music to understand what is going on, you just need to open your ears, and your heart.
We toured through Brittany, France, playing at Jazz en Ville Festival in Vannes. We played a different array of musical styles, going from jazz to blues, to folk and even Celtic music.  The experience was incredible and being able of representing that meaning of music and its universality in such a way was a real honor.
Q: Are you still a member of Noflag? How did you end up joining them and what is your primary role in the band?
A: Yes, I am, but after our 2016 tour we decided to take a break and focus on our individual projects for this year.  So for now, I'm personally focusing on my solo project and the launching of my original music.  We don't have any plans of playing together at the moment, but we are very open to play again sometime in the future.
Well, we all met at Berklee College of Music on summer 2015.  We all attended for a summer program there and what first was a multi-ethnic group of musicians that only gathered at a bar for drinking some beers, evolved into jamming together, and finally shaped into a band.  We felt a strong bonding playing together, and we decided to call ourselves "Noflag," because as our inter-cultural essence suggests, we are not represented by one specific flag, but rather from this universal language we call music. My primary role at the band varies from song to song, but mainly goes from playing acoustic guitar, to electric guitar and electric bass, depending on the tune.
Q: What artists influenced you the most growing up?
A: I had many different musical stages throughout my life.   When I was around 9-years-old I remember I was a big fan of Bon Jovi and the Red Hot Chili Peppers.  I was starting to feel very attracted to the sound of rock bands.  Afterwards, at the early stages of my adolescence, I started to listen a lot to Green Day, and I used to really like the energy of punk-rock bands. Later, at the age of 15, when I started immersing myself more and more into the world of the electric guitar, I became a big fan of Guns n' Roses.  I remember I was totally mesmerized by Slash's guitar playing and I started to learn many of his songs and guitar solos, watching every video available online of the band. That devotion for hard rock bands, such as Guns n' Roses and Aerosmith, lasted for some years.
When I was 18 I stumbled upon a video of John Mayer playing live at a concert in L.A., from his DVD Where the Light Is.  I was totally blown away by his way of playing the guitar, his way of singing and how much he transmitted on stage.  From that moment on I started following his musical path and he became my strongest musical influence. His music and his artistry stimulated my idea of pursuing a singer/songwriter path inside the music and gave me a first guide of what I wanted to achieve or sound like.
Q: How have you evolved creatively?
A: Having learnt different instruments and musical styles throughout my life gave me tools to develop my creativity. They gave me the ability to look into music from different perspectives and roles, and therefore helped me understand how the creativity works from diverse standpoints, and how deep this concept is.  On the other hand, something that I consider a must for letting the creativity grow, is playing with other musicians.  From small jams to touring with a band, practicing and performing with fellow musicians helped me to learn a lot about how to be more creative and how to communicate and materialize that creativity and artistry.
Q: Apart from being a musician you are also an engineer? How was your transition from a corporate life to an artistic one?
A: Yes, I studied Industrial Engineering in Argentina and graduated in 2014.  During my years at university I had to leave music in the background, mostly as a hobby and could only play when I got some free time.  That was extremely hard, but my unconditional love for music never disappeared.  When I was about to graduate, I started working at a bank. I worked there for a year.  My life was starting to take the classical corporate path, and I wasn't happy with that at all.  I felt the necessity to give music a chance. I felt I owed myself the courage to go after my dreams and my passion.  I was at a critical point in my life in which I felt that if I didn't make a change I would have regretted it forever. So I did it. I changed. Well, I didn't change who I was, as my love for music was always there, but what I changed was my attitude towards it, my decisions and my actions towards my passion.  I decided I wanted to do music for a living. That somehow music needed to be present in my life, not as a hobby, but as a leading role. So I left my job at the bank in 2015 and decided to travel to the U.S. I attended a summer program at Berklee College of Music and that was the kick-start for my musical career.
Q: What did you learn while attending there?
A: After leaving my job at the bank, I really needed to change the air.  I felt the necessity of travelling somewhere else and kind of reset my mind.  To change my corporate brain and reprogram it to an artistic one.  I definitely needed to refuel. So I decided I wanted to travel to the U.S. and officially start my musical path there.  I always felt attracted to the idea of going to Berklee College of Music in Boston.  I wanted to be in contact with musicians from all over the world and absorb as much as possible from a music community such as the one Berklee has to offer.  So I enrolled into a summer program there, and the experience was fantastic! I got to play with a lot of outstanding musicians, attend many clinics and classes, and started plunging myself into the music world.  The experience was perfect for that moment in my life. It was just what I needed.
I also got to play live in some venues as a solo singer/songwriter for the first time in my life, playing my own songs in front of an audience. Just my guitar and me.  That first experience was surreal and gave me a strong push to finally kickoff my career as a singer/songwriter.
Q: You're from Argentina. What is the music scene there like?
A: Yes, I was born and raised in Buenos Aires, Argentina. Well, Argentina is an amazing country. You can find a great mixture of cultures and diverse ancestry which definitely has an impact on the music scene.  In Argentina, a vast array of musical styles coexist, and all music lovers can feed themselves from this great offer of music.  You can find from pop/rock bands to jazz and blues groups.  Tango, folk, and classical music are also very popular styles.  Argentina definitely counts with a great amount of incredibly talented musicians and music professionals, which have been internationally recognized.  I have learned a lot from many of them and I feel very grateful for that.  I really hope in the future I can be a good mentor for musicians of the future generations, too.
Website: