Interview
Interview: trombonist/composer Sam Blakeslee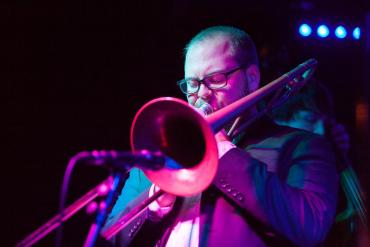 Sam Blakeslee is a trombonist/composer based in New York City. He has just released a new album, Selective Coverage, with the Sam Blakeslee Quintet.
Q: In terms of musical style, how would you categorize yourself?
A: I'd like to think that my music is still somewhat based in jazz in the traditional sense as far as trying to leave as many improvisational options open to the people playing it. However, after completing my Master's Degree in Classical Performance in 2013, where I got chance to play a great deal of orchestral repertoire as well as more experimental pieces for trombone and chamber ensembles, I think those sonorities and sentiments have had an indelible mark on both my approach to trombone and improvisation. I'd say my musical style is always trying to bridge the gap between traditional and contemporary while still trying to keep the listener in mind and engaged.
Q: What songs on your album are most personal to you and why?
A: While all the songs on the album chronologically depict coming into my own as a trombonist, composer, and husband from 204-2017, I think the songs that are most personal to me on the album are "Settling In," "Always Finding Your Way," and "Selective Coverage." I wrote "Settling In" during the time when my wife and I knew that we wanted to get married and spend our lives together. The sentiment behind it is finding peace and solace with that decision and looking forward to the years to come. "Always Finding Your Way" became my anthem while I was trying to establish my direction musically and trying to figure out how to balance all aspects of life. While portions of the song contain some of the most dissonant sonorities on the album, it's triumphant conclusion is a reminder that things usually work themselves out over time and it's important to try your best to persevere in times of turmoil. Selective Coverage was written in direct response to the death of Freddie Gray in Baltimore in 2015. While the protest and riots ensued, it seemed that there was 24 hour coverage by all major news outlets (regardless of political affiliation), but at the same time a peaceful Million Man March was organized in Washington, D.C. that there was barely any coverage about. I had only heard about it because of social media and it really showed the disparaging way the minorities and people of color are depicted in the media. The march feel prevalent throughout the song was to help depict call to organize from many different walks of life to help combat social injustice. I think it's important in that music serve as relevant commentary in what is going on around us, and Selective Coverage was my attempt at that.
Q: What was your introduction to music? How old were you, and how did it affect you?
A: My first introduction to music would have been around my grandmother, who was a former music teacher as well as the choir director at her church. At around age 6 or 7 she started showing me around the piano and organ she had in her home and started teaching me a little bit of beginning piano. Shortly thereafter I enrolled in piano lessons for a few years before switching to trombone in the school band. I remembered always being fascinated by the instruments themselves before really being personally affected by the music.
Q: Did you grow up in a musical environment?
A: Other than the influence from my grandmother, my parents weren't musicians, but were incredibly supportive of my interest coming and going over the beginning years of me playing. They always signed me up for lessons (as long as I was practicing) and completely supportive of me dabbling in guitar and bass as well. By the time I was in high school I was lucky enough to find people to play music with often, so that definitely solidified my interest in it.
Q: What styles of music had the greatest impact on you creatively?
A: When I was playing guitar, I was really affected by blues music, specifically B.B. King, Jimi Hendrix, and Stevie Ray Vaughan. After trying my best to play along to those recordings, I realized that I really enjoyed improvisation and playing by ear came somewhat naturally. I think this was a great bridge to get into the world of jazz. However, the music that really made me want to pursue music as a career and calling was Duke Ellington and Count Basie. I was lucky enough to get into the Columbus Youth Jazz Orchestra my senior year of high school and once I got a chance to play some of that repertoire I was hooked. I'll never forget the song that decided that for me, it was the Gerald Wilson arrangement of "Perdido." After eight bars, I realized I had never heard music like that before or had such a strong reaction to anything previous. I also hadn't gotten a chance to play with musicians of that caliber, so after experiencing those two feelings, there was no turning back.
Q: What was the first song you ever wrote?
A: The first song I ever wrote was in my freshman year of college and it was called "Birdsong." It somewhat based off of Tadd Dameron's "Lady Bird," but after playing it for the first time, I realized I needed some more theory skills together before I tried to really contribute anything compositionally.
Q: How have you evolved creatively?
A: In addition to composing, touring, and recording with the quintet I have also composed extensively over the last four years for large ensembles. I've found myself getting more and more interested in orchestration and trying to think of composition in more through-composed settings rather than a repeating form to each song. I run a 17-piece contemporary jazz orchestra called "The Sam Blakeslee Large Group" and I'm hoping to find a way to document those works for my next recording project. I am also starting to write for more chamber ensembles including a recent piece called "Slow Growth/New Growth that was awarded the David Baker Prize in Composition from Ravinia Steans Music Institute for the Bridges International Classical and Jazz Fusion Composition Competition. It was a piece written for string quartet, and jazz trio (piano, bass and drums) and was premiered by the Avalon String Quartet pianist Billy Test, bassist Ilya DaCosta, and drummer Clif Wallace at the Bridges Concert at Martin Theater at Ravinia in Chicago this past June. I'm hoping to pursue more crossover pieces in the years to come.
Q: Where were you born?
A: Columbus, OH.
Q: How did your quintet form and who else is in it and what instruments do they play?
A: I first met the drummer Dan Pugach and pianist Jorn Swart at Betty Carter's Jazz Ahead at The Kennedy Center in Washington D.C. in 2011. Since then we had kept in touch and collaborated a good amount in various settings since then. Around 2015 I also started collaborating in large ensembles settings with Dan who runs his own nonet that just released its debut album this past February. I met bassist Cory Todd while I was still living in the Cleveland area and he was finishing up his music degree at Oberlin Conservatory. We played extensively in a group together called the No Words Quintet in Ohio together that really shaped the compositions of my quintet later on. I became aware of the Cincinnati-based guitarist Brandon Coleman while living in Cleveland and had asked him to play on the first tour with the group just to try something new. After the first note, I knew that we would be playing together for many years to come and I'm happy I still get a chance to perform often with him, both in the midwest, as well as in NYC.
Website: