Interview
An Interview with Tyler Calkins of Marshmellow Overcoat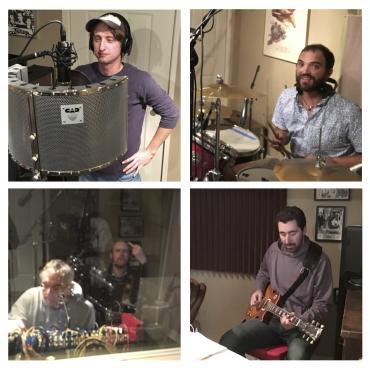 It might easy to toss the classic rock tag on Marshmellow Overcoat as their sound has vivid echoes of the past - the boyish melodicism of the Beatles, the rootsy guitar pop of Tom Petty, the jangling quirks of R.E.M. - but the warm blend of vintage influences has produced a timeless sound for the band. This is a group whose latest album, a buoyant, consistently engaging self-titled effort, cannot easily be placed in any era. Lead singer/guitarist Tyler Calkins discusses the band's origins in this interview.
Q: What was your introduction to music? How old were you, and how did it affect you?
A: I started playing the piano when I was about six years old, but I'd been aware of music as long as I can remember. Billy Joel and the Beatles were two of my first favorites and they still are now. When I could barely walk I had a toy acoustic guitar I'd carry around and strum left-handed.  That probably got annoying.
Q: Did you grow up in a musical environment?
A: I did, and although I was the only musician in the family, my grandfather was a good singer and had been in the glee club at Penn State.  My parents listened to some of the best music and got me into artists like Bob Dylan and the Band. As far as the other guys in Marshmellow Overcoat, music was always around them as well. Our lead guitarist, Alan Hancock, was self-taught and our drummer, Anthony Cavallaro, grew up playing in school. Jason Wood, our bass player, had an uncle who was a great musician so he was playing several instruments by elementary school.
Q: What styles of music had the greatest impact on you creatively?
A: '60s and '70s classic rock had the most influence on me by far, although I later became interested in more modern rock and even classical music.  The songwriters of the '60s and '70s like Neil Young and Tom Petty are a good example of some directions we try to take.
Q: What instruments do you play?
A: Piano is really the only instrument I'm any good at, but I play electric and acoustic guitar with the band.  To a lesser extent I play some harmonica, ukulele, banjo and if I'm feeling really strange, I'll try to get random instrument sounds (organs, strings, etc) out of some keyboards/synths.  With the other fellas, Alan plays electric and acoustic guitar, and Anthony plays drums and hand percussion.  Our bass player Jason probably plays the most instruments of anyone I know: cello, saxophone, mandolin and piano, to name just a handful of them.
Q: How did Marshmellow Overcoat form?
A: We might need all day on that one.  The current lineup with Anthony Cavallaro, Jason Wood, and Alan Hancock has been playing together for a little over a year, but MMOC has been around since 2008.  I started it with my friend Dave Verbocy, and our drummer Anthony has been the longest tenured of my guys since he's played with me since '09.  We grew up together and after spending a couple of years playing in different groups in college starting our own band seemed obvious.  Personally, it was a matter of time before music gripped me by the throat and took over everything else.
Q: Where did the name come from?
A: The name Marshmellow Overcoat came from a concert film about the Band's final performance together. Martin Scorcesse directed it, and it's a great film in many ways.  Around halfway through, there's a quick interview with lead singer Richard Manuel where he mentioned Marshmellow Overcoat among names the Band had considered before settling on their name.  That's exactly where we got it from.  Richard has been gone for a long time and us using MMOC as a name is sort of a tribute to the Band and all classic rock music.  That's why we have to slogan "Classic Rock for Today" as well.
Q: What artists influenced you the most growing up?
A: The Beatles, Elton John and eventually some more recent artists like Elliott Smith and R.E.M. have been such major influences with me.  I hate to start listing them all because I always miss someone vital.  The music of some of these people helped me carve out my own sound without being derivative.  I wanted to make something new that borrowed a bit from my favorite music of the past. Anthony has very similar musical taste to mine, and Jason likes a little bit of everything.  Alan's love of 80's and 90's Rock has helped move our sound forward as much as anything.  Some people who might not have enjoyed us as much before can find a whole new reason to get into MMOC with Alan in the group.
Q: How has Marshmellow Overcoat evolved creatively?
A: Not pigeonholing ourselves with classic rock slowly became a concern over the years.  I think our new self-titled album confronts that head-on.  Also, I've been studying music at Penn State for several years.  I have a Masters degree and am working on my Ph.D.  While that has only done so much for Marshmellow Overcoat, the fact I've been able to keep my musical options growing as I approach 30 instead of watching doors closing around me - I know I'm on the right track.  I've written seven new songs since we put this new album out in late January.  We have one of our busiest summers yet coming up with several festival dates we're looking forward to.  As far as what's next, I'm not exactly sure.  But at the very least I'd be expecting some new live recordings and a single this summer.
Website: http://www.marshmellowovercoat.com