Interview
Interview: The Wandering Woods take a hike from funk to fusion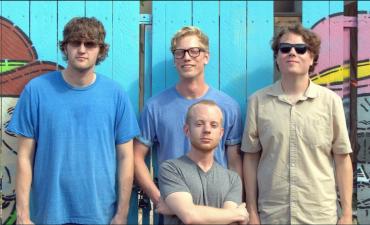 The Wandering Woods hike through that twisted path between Phish rock jam, Primus funk, and jazz fusion. It's an idiosyncratic brew, one that lifts the band above many of its contemporaries with its wild individuality. On their latest self-titled EP, the WW smash genre boundaries like it was out of style but do so without pretension. Clearly, this group is having fun and taking listeners on an invigorating hike through their own private wilderness.
Q: How did the band's mélange of blues, funk, jazz, and world music develop?
A: Our sound is a reflection of our desire to push the development of music forward.  We want to see growth and progression within our music, and in order to do that you have to experiment. Ultimately, our sound is a result of our experiments.
Q: Who are all the members of the Wandering Woods and what instruments do they play?
A: Michael Drummer - guitar, Ross Sandlin - Bass, Jake Setters - drum kit, Jeremy Evans - hand percussion.
Q: What styles of music had the greatest impact on the band creatively?
A: We have a diverse range of influences, ranging from '70s jazz and rock fusion to modern jam bands. '90s grunge and alternative rock are also an influence, as are scores from sci-fi and fantasy films.
Q: What was the recording process of the three-track EP like?
A: The first two tracks were recorded by our friend Nathan Rike, in his home studio. "Coyote, the Trickster" was recorded at Decibel Garden in Denver.  Also, our good friend Tom Evans, our percussionist's younger brother, was able to sit in on "Flamethrower Method" and "Night Owl." Overall, the experience was rewarding as it gave us an opportunity to record long established ideas and manifest them so we can share them with the world.
Q: How did the the Wandering Woods form?
A: The Wandering Woods started as a collaboration between Michael Drummer and Ross Sandlin in the fall 2013. Our original intention was to create the music we wanted to hear and couldn't find in the existing market. Over time we were introduced to two young and very talented percussionists who had the academic background to support our unorthodox ideas.
Q: Where did the name come from?
A: Our name is a reference to one of our favorite pieces of literature, Lord of the Rings.
Q: What artists influenced the group growing up?
A: Early influences for the band would be Pink Floyd, Rush, Return to Forever, Weather Report, Umphreys Mcgee, and STS9.
Q: What is the indie music scene in Colorado like?
A: Very diverse with an emphasis on funk and soul.  It seems to be growing to have regional influence and is becoming a breeding ground for hungry and talented groups.
Website:
https://soundcloud.com/thewanderingwoods