Interview
An Interview With Willie Watson: The Test Of Time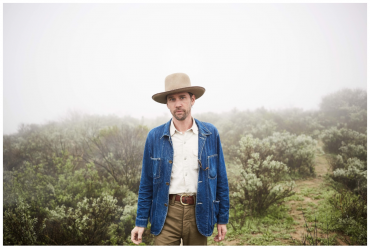 Willie Watson was a founding member of Old Crow Medicine Show and has released two albums in the past four years of traditional American music, titled Folksinger Volume One and Folksinger Volume Two. Both albums deserve heavy rotation in your life and Willie is the type of performer you want to catch live. He plays with a lot of joy and commitment, always keeping it loose and open. He was part of the best concert I've ever seen when Dave Rawlings Machine played in Portland, Maine two years ago. I had the great pleasure of talking with Willie about his albums, notions of authenticity in American folk music, and his new turn as an actor with the Coen Brothers.
There is no dearth of material as you look for songs for these Folksinger albums. As you were considering what songs to include, what was your ear listening for? What was the selection process like?
WW: There's so much, so I'm always discovering new stuff. I was listening to one of Bob Dylan's Bootleg series–the one where it's all the outtakes from Self Portrait–and he sings this song, "Tell Old Bill," and he's talking to someone in the studio, saying, "Let's do this one from Bob Gibson, you remember Bob Gibson?" and I'm like, who the fuck is Bob Gibson, and I love this song that Dylan sings, so I start listening to Bob Gibson. And he's this '60s white guy who sounds pretty whitebread. I listen to Dylan or Blind Willie Johnson because it moves me and I love it. And I might listen to Bob Gibson and not have any heavy emotions, but he might have some good songs in there that I've never heard. So I end up sometimes listening to some things that I wouldn't listen to for my own enjoyment otherwise.
I guess I look for something first and foremost that does pull my ear and make me feel something. It could be a number of things–it could be some funky, kind of cool chorus, something that's gonna pull my ear that I know will do the same for listeners, if I can pull the song off. It covers the whole range of popular songs that people have definitely heard a million times, and the more obscure stuff. As anyone can tell from these two records, I am not afraid of doing the popular songs. I did "Midnight Special" on the first one and we're doing "Cuckoo Bird" on this one. I think a lot of people are hung up on being cool and being rare and finding rare songs. I read this review the other day, and it starts off "at first glance, looking at the tracklist, this record looks like it's going to be disappointing." And I would think the opposite thing because it's got really good, bulletproof songs on it. I'm not a hipster trying to find the rarest stuff. And honestly, some of those rare songs, they might be rare because they're not very good. Songs that have stood the test of time, like "Midnight Special," they're the best for a reason.
RLR: It reminds me of this book I just read: Do Not Sell At Any Price, which is about the folks who collect rare 78 records. And rarity can sometimes be prized over anything else. But you think about Dylan's first album–it only had one song written by him and you could find all of those songs on other people's records at that time. In some ways "authenticity," gets defined now as writing your own songs and still hewing to traditional music, but you're defining that differently.
WW: As far as my authenticity, it comes across in how I sound–it sounds like me and I have a unique voice. The Fairfield Four guys–I was surprised that they were even aware of me, but they said, "You have this voice where you hear it and you know it's you." Other than that I'm not really striving for "authenticity."
I kind of stopped writing songs because I wasn't happy with the work I was doing. I had to realize I wasn't the kind of songwriter I always wanted to be. I set this high bar listening to Bob Dylan, and Neil Young, and Gillian Welch, and I would look at what I'd done, I thought, "It's not as good as those people, and I don't want to put that out." People do place this value on a song, just because somebody wrote it. I think a lot of songwriters do that too: they feel proud, and they kind of hold it up for the world to see: here I wrote this. And no one ever asks the question: is this actually good? And it might not be that great.
RLR: You mentioned The Fairfield Four, and they sing on three songs on Volume 2. How did singing with them come about and what was it like to work with them?
WW: I met them in Scotland. We were both at a festival and they reached out me, and sing with them, and sing lead on, "Go Where I Send Thee." They clap when they sing, and, you know, they clap better than other people clap. I was thinking, I gotta work on how I clap.
I've always wanted to be able to sing like that, with guys like that. It's the whole reason I started in the first place–listening to records, being interested in guitar, figuring out a few things and it was fun. Man, listening to old gospel records, or The Fairfield Four, and listening to them sing, it's uplifting, there's a lot of emotion going on there. It's not often you have the chance to sing with guys like that and it was really satisfying.
RLR: I remember combing through my parents' records when I was a kid and reading where songs came from or, at the very least, who wrote them. But the way in which we get music today sometimes runs counter to that sense of historical throughline–there often aren't liner notes today, for example. How do you think about that, as you present these albums of material that stretch back into American music traditions? I can imagine many folks thinking that you covered Led Zeppelin on this album, for example.
WW: It's an educational thing, and I like to know that stuff. I like to be aware of where these things came from. I'm not a major historian when it comes to this stuff – the 78 collectors, they can tell you the hotel room Blind Willie McTell recorded a song in, and I don't know that stuff. And whether or not I knew it, honestly, at the end of the day, it wouldn't matter. Knowing different versions is good for me; it can inform how I approach the song, because I can add or take away verses and make it my own thing.
You take the person who picks up my record and has never heard anything like this, and there are those people. There's people that think I wrote these songs, and at the end of the day what matters is that music is moving somebody and doing something for them in their lives. It would be pretty cool to be in that position and for all of this to be brand new.
RLR: There's a fine line between imitation and interpretation as anyone engages with this material: how do you think about that?
WW: It all comes along the way and all sort of happens with the process. I'm going to hear some song, and there's going to be something about it I really like. Whether it's the cadence of the lyrics, or some cool guitar part that's moving things along. And if that's what I'm drawn to, I'm probably going to start there. Now, sometimes I can't do it. Like, Reverend Gary Davis is one of the greatest guitar players, especially of that era and that style; he's like a level up. So I'll listen to him, and think, "Well, fuck, I can't do that part," but I like this song and I'm gonna to have to figure out something to do. So it's out of necessity–whatever I can come up with and see what works. And some of the time, it doesn't work.
Some intentional things happen later, like with slowing it down or picking it up or choosing a different instrument. Like I'll want to do a Blind Willie Johnson, but that guy's hard for me to do. I mean, it's hard for me to listen to Blind Willie Johnson and think,  "Oh, I can do that song," so I'll think, maybe I can do it on the banjo.
And you hear all different versions of stuff all the time. Just yesterday I was listening to John Jacob Niles doing Blind Willie McTell, "You Got to Cross That Lonesome Valley." And Blind Willie McTell is bluesy but John Jacob Niles makes it all sweet, and it's real chromatic and major sounding. It doesn't have all those blues notes in there. I forget that I can do that sometimes, just take these songs and change them around. And I don't get hung up on trying to replicate anything. There's so many blues nazis, and oldtime and bluegrass too–there are so many banjo and fiddle players out there who believe you have to play this song this way and you have to learn these notes and play it exactly how Fred Cockerham played it. And I'm like, "Do you think Fred Cockerham was doing that?" He was doing it in his way that was fun to him on his porch. He sounds like Fred Cockerham and only Fred Cockerham, because he was doing things in his way; he wasn't copying anybody.
RLR: There's always been somewhat of a debate about what qualifies as as folk music and what being a folksinger means — with both of these albums titled "Folksinger," are you making any kind of claim about that?
WW: It's not any kind of statement; we were just trying to be simple. We were shooting for simplicity. Before it was "Folksinger," I think it was "Folk Songs," just real straightforward. Sometimes you come up with reasons after you've done it. You don't even really hear people say they play folk music anymore, because people think of folk music as the white '60s folk scene. They think of it as The Kingston Trio, and The Brothers Four, but those guys aren't cool. I don't like The Kingston Trio at all. It was more than that. And before that, it was the Harry Smith Anthology of Folk Music. I can be a little bit disillusioned with culture and music culture – and people trying to be on the outside of things, putting all this value on rarity, and it's about not being afraid of that, and not trying to be as cool as we possibly can.
RLR: You've worked for a few decades now with Dave Rawlings, with him producing these albums and also your early Old Crow Medicine Show albums. What do you think you've learned from him over that time?
WW: So much. First of all, what it's like to be in a studio and how to work in a studio, and what goes into making a record. Just the process and how it's done. I remember thinking, "We're going to edit the songs? We're going to take parts from one song and put on another song?" On top of that, it's like, "You're going to cut the tape with razor blade and tape it back together?" I was like holy shit. I didn't know that's what they did. It was a revelation to me that my favorite records were all put together. Dave would tell me he could hear cuts, like on Chuck Berry records, he could hear the bass mess up and tell where they cut it.
And the secrets behind what makes arrangements of songs good. I kind of already knew what a good song was, but picking apart and being able to rearrange and edit songs to get them to where they could be the best they could be, as far as how they're laid out and what the parts are and when those parts happen.
And just listening to songs in playback. Like you record a song and you have five takes of a song…and, you know, being in a band, you get four of the guys in the band in the control room listening to the playbacks, and people start listening to themselves and they'll say, "I messed that part up." And that might be true, but the band is pumping along and it's the best feeling take. Sure, maybe everybody didn't technically play their best on this take, but if it's an uptempo, fun song, you look for the version that's most fun. And if it's a sad song, you look for the take that's making you the most sad. That's a lot of it.
RLR: I saw in the press materials that you had a part in the Coen Brothers's new series on Netflix. What was that experience like, seeing that creative process, as someone who is accustomed to a very different type of performance?
WW: At first, I was a little confused about why they wanted me to be involved. But I thought about their movies, and they're such character driven stories, and I thought, they must see some qualities in me that are gonna work on film. It is definitely a different process, just how you have to move. Little things, like: don't move your head. Just keep your head still when you're saying these things. And doing lines with another actor wasn't an instantly gratifying thing. I had no idea what was good. Playing music, I can listen and feel like, this is pumping, this is good; or I can be on stage and think something's wrong with the feel of this song. But shooting this thing, I had no idea. I was really nervous, but after a few takes, I was able to loosen up and be more natural.
Willie is playing throughout New England next week: The Great Scott in Boston (Nov. 1), Higher Ground in South Burlington (11/2), and The Music Loft in Portsmouth (11/3). He heads up to Rockland, Maine on 11/4 before coming back to Holyoke, MA on 11/5. All tour information is here. Get out there and see this guy–you'll be so happy you did.