Interview
An Interview With Zack Smith Of Smooth Hound Smith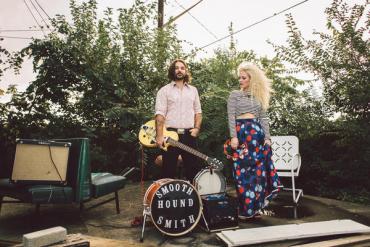 Smooth Hound Smith has been on my radar since the first licks of their debut daytrotter session. Zack Smith (guitar/vocals/foot drums/harmonicas/banjo) and Caitlin Doyle (vocals/percussion) make up this fantastic duo from Nashville. I got a chance to talk with Zack about their new album, Sweet Tennessee Honey, which just came out January 15. 
RLR: Congratulations on the new album – it's so good. How do you think it builds on, or differs from, your first album that came out in 2013?
ZS: It's pretty different in every conceivable way. Some of the songs on the first record were five and six years old. Caitlin and I had been playing as a two-piece before we got into the studio. Our producer was really helpful, thinking things through like "this needs vibes or percussion."  It took us four or five days over the course of six or seven months to make because we couldn't just get a chunk of studio time.
With Sweet Tennessee Honey, it was almost exactly the opposite. Most of the songs were written two weeks before recording and we did arrangements on the fly. It was kind of…not impulsive, but we went with our gut. And we recorded it in three studios, one of which was our living room.
RLR: You have quite a few guests on Sweet Tennessee Honey. Can you talk about how those collaborations informed the album?
ZS: One of the studios we worked with had a relationship with Sarah Jarosz and Noam Pikelny. They kind of happened to be there and sat in, which was great.
Jano Rix came in to play keys on "Gettin' Around" and "My Heart's Not Broken Yet." And he slayed it the first time, and every time just got better and better. He's such a pro.
RLR: Sweet Tennessee Honey features two live songs – did you know you wanted a live track on this new album?
ZS: Stopgap Woman Blues is entirely live; it's the truest live track. And 30 Days is live, but I added the bass in the studio. 30 Days is on our first album but it's played with a banjo on the album and I usually play guitar live. A lot of people have come up to us after shows saying how much they like that song, so we figured we should put a version out there that's closer to the one you'd hear live.
Both songs give a good representation of what it's like to be at our shows. Caitlin and I really like making records, with really rich sounds. But there's something about a live recording that's just as valid as a carefully produced studio version.
RLR: As a working musician, complete this sentence: I used to think ______ now I think _____.
ZS: I used to think touring full time would be easy; now I think every night we're on the road and I don't have to sleep in a Wal-Mart parking lot, I'm lucky. … But, you know, I write snippets of lyrics before I go to bed and a lot of those were written in a Wal-Mart parking lot.
They're touring the northeast now and are heading west soon.
Here's a crushing version of "My Heart's Not Broken Yet":