Interview
It Takes The Luck to Make Good Music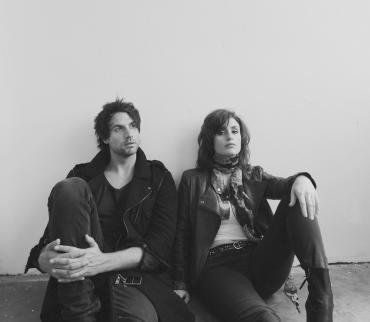 When it comes to good songwriting, you can "double down" on the duo, The Luck. Born and bred in London in the UK, siblings Max and Esmay Luck grew up never playing together musically, but it was their mutual love for music and natural harmonization that made their joining forces inevitable. I had the privelege of talking with the gifted brother and sister duo about how they began rather accidently five years ago in New York City. And thank goodness they did! I took a listen to their newest song, "True North," which is the title track from their upcoming EP. The track has everything you would want in an acoustic single -- great melody, seamless vocal harmonies, catchy chorus, and foot-stompin' acoustic guitar rhythms. Read on to learn more about this talented duo...and I'm sure you will be seeing a lot more of them!
Hello, Max and Esmay. How are you?
Hi there! Good thanks… very happy to have released some music last week!  
Being that you have been playing music while growing up together, at what stage did you decide to actually pursue a music career as a duo?
Esmay: We actually never played music together growing up! We did various things separately, singing in choirs, playing instruments in orchestras ... Max was in a band whilst at school too. Having both started to pursue careers outside music after uni, Max came back round to music and decided to become a solo artist ... I started writing songs with him to sing whilst in-between jobs and then we wrote Bricks. It was back in May 2011...We were two kids from London, sat in a warehouse apartment in New York, totally caught up in the whirring excitement of the city. It was a song with a train beat, this percussive style of guitar that Max had been honing and for the first time, a load of female vocal parts and Debussy-style harmonies. Max's Craigslist flatmate came out of his room proclaiming he had just gotten goosebumps from our harmonies and that we had to finish the song and demo it … And we realised we might have something special. We became a duo very soon after!  
I would imagine being so closely related, it would give you more opportunities to write songs together. What is your songwriting process typically like?  How many songs have you written together to date?
Max: Well. The process is generally hilarious. Bit of writing, a disagreement, then person coming around, singing along and the sub-conscious agreement that something sounds great. Then a further disagreement about lyrics. And then one of us walks out, but eventually we come back to the song and say 'yeh that's pretty good'. We have written about 15 like that. It's all from the heart and soul.
Esmay: Hahaha yeah that's pretty spot on… We actually live together most of the time too so songs get written at all times of day - after breakfast, whilst cooking, when you come home from a bar and the other one is sitting on the sofa playing guitar... The process usually starts with one of us having a snippet of a song that pops into our head, then we develop it til we feel it's good enough to play to the other one and write the song together (and then the above tends to happen). Sometimes we finish songs separately but even then we usually end up getting the other persons input along the way on various things. We also go into writing sessions sometimes too - having that structure can sometimes help finish a song more quickly. We have probably written about 100 songs together in total?
How has your relationship as brother and sister effected your relationship as professional musicans? Has it made it easier or harder?
We argue like any brother or sister who are 4 years apart. But we have learnt to temper it and hone it towards a creative outcome. We are both perfectionists and it is all about the song. The one thing we have noticed is that we can rely 100% on each other to always do what's best for the band and to step up to the next plate. Which we recently found out is a baseball term. Being siblings we've been able to rehearse more often than not as well, which makes us more in sync. But it certainly makes you less guarded about how you speak to each other - like in rehearsals, if your timing or tuning is out, you are told - and it's not sugar coated! But then again, it makes it much quicker to address issues and say what you mean to get it sorted. And any disagreements tend to be forgotten about in about 5 minutes anyway….
We also have a lot of jokes and banter that have lasted since childhood - they always lighten the mood when things are tough. And these come into our live performance too!
What influenced your decision to write/perform/record in LA?
Our friends The Charming Liars. Mexican food. Sunshine. Margaritas. Laurel Canyon. The encouragement of Californians!
In your experience, how does performing in the US differ from performing in the UK?
Both are really rewarding… but we find people aren't afraid to tell us that they love what we do in the US - when you put your heart on your sleeve and someone says it makes their day, it feels great. That's what Americans aren't afraid to say.
It also takes longer to travel to gigs in the US - we spend a lot of time in the Prius :)
Did you find US audiences easier or more challenging to attract than UK audiences?
We love playing in the US and back at home in the UK! American fans are so great as they give us immediate and honest feedback, let us know what works for them and makes us feel welcome and treasured. But we also have some great fans in the UK and Europe who send us messages and want us to perform over there more. It's just tough to be in both places regularly!  
Any interesting tour anecdotes to share?
Someone who came to see us at Pier 39 sent us videos of her toddler dancing to our music, saying they couldn't make it to our shows in San Diego where they were based... we offered to do one of our Facebook live streams from their house and when we arrived they had made chalk drawings of our song titles on the paving stones outside their house! So cute... And there was this time when someone actually choreographed a ballet piece to one of our songs 'Holding On' - that they had bought from us at a street performance! That was pretty great.
Then there was the time the Prius broke down in San Francisco on a hill. That was fun. We also have many food related anecdotes - too many but some highlights include the Salt Lick in Austin, In N Out on the I5 and doughnuts in RPM Chicago - Esmay actually cried with joy, they were so good.
Tell us about your upcoming EP, True North? What was your inspiration for the title track?
We feel like a lot of us struggle to find who we are and match it up with who we thought we would be... or compare it to others. Sometimes we just try and fit in, but we end up doing things that don't make us happy. True North is about figuring out who you are and following your inner compass, your heart, your conviction, doing what feels right. It was inspired by chats both of us had been having with our parents a couple of weeks before we wrote the chat. Mum used the words 'True North' and we knew it was a song we had to write.
What is your live show typically like?
A mix of up tempo songs and ballads...We like to play some songs with the band, some as just the two of us and if we have a mega-strong vibe going and it feels right, we like to unplug and take people back to how it feels when we originally write songs with just a guitar and two voices. We like chatting with the audience as much as possible, explaining what the songs are about.. and there are always laughs and silly anecdotes.
Tell us what you have planned musically for the rest of 2016?
Well we will be releasing the next tracks from the EP over the course of the next 2 months online… we have street performances at Pier 39 in SF late August/beginning of September and an LA show lined up on 28 September at Hotel Cafe. Hoping to head to Nashville later in the year too! We will also be recording the rest of our debut album and continue to write songs that capture the essence of what we are feeling.
"True North" by The Luck is below for your listening pleasure.  For more info:  http://www.theluckmusic.com/