Interview
Jambalaya 37 delivers New Orleans sound from Italy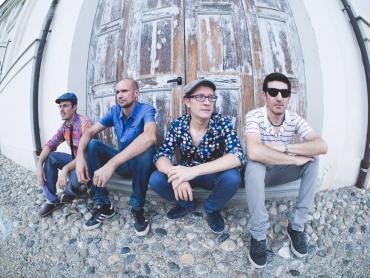 From Italy arrives the new faces of jazz. Jambalaya 37 is a shining example of the latest musical hybrids pushing the definition of jazz. The four-piece unites acid jazz, R&B, electronic, funk, and ska inspirations for a sound that was birthed in New Orleans. Multi-instrumentalist and vocalist Dario Balmas explains how it was all brewed together.
Q: How did Jambalaya 37 form? Who does the songwriting?
A: I took a trip in 2005 to New Orleans and walking through the streets of Tremè and eating Jambalaya was impressed by the bands of street boys who played mixed music: jazz, funk, ska, and African rhythms. Our music still today maintains this fundamental principle: the search for mixing, creating songs together, where everyone can bring their own flavor and add it to the pot. Our goal is to create a pleasant sound recipe. We are all songwriters inside Jambalaya 37.
Q: What was your introduction to music? How old were you, and how did it affect you?
A: We started very young, as children. Each of us has had a different path at the beginning, some taking lessons from school teachers, some in the folkloristic bands, and others are self-taught. We met as teenagers, although some of us were friends as children, and a musical research path was born together. Although we were already playing music clubs in each band we had the will to seek a new sound and actively participate in the history of music
Q: Did you grow up in a musical environment?
A: We all grew up in traditional cultural values families. None of our parents is an artist. Let's say that we absorbed the music listening to Italian radio, typical Italian music and the bands of guys older than us who already played in clubs or festivals.
Q: What styles of music had the greatest impact on you creatively?
A: All the musicians who have played or still play in the Jambalaya 37 family are united by jazz music. Then each of us had a different musical story. For example, I have had a strong connection with rock & roll, funk, rockabilly. Ale Raise currently works with his projects of electronic music and drum and bass. Gabriele Biei has played for many years in reggae music bands, ska, R&B. And Gilberto Bonetto has two degrees in piano: one of classical music and one of jazz music.
Q: What instruments do you play, and how did you learn?
A: Some of us are self-teaching while others have studied in various schools. In particular I am a poly-instrumentalist who learned many instruments alone. In live concerts I sing, play the guitar, and if necessary the bass, but during the recording I also play many trumpet scores. Ale is a drummer who also has a lot of software skills, as well as the use of electronic instruments. Gilberto and Gabriele instead are dedicated to the sound experimentation of their instruments; for example, Gabriele plays the trombone filtering the sound through a typical guitarist pedal.
Q: What was the first song you ever wrote?
A: The first song we are written is "Quando Vola Lo Struzzo," a song with an unusual title, funny because it assumes that an ostrich can fly. The track was produced as a single in 2008 from the Toast Records label in Turin and is still available in all online stores.
Q: What artists influenced you the most growing up?
The list could be too long, endless, in ten years of music many artists have passed in the world of music that have influenced our life, both musical and personal. For the same reason the Jambalaya musical recipe is influenced by many great artists. For sure there are but writing a list may be too simplistic; there is a risk of giving too much value to some and take it away from others By exclusion we can perhaps say that the great classic-rock artists have never influenced our music.
Q: How have you evolved creatively?
A: We started playing ska-jazz music: this was our origin, that is the idea of playing jazz in a modern, fun and youthful way. Then from there we started mixing funk, reggae, folk, pop, fusion, soul. After ten years of music we changed the structure of the band a lot: at the end of 2014 we were about ten people on the stage but from 2015 we returned to the roots. We started from the four fundamental elements to create a new, innovative sound. Bass and vocals, drums, keyboards, trombone - we sought the new sound in the territory of funk music, R&B, electronic music, new soul, and without forgetting jazz, the musical genre that has always accompanied us.
Website: