Interview
Javier Escovedo on His New Album, the True Believers, and (Briefly) Meeting Bowie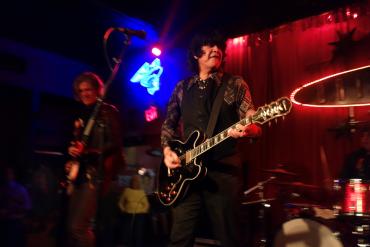 The True Believers, to borrow the title of a Flatlander's album, were in reality "more a legend than a band".  The three guitar line-up included Jon Dee Graham, and Alejandro and Javier Escovedo but unlike The Flatlanders they did manage to release one album (in 1986) before the band disintegrated and they moved on with their solo careers.  Of those three talented songwriters,  Javier has kept the lowest profile by far but thirty years later on his second solo album Kicked Out Of Eden (Saustex, 2016) he stakes his claim as a rock and roller to be reckoned with.  His blend of hook-filled punk, glam and garage influenced rock is timeless with just the right balance of ragged swagger and heartfelt lyrics. Any of these tracks would fit nicely into a playlist featuring The Byrds, Mott the Hoople and The New York Dolls. Javier has assembled an extremely talented band which includes Brad Rice on guitar (The Backsliders, Whiskeytown, and Son Volt), Michael "Cornbread" Traylor on bass (James McMurtry) and Hector Munoz on drums (Alejandro Escovedo).  If you file your albums by style, rather than alphabetically, I'd slip this one between his brother Alejandro's albums and Walter Salas-Humara's work with The Silos.
Hal Bogerd: Congratulations on Kicked Out of Eden.  Although it is clearly your album, your sound, it must be gratifying to work with so many talented people.
Javier Escovedo: Thank you, yeah, I learned a long time ago that I needed great players with me in order to make good records. They make me look good.
Could you talk a little bit about working with Brad Rice, Hector Munoz and Cornbread?
When I went back to California I was telling everyone that it was the best recording experience I have had. It was really easy to make this record. Everything really fell into place. These guys are pros, well seasoned musicians, so with guys like this in the room with you it's not hard to get good takes of your songs.
I've known Hector Munoz the longest. We played together in the True Believers and a bit on a tour with Alejandro in his solo band. I also met Cornbread on that tour. Brad I met in the True Believers days when he was playing in The Backsliders. They are all very talented and dependable but more importantly to me, they are great guys to be around and are real feel players.
You need songs to make an album and you wrote all nine  tracks.  
I wrote all of the songs except for "This Side of Nowhere" which I wrote with Bill Bartell (AKA Pat Fear). We wrote it for a TV show but we didn't get it placed.
I love to write songs, I have been doing it since I was a teenager it is both fun and nerve wracking. I want to write the best songs I can and I get kinda crazy about it.
Where does the Kicked Out of Eden come from?  It's an ominous title but you sound like you're in a pretty good place.
Yeah, it's not meant to be too ominous. It is more like being sent to the principal's office, you messed up, and you gotta pay the price. I just liked the way it sounded. I also lost my house so I was kicked out and sent on my way. Sometimes it feels like the world tells you not to get too comfortable, keep moving, you don't belong here.
Could you pick a two tracks from the album you'd like someone who wasn't familiar with your music to hear.   
Hm, I would pick "Downtown." It's the first song on the record and it kind of defines the record, it spells it out loud and clear that this is a rock and roll record with roots in all of rock and roll: from Jerry Lee Lewis to Johnny Thunders and the New York Dolls.
Second, I'd pick "Driving Around." It's a slower, more intimate song. I have always written slower songs along with the rockers and I was thinking about how I always loved The Velvet Underground. They had a song on their first record called "Sunday Morning" that was slow and sweet but also had a "walking alone in the big city" feel to it and I think that influenced me to try and write slow songs.
The Zeros, a punk band, was your first band? 
Yes. We got together in high school.  We were all pretty young, the youngest was 16, and I was the oldest at 19. Thanks to Greg Shaw and Bomp Records, we were one of the first punk bands in California to put out a single.
It was a lot of fun playing shows in Hollywood with all the other bands. It was exciting and we were at the right place at the right time. Patti Smith joined us onstage in San Francisco at the Mabuhay and we played "Waiting for the Man". We opened for the Clash and John Cale. It was a blast! We went to NYC and played at Max's Kansas City and CBGB.  
Robert Lopez -- a.k.a. El Vez -- was a member of The Zeros.
Yes. Robert played guitar, sang and wrote songs including one of our crowd favorites "Beat Your Heart Out".
And after that, the True Believers. The band seemed destined for great things but ended up only releasing one album. What a songwriter and guitar heavy line-up with you, Alejandro and Jon Dee Graham! I know the second album was shelved by the label. Is that what effectively killed the band?
There were many reasons, but if the record would have come out when it was supposed to, we might have broken through.
Although the True Believers are often  included in the "alt-country" genre the songs on Kicked Out of Eden are firmly rooted in the world of rock and roll.
I guess because Alejandro was in Rank and File they lumped us into alt-country. If you check out my songs with the True Believers you'd find that they were rock and roll songs also.
Has there ever been any talk of a reunion or recording together again?
We got together a few years ago and played ACL Fest and around Texas. I have no interest in doing that again.  
Unlike Alejandro and Jon, you weren't on my radar until you released City Lights in 2012.  Were you making music or taking a break?
After the True Believers I played with Will Sexton and did a US tour with him. I was hanging out in California after that and Lisa Robinson got a hold of me. I eventually joined a band she was managing called The Lost with Lucas Janklow. They moved me to NYC and I played guitar in that band for two years. It was so much fun and Lucas was such a guitar head.  We played guitars constantly and we went out every night in NYC looking for musicians. I met a lot of cool people in the N.Y. scene. Lisa would introduce me to everyone, so I met Johnny Thunders, David Bowie, and he wanted to introduce me to Lou Reed but I just couldn't do it. I did go up to Lou on the street once, I had an old flexidisc interview with him and he said that people would go up to him on the street and say "How's it goin' Lou?" so I went up to him and said "How's it goin' Lou?"   He said "Good! Very Good!" Very sternly! It made my month.
What was it like meeting  Bowie?
I was just a fly on the wall. I was hanging out with Lisa and Lucas and Bowie came by and saw Lisa. He sat down and they had known each other for a long time so they were catching up.  
I bought the Ziggy Stardust record when I was a teenager and I just loved it. I loved the songs and especially loved Mick Ronson on guitar. I was lucky enough to see that band at Long Beach Arena around 1974. My parents dropped me off and picked me up! Seeing them play "Moonage Daydream" was probably the best thing I've ever seen. Amazing.
After that I went back to California and started a band with Baba Chenelle, from The Zeros who is  my best mate, and guitarzan Bill Dusha called The Sacred Hearts.  We played mostly in LA and put out an EP on Sympathy for the Record Industry that you can check out on YouTube. Then The Zeros got back together and we put out a record called Knockin me Dead and toured Spain and Sweden. We put out a Live in Madrid album and went back and toured Spain, Germany and France. I also played in a band called Chariot with Bill Bartell and Ken Stringfellow and Brian Young from the Posies. We recorded in Seattle and put out a record on Munster records  and toured Spain and Scandinavia. Norway in February? You haven't lived! 
So yeah, I toured mostly in Europe, other than that, I was hanging around Hollywood waiting to be discovered.
Do you have plans to tour in support of the album?
I will be playing the Saustex showcase at  SXSW March 17th at Saxon Pub and Sunday March 20th at the Continental Club.