Interview
Jeff White Releases First Album In More Than 15 Years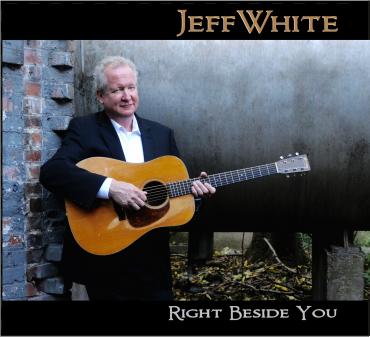 Jeff White is a legend in bluegrass music, having spent more than three decades as a musician, songwriter and producer. Much of his career has been spent working with other artists like Alison Krauss and Vince Gill. On March 25, White steps back into the spotlight with the digital release of  "Right Beside You," his first album in more than 15 years. The physical CD of "Right Beside You" will be available beginning on April 22.
White said it's been a long time since he released a solo record. "I wanted to have versions of those songs [other artists] had done." The album is a combination of White's original songs and traditional bluegrass songs.
He said he had always used a core group of musicians, and he used that group on the recent  record. White said his friend Vince Gill offered the studio at his home to record "Right Beside You."
White was thrilled to have musicians Charlie Cushman and Michael Cleveland playing on the entire CD. Gill also sang on five tracks on  the new CD, as well as playing mandolin. He described Cushman, Cleveland and Gill as being very intense musicians.
Other people who appear on "Right Beside You" include Alison Krauss, Del McCoury, Dan Tyminski, and The Chieftains.
White said he became interested in bluegrass after watching a PBS special when he was junior or senior in high school. He said he started realizing how great the flatpicking style of guitar was.  He said his dorm mate in college was a mandolin player who introduced him to the music of Doc Watson.
White said he moved to Bloomington, Indiana in 1979 for graduate school. While he was there, he recalls that he was told he should go listen to a 13-year-old fiddle player and singer. That teen was Alison Krauss. White recalled that she was 17 or 18 when they started working together. "A friend of mine was offered the job with Union Station and he didn't want to travel." That decision allowed White to get the job and he worked with Krauss on her "I've Got That Old Feeling" and "Two Highways" albums. Both albums were Grammy-nominated and "I've Got That Old Feeling" won a Grammy for Best Bluegrass Recording.
In 1991, White moved to Nashville. He recalled that he had gone to Nashville on several occasions to record or play on the Grand Ole Opry with Krauss.
White said it came at a time when the music scene was kind of small.  "After I left Alison, I figured it was the best place to be. There are actually a lot more working musicians in Nashville."
When he was in Nashville, White worked with Tim O'Brien. "We played the Station Inn one night and Vince came in."
 White started playing on the road with him while he was on tour with George Jones and Conway Twitty.
"To be introduced to George Jones on your first morning out in the country music field was surreal," White said.
During his career, White has always served as a producer. "It kind of came naturally," he said. White said that Gill has an amazing ear of what's working and arranging songs. "You have to have an opinion about what is good and bad, especially for if things are in tune," he said. 
White said he started producing Michael Cleveland. "I like collaborating with people," he said. "That's one thing I think makes for a good producer is you have a good ability to collaborate and take in people's ideas. You must have strong opinions."
White said he has a real appreciation of artists like Bill Monroe, Stringbean and Flatt and Scruggs. That appreciation is evident on "Right Beside You" in the traditional songs he selected to for the project. White moved to Nashville when the first generation performers were still alive and performing. He said some people haven't gone far enough back to look into the early bluegrass singers and players. White said it would be akin to people thinking country music started with 80s and 90s artists and not knowing about Hank Williams and Patsy Cline.
White said Del McCoury played on "Travelin' That Lonesome Road," which is a Bill Monroe song. He said McCoury just sang great. "I consider him the patriarch of bluegrass," White said.
White said the very last song on the record is "Pretty Saro".  White had a period of about 13 years when he was touring and recording with the Irish group, The Chieftains. He said he though "Pretty Saro" sounded very Irish, so he approached the Chieftains about singing on it. He rented a studio in Bloomington, Indiana and had them overdub on a track they had already recorded at Gill's house.
"Right Beside You" will be available March 25 digitally and it will be available as a physical CD on April 22.