Interview
Jeffrey Dean Foster: Working with Dixon, Easter, Anderson, Jordan, Dickinson, and Shatner?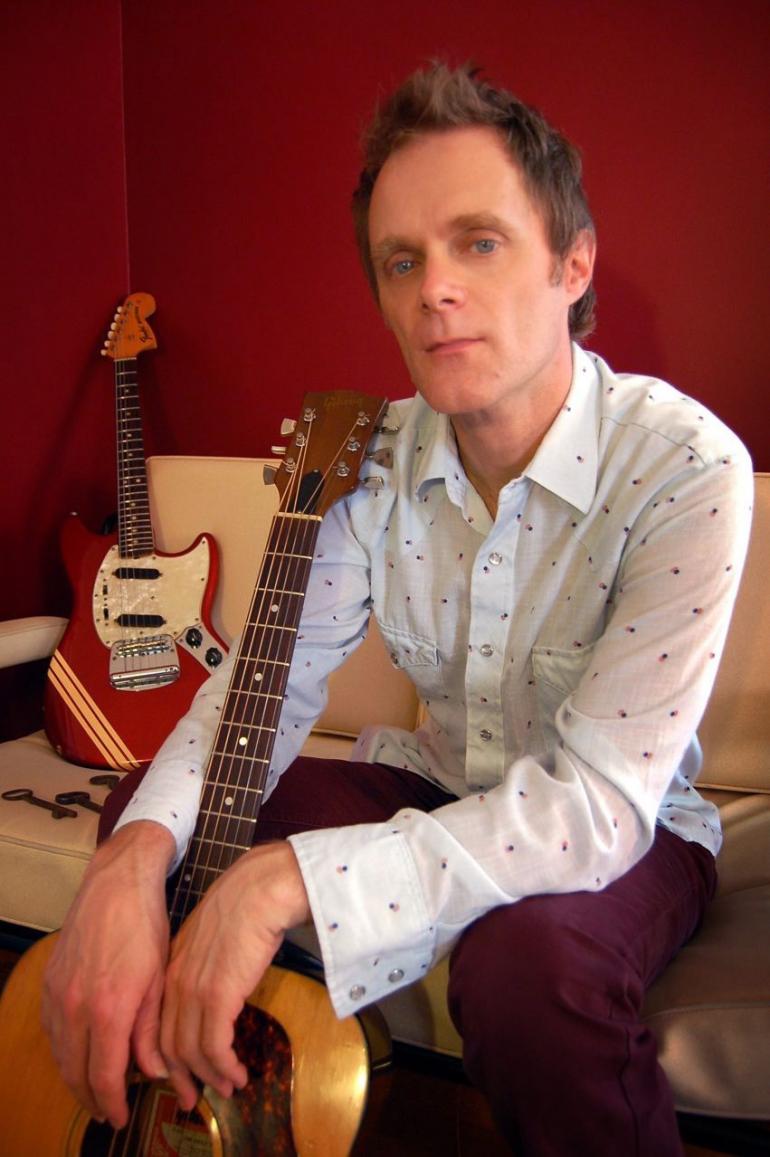 Jeffrey Dean Foster and The Right Profile signed to a major label but never released an album. Bandmate Stephen Dubner left the band and eventually co-wrote Freakonomics.  Foster regrouped with The Carneys and that band also recorded an album that was never released.  Drummer Jon Wurster moved on to Superchunk and comedy writing. A determined Foster formed yet a third band, The Pinetops, and released the excellent one-off album, Above Ground and Vertical.   
In late 2014, Foster released The Arrow,  his third album as a solo artist. With help from former bandmates and new recruits Foster released a rocking power pop gem aided by a team of  producers: Don Dixon, Mitch Easter, Jackie Spry and John Pfiffner. The Arrrow recalls Big Star, The Faces and several bands inbetween and Foster describes the album as  "a random spin of an FM radio dial from a certain time in the past in the way it embraces a lot of styles without being too disparate or mixed up. So it's skating over at least my musical history, though I wasn't consciously thinking about it."
Hal Bogerd: You've worked with some great producers including Steve Jordan, Pete Anderson and Jim Dickinson. Could you talk a little bit about working with each of them?
Jeffrey Dean Foster: Pete Anderson and Dusty Wakeman came to North Carolina to record us while we had our record deal with Clive Davis' Arista Records. They were nice guys and Dusty did most of the work but I think they were a little afraid to let us play. With us being a young ragged band I think they did what they could to take out the element of surprise from the session and we were not experienced enough to know how to stand up to that.  
Jim Dickinson actually flew to NY to meet the big wigs at Arista. We thought that we had really pulled one over on them when they agreed to let us try and make a record with him. He was always convinced that they thought he was Jim Dickson that had made Byrds records! He was a great storyteller and mentor in the studio and was a great combination of a true rock and roller and a conceptual red neck artist. I miss him all the time. 
I went to NYC and worked with Steve Jordan for a week or two before the band (The Carneys-David Enloe, Jon Wurster and Tim Fleming) came up. Steve had just come off of recording and touring with The x-pensive Winos and playing with Neil Young on SNL so we were all pretty excited, including Steve.  We cut some really beautiful music with him at The Hit Factory with Niko Bolas and Joe Blaney engineering.  David Enloe passed away a few years ago but his guitar playing on those sessions is perfectly soulful. Steve was really determined to capture something actually happening in the room and not just rehearse a song to death and then "perfect" it.  Alot of what I've done since then has been informed by that time. 
On The Arrow you worked with Don Dixon and Mitch Easter. I guess you've know those guys for a while. They're both nationally known but absolutely local legends in the NC music scene.
I've known both Mitch and Don for way more than half of my life. Don was one of the first "rock stars" that I knew and his band Arrogance were actually on the radio. Imagine that! Don has been involved in some way with almost every bit of recording I've done.  Mitch produced my band The Right Profile's first recordings and I've carried on the tradition of painting his house or studio to help pay for studio time ever since. When I walked in the door to start the sessions for what would become The Arrow, Dixon greeted me and said "I'm here, what do you want me to do"  He ended up staying for 3 days and helped us get the album off the ground. He's a great cheerleader in the studio and enthusiastically pulls things out of you. Mitch is quieter but when he speaks he says exactly what is needed to make a song work.
I've really enjoyed The Arrow and  "Morningside" with Lynn Blakey was one of my favorite songs from the album.  Any thoughts you'd like to share on the video?
The video for "Morningside" was shot in about 2 hours last fall by Jesse Knight and features lots of eye liner and handguns.
You were in a band The Right Profile.  Was the band named after the Clash song?
It was named after The Clash song. We had our first gig in a few days on the campus of Appalachian State University and one of the other guys came up with the name. I figured we'd change it to something better after the gig but it stuck!
And, The Right Profile recorded an album that was never released? We recorded a lot of stuff before and during our time with Arista records. There is probably a good album in all of that stuff but it's probably never going to see the light of day.
Then came the Carneys. Another album recorded, and then.....
The Carneys with David Enloe on guitar and then later with Mark Bosch (Ian Hunter, Garland Jeffreys) did make an albums worth of good songs. I'd like folks to hear that stuff. Jon Wurster really came into his own as a drummer around that time and is great throughout. His comedic genius was beginning to flower as well. 
In contrast the Pinetops did record and album and released the excellent "Above Ground and Vertical". It must have been a relief to finally get an album out!
The Pinetops record came out of Dixon calling me up and saying let's record some of your new songs. We did three songs in one night with Wurster, Brad Rice and Danny Kurtz and then a few months later set up in my barn and did the rest of the record with John Pfiffner and John Chumbriss.  I still like that record.
I've read you were in a commercial with William Shatner. That must have been sort of surreal. How did that come about?
My pal Phil Morrison directed a series of commercial for Priceline.com and he handpicked his very own fake band to back William Shatner. It included myself, Carrie Brownstein (Sleater Kinney) and Mary Timony (Ex Hex).  I think we all made more money acting like a band than we had ever made really being in one!
Thanks Jeffrey! See you in Raleigh with the Connells on February 27th at the Lincoln Theatre!
Photo credit: Courtney Southern