Interview
Jeremy Nail Scales Mountains with Alejandro Escovedo's Help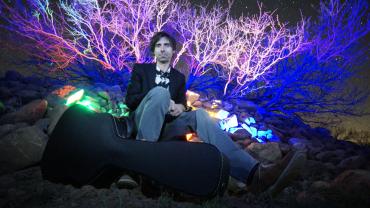 "I didn't know what we were gonna play, but we went into this monstrous version of 'My Mountain,'" says Jeremy Nail. "I screamed at the top of my lungs and took the solo into no-man's-land. It sounds like the speakers are gonna blow."
Nail was answering questions about working with Alejandro Escovedo, the producer of his recently released album My Mountain. Of course, that quote is just an extract, a brief out-of-context moment in time. But there is more to how they worked together, to the music they produced. There is more to their back story.
Four years ago Jeremy Nail was diagnosed with Sarcoma. In 2014 his leg was amputated. In 2016, he released My Mountain, produced by Alejandro Escovedo. And there's more to that story, still. 
Nail is based in Austin, Texas, and spent his childhood running around his family's ranch. He says the ranch is the size of Lubbock. Lubbock? Really? "Yes" he replied, "there is a lot of open space."
He is aware of the history of his family, and his place in it. He is a "seventh generation Texan," he says. "I'm not sure where the Nail name comes from, but two Nail brothers came from England to help American colonists fight for independence from England. After the war, one brother stayed with the colonies and the other brother, John Nail, went to Tennessee. He and his family eventually made their way to Texas and settled in Ladonia, Texas, northeast of Dallas."
The Nail family land is occupied by a cattle ranch on which Nail has worked, but there was another side to the family that ultimately influenced his upbringing: the Nails were ranchers on the one hand, purveyors of fine arts on the other. "It seems that many in my family were either one or the other," he says. "I worked summers out there growing up, but I was more drawn to art and music. They lived together because there is a mutual admiration and respect. Both require a great deal of work ethic."
Other early influences were varied. "The first record on vinyl I heard was Michael Jackson's Bad" he explains. "And I remember a Willie and Waylon record called Clean Shirt. My dad liked classical music as well as stuff like the Allman Brothers and Dire Straits."
Then Nail got into rock and grunge bands (Smashing Pumpkins, Pearl Jam), before he "really got into songwriters like Steve Earle, Tom Petty, and Townes Van Zandt. I really liked the stories and the way they wrote lyrics," he says. "It sounded like home to me."
When he was 16 or 17, he started writing songs. "I started learning to write from friends who were good at it and listening to a lot of records," he says. He moved to Lubbock to study Agri-Business at Texas Tech. This led to other things way beyond the commercial principles of large scale agri-operations. "First time I played with a band was at Bash Riprock's in Lubbock, Texas," he says, "when I was 21 or so. It was fun, but I'm glad there's not a tape of it."
Nonetheless, he'd got the bug. He attended South Plains College for three years of study, this time a student of music. By 2005, Nail was in Austin working on his first album Letter. "I didn't know many other musicians in Austin when I first moved here," he recalls. "After I made my first record, my producer, Mark Addison, introduced me to Harmoni Kelley. She helped me put the rest of the band together – Jeremy Nail and the Incidents. We played a lot around town and did some stuff regionally. It was a fun group of folks."
During that time, Nail would go watch Alejandro Escovedo at the Continental Club in Austin. He says he "absorbed a lot of [Escovedo 's] music by watching his band countless times … just being a fan. I knew the certain inflections that were inside those songs."
Then in 2013 Nail's journey took a particular path. "We have a mutual friend who suggested me to Alejandro when he was looking for a replacement," Nail says. "I got the call and played a show with his band in Norman, Oklahoma.
"I was nervous going in … [I] was a little worried because I'm not really a 'lead guitarist.' Somehow, it worked and I remember us sounding great that day in Norman." After just one gig Escovedo invited Nail to join him on his upcoming world tour. 
However, life is what happens while you are busy making other plans, and soon after this, Nail received the sarcoma diagnosis. Life as he knew it stopped. He was young, active, talented, on the road to living his dream – but then everything shifted. The radiation and other treatment couldn't turn the tide enough, and this left no choice other than the amputation of his leg.
Recovery from a life-threatening, life-changing event like this isn't just physical. Nail had to learn how to walk with his prosthetic limb, and take care of a body battered and bleached from his illness. He also needed to return to working on what he loves.
When Nail became ill, Escovedo was on a world tour, but they both managed to stay in touch. In January of 2015, he invited Nail to his show in the Moody Theater. From that point, Escovedo's wise counsel guided Nail through the creation of songs that unsparingly deal with the events that Nail had just lived through. Escovedo went on to produce the resulting album.
On a personal level, Nail feels blessed. "It means the world to me to have had his guidance and support," he says. "We connected on many levels, not only as artists, but as people who have dealt with serious loss and health struggles. Having someone you look up to and lift you up like that, it's a great blessing. He made me feel comfortable and confident that I could do this in a way that would do the same for others. I owe a lot to him.
"[Alejandro] is a great producer," he adds. "When we were developing these songs, he said, 'You want to be able to stand behind every line you write and sing these songs for the rest of your life.'  [He] helped me create the space for the words and the band to become one. When we were recording, nothing was forced. The vibe was very natural and every player dove deep into these songs. He has that kind of presence."
In an interview earlier this year, Ranchera artist Carrie Rodriguez told me that when she worked with Alejandro Escovedo, he would push her to jump off the cliff musically. "I'd be giving a fiddle solo and he'd get up in my face and say, 'I don't want to hear this fiddle country thing, I want you to sing bar talk. And go crazy,'" she remembered. "And then he'd get in my face and demand it. And it was great, really great."
I ask Nail if that rang any bells with him. "Oh yes," he exclaims. "The whole vibe of this record is very intimate and stripped-down. It never gets above a certain volume, and that's what we intended. I didn't play electric guitar. We cut all of the basic tracks in two days. On the third and last day of those sessions, we are tweaking the mixes a little, hanging out, and relaxing because we are way ahead of schedule. We get to the end of the day and Alejandro is like, 'Alright, everyone get in here, it's time to rock out.'"
My Mountain, the album that Escovedo ultimately produced, bears witness. It unwraps the bandages until we are left with the hurt ... and the healing. While it deals directly with Nail's battle, his mountain, it also resonates with those of us who have not been there.
The first line of "Tell Me What Else You Got" says "I guarantee you haven't seen what I've seen." It's a straight-from-the-hip statement that I do not challenge. The song goes on to list some of what he has seen, and what he is facing in its aftermath. "I walked through fire, never got burned," he sings.
"To me, that line says that I went through these intense things and kept things moving without getting jaded," he explains, and it is a theme dotted throughout the album's eleven songs.
Title track, "My Mountain," repeats the line, "I might fail, but I'll get up again." It harkens back to obstacles from way beyond the past few years. "For me, that song is about coming out of a time of loneliness and isolation," he says, "connecting with the world around you again and putting yourself back together in the process."
And there is more to this. There is always more. "Survive" sounds like a man talking to himself:
You're gonna do what's best for you and no one else
I'll be by your side
Survive
He sings those words, then sings them again. "I lost a close friend to cancer when I was going through my treatment," he explains. "[She was] a girl I loved. I had her in mind when I was writing it. The perspective of the song changes in a way that sounds like I'm talking to myself, but I see it as her voice speaking to me. In turn, I want the message to be aimed to the listener."
The album never gets above a certain volume. Escovedo's adroit production puts Nail to the front, ensuring the words are clear, the tone of voice colours the mood, the message is given clear passage. You can hear touches of other artists in there: Neil Young for sure, and Richmond Fontaine in "Down to the Ocean." Indeed "New Frontier" sounds like a younger Willy Vlautin. Is Richmond Fontaine an influence? "Certainly," Nail says. "They are a great band. I love Willy Vlautin's songwriting. He is a lot like Raymond Carver."
I don't want to sound glib about all this. Or clichéd. There is no romance to the "brave young man battles cancer" aspect of this story. It is, in reality, a powerful precursor to an album that forensically explores surviving struggle, love, and loss. But there is one more key point: My Mountain stands up on its own. "I don't think this record will be overshadowed by my story," he says. "It's too strong for that. They move together as one."
My Mountain stands out as another act of courage in the whole series of events that have impacted Jeremy Nail. Intensely personal, relating to immense things, yet it is all left open for other people's scrutiny.
"It comforts me that I have something real to share," he says. "I understand that concept is not for everyone. To be authentic as an artist, I think there has to be somewhat of a distance from other people's opinions of you, good or bad. My job is to make the best record I can and keep moving forward."
Originally posted on Alan Harrison's Rocking Magpie