Interview
Joe Nick Patoski Takes Us to Groover's Paradise with Doug Sahm Documentary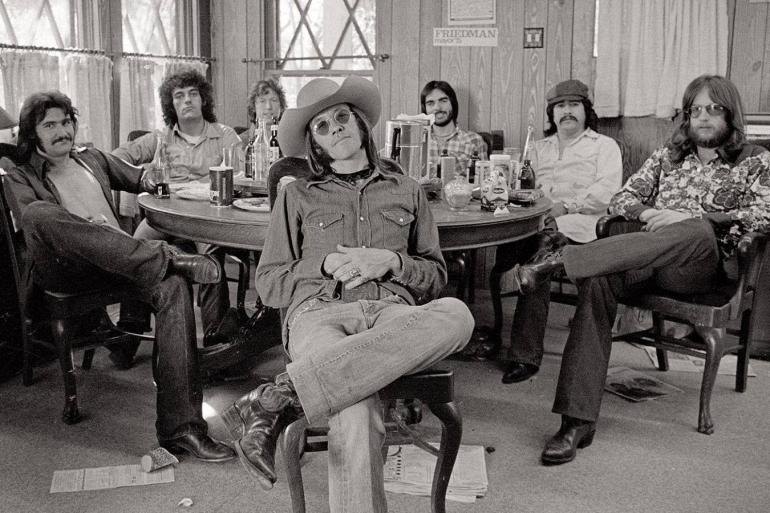 Everyone has their own story about how they discovered the music of Doug Sahm. Maybe you first heard of him through tributes or covers of his music from alt-country acts like Uncle Tupelo, the Bottle Rockets, and the Gourds, to name a few. Or perhaps you've seen Wilco end a show with their wonderful rendition of "Give Back the Key to My Heart". And maybe, just maybe, you were lucky enough to sit down for queso fries and an avocado milk shake in South Austin's Texicalli Grill years ago and hear the stories and the tunes from those who were closest to him. Regardless of how or when you first heard about Doug Sahm, chances are his music has stuck with you ever since, and if you're like me, you walk this earth feeling simultaneously enlightened at just knowing who he is while also wondering how the hell more people haven't been turned on to the original Texas groover. 
When Sahm passed away from a heart attack in 1999, he was only 58, but the lifelong musician left behind a prolific body of work. From growing up as a child prodigy of country music, to his British invasion-influenced Sir Douglas Quintet and their hit song "She's About A Mover", to his more psychedelic work in San Francisco, and eventually the Tex Mex rock and roll of the Texas Tornados, Doug Sahm dabbled in enough musical styles to make loyal fans out of legends like Bob Dylan and Willie Nelson. Much of Austin's music scene and culture as a whole owes a debt to the legacy of Sahm, who may have been the original cosmic cowboy with his seamless ability to add a little country to the counter-culture.
That's why fans of his music rejoiced when news broke last year that a documentary chronicling his life and music was in the works. Not only that, but it was being made by Joe Nick Patoski, the accomplished Texas writer responsible for Willie Nelson's biography and doing his very best to offer colorful commentary of Texas music for the last several decades. Sir Doug & the Genuine Texas Cosmic Groove is Patoski's first venture into filmmaking but, as a longtime friend and fan of Sahm, it's hard to imagine anyone better equipped to tell his story. Recently, Patoski took time from putting the finishing touches on the film before its world premiere at South By Southwest in Austin on March 19 to talk about the subject of the late great Doug Sahm.
Neil Ferguson: When did you get the idea to make this documentary and how long have you been working on it?
Joe Nick Patoski: The film's been probably about a two-year project, which is a pretty short time in this realm. But I've been wanting to tell Doug's story for a long long time - about forty years - and there have been many false starts and stops. I'd pretty much put it behind me, but the opportunity arose. The main thing is, at this stage in the game, [a documentary is] the only way to really tell his story; a book would be a disservice to him. You gotta hear him, see him, [listen to] his music, and you might get what you've missed if you've never heard of him. For those of us whose paths he crossed, we're bringing him back for a little bit, for at least eighty or ninety minutes!
Jan Reid wrote a book about Doug Sahm in 2010, but obviously it seems like his life story could benefit from visual treatment.
I think to limit the telling of his life to print, again, is doing him a disservice. Doug was a live wire. Not only was he a great musician and all these things, but he was very much a character. You may not like what you see all the time, but he was not a man to be ignored. We kind of need to have the audio-visual thing going to really try to explain - because I understand most people have never heard of Doug Sahm - and then again a lot of people around Austin, San Antonio, San Francisco, Amsterdam, Stockholm, Edmonton, Vancouver, they all know. So it's kind of like trying to capture that and tell what I consider to be a fairly remarkable story in American music.
You've said before that you see Doug Sahm as the greatest musician to emerge from Texas in the 20th century, and personally I agree. But for someone that's never heard of him before, how would you explain that opinion?
As an individual musician he could play more genres of music - he could play all the indigenous genres of Texas music, which are the basic building blocks of country western and western swing, rhythm and blues and blues, Tejano, conjunto, Tex Mex, whatever you want to call it. Those speak to the high ethnic nature of Texas. Texas ain't just a black and white thing as it has been historically through most of the South. It's always been highly ethnic - it's white, black and brown. Doug not only could play all of those styles, but he could play all of them authentically, and that's the word there. He didn't learn from records so much as he had direct transmission; he sat on Hank Williams' knee - the greatest artist in the history of country music. If you want to talk about Texas blues and jump blues, he watched and saw T Bone Walker and [Clarence] "Gatemouth" Brown play, and could ask them how they did it. This is one reason Bob Dylan always looked up to Doug, because Doug had the benefit of direct transmission. On top of all that, he was hearing a lot of these sounds locally. If not for Doug and Flaco Jimenez, I don't think the world would know about what we now call Tex Mex music or all those sounds. To top it off, the Texas Tornados were the great masters of Texas-Mexican music. When you think of Freddie Fender, Flaco Jimenez, and Augie Meyers and Doug Sahm, that's Mt. Rushmore. So this story needs to be told, and it's a really important story not just to appreciate San Antonio and how rich of a cultural heritage it has musically, but here's a guy that was on the ground floor for the Summer of Love in San Francisco. Then he comes to Austin in the early seventies and creates what you could arguably say is the beginning of Americana music. It's the first time that young people were paying much attention to roots music and playing it honestly, and Doug was right in the middle of all that.
Given that history and the overall spectrum of things he did, when you went into this film was there an angle that you wanted to approach it from?
There's no angle. I think it's a remarkable life and if you lay it out and show people that Doug's almost a Forest Gump type figure in being at all these junctures. Look, he recorded before Elvis did, he was on the Louisiana Hayride where Elvis and Hank Williams both broke out of. Think about that; he's a child prodigy and then rock and roll happens. Everybody talks about 1965 as the greatest year of popular music ever because it's the Beatles and all these American bands, and Doug was right in the thick of that. That's the Forest Gump aspect; he was an eyewitness to all these things, friends with the Rolling Stones and Bob Dylan. Step back for a second and it's not Forest Gump though, because this guy had more music in him than any single individual I've ever seen or heard, period. All I had to do was try to tell that story, and the problem is that there's so much that I can't fit it all in ninety minutes. It's a tough story to tell because he lived a lot in fifty-eight years. I just think it's one of these great - especially around here in Austin and Texas - this guy was our encyclopedia. That's why I love watching him play live. If you caught him in a club setting he didn't work with setlists or anything. He tasted stardom but he never got bought off by it.
That being said, for you sifting through what I imagine is a ton of old footage and music, have you come across anything really surprising that Doug Sahm fans might be blown away by?
For someone who first met him in '73 and has written about him all the way through the rest of his life and knew him as a friend, I'm surprised how much I've discovered and learned. It's an even more complicated and richer, deeper story. My regret is that I didn't have four hours to tell it, because I really feel like I could break it down. The early San Antonio period is fantastic. As a kid he's a child prodigy, and think about this; most musical child prodigies don't turn out too well as adults. Doug came out ok. But the thing is, he's a child prodigy in western swing and country western, and as a teenager he's into rhythm and blues and rock and roll. Anyone that's into American music knows about all of the cultural clashes and how music jumped boundaries, but this guy got to live it. When he was eight or nine he started playing country because his uncle ran a beer joint that brought in bands. Then the family moved and he's across a field from the premier chitlin circuit clubs in San Antonio. So as a little kid he's sneaking in there and watching these blues giants. You can't make this shit up! The first album he put out in San Francisco, Sir Douglas Quintet + 2 = Honkey Blues, is really experimental and I've gotten a lot more into that album than I did when it first came out. The first review of the album in Rolling Stone was written by Boz Scaggs. This guy touched a lot of different people in a lot of different ways. He continues to resonate, although it's not in an overt way. He's the stealth Willie [Nelson]; everybody knows Willie earned everything he's gotten and then some and he's the icon of Texas music. Doug's just a behind the scenes operator who really did set the foundation for all that, and the fact that we talk about Texas music today as a thing, Doug is responsible for so much of that. When you say Texas music what are you talking about? You're talking about swamp pop, low down blues, jump blues, western swing, two-step country, rock and roll with a backbeat, polka played by Mexicans, and that's Texas music. Doug was that cat who knew it all, and there's been nobody before or since like him. So my bottom line is, it's personal.
Given that he was such a luminary, especially in putting Austin on the map. Is there a feeling like you need to remind people in Austin what the culture of this town really is all about as it goes through so many changes?
You know, one of the most telling points is that his first goodbye letter to Austin was in 1977. The scene was over then. That has actually resonated because it's been a running joke with a lot of the crew that we hear people say now that "I got here in the nineties" or "I got here in 2005" and thinking it was over in 2010. It's like, Doug trumps them all. It was over in '77 and like all the rest of us, he kept coming back. The way we've got it lined out [in the film] is, after '77 he starts searching for new things, and it really is a search outside of Texas. It takes him to Sweden, Canada, but it also comes full circle and that's what makes it kind of interesting. He's a guy that was always searching and keeping an open mind, and as hard, hot and cruel as Texas can be, he never could leave it behind. That's pretty mind blowing when you think about it.
For more info on Joe Nick Patoski's Sir Doug & the Genuine Texas Cosmic Groove  check out the WEBSITE. You can also check out a teaser for the film below...
(Lead photo by Van Brooks)