Interview
Julian Lage | Jazz Anew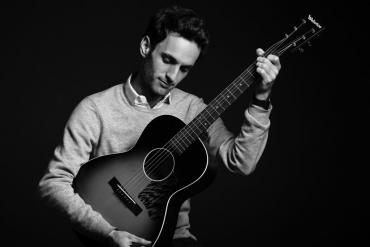 Julian Lage is an American jazz guitarist whose patchwork projects — varying in both repertoire and stylized instrumentation — reach as deep as the genre itself. Lage is not a hepcat, but, rather, a self-described nerd. His pointed curiosity creates an effective delivery, allowing audiences the accessible discovery of jazz anew.  
On the line from New York, gearing up for tour, and just off a four-day writing retreat with Punch Brothers' Chris "Critter" Eldridge, Lage's demeanor is inherently humble. "From a young age it was made clear to me, I was constantly reminded, 'This is not you. You are inheriting a world of music,' " says Lage.
Lage's performances are varied — playing solo with contemplative intimacy, joining Critter acoustically on vintage Martin guitars for an American songbook review, and committing to a more avant-garde style of jazz guitar while accompanying Nels Cline (Wilco, Geraldine Fibbers, Banyan, etc.). But it's his trio — featuring both early-20th-century-inspired originals and winsome covers (namely those of Jack Teagarden's and Willard Robison's) — that Lage refers to as his "home base." 
"Before it was codified, like, 'Oh, this shit is killing, this is bebop, and this is its direction'," Lage says as he describes the subgenre in which his trio mainly resides. "It's what I consider the pre-bebop generation of Wild West jazz. It's very American, kind of country, kind of folk, but actively sophisticated. It was a time when the music was definitely going for weird forms and unusual substitutions."
Adding to that 1920s baseline, and moving forward a couple decades to when the first round of electronics were introduced, Lage leads the trio with a Telecaster. "The element of the electric guitar adds a singing voice. Going from the banjo generation, the rhythm guitar generation to when, suddenly, the guitar was a singing entity. It's like the instrumental equivalent to the music in a way."
Lage is also quick to negate jazz's complexity as a reason for the genre's ebbed departure from popular trend. "We're definitely not the ones to wave the flag of complexity, because we're not the only ones. There are other people who do it better and to greater review." The quicksand-like aspect of an improvisational live jazz set requires a certain quality of true presence. This transcendence applies to players and listeners the same, and permeates well beyond musical boundaries. "It's made or played in the moment, and once it's gone, it's gone. It's not necessarily to be repeated," says Lage. "There's something being offered that's, literally, only being offered in that set, by those people, at that time – a group of people making eye contact, clearly informed by each other's behavior. It's such a primal interaction, and music is a lovely setting for that. The awareness and poised nature of a great improviser is like witnessing anything beautiful within your surroundings."
The near lyric-less jazz form, most of which Lage plays, adds an undeniable abstract component, where the reasoning holds much less importance than the resonance – a wild phenomenon within any art form. "They're not lyrics telling your story; they're not songs you've heard before. And it's almost better that way, like, 'This doesn't even relate to me directly, and I don't even understand it, but I get it.' "
Even with a wealth of talent, a full touring schedule, and seemingly endless access, Lage can identify with self-doubt. And he speaks to it with a refreshing perspective: "It's a peculiar disposition, because we are all students of it [music] and yet we become associated with its outcome. No one really knows what they're doing. One of the beautiful things about being involved in music is that you don't have to [know]. You're not expected to."
Jazz is historically cool. The cyclical and subjective nature of "hip" is best defined by those who don't much care to be labelled as such. The undercurrent of a genre rich in American roots proves to be thriving within a subculture that is as beautiful and propelling as ever.