Interview
Not Even Happiness
Songwriter Julie Byrne is unmotivated by fear on her latest album.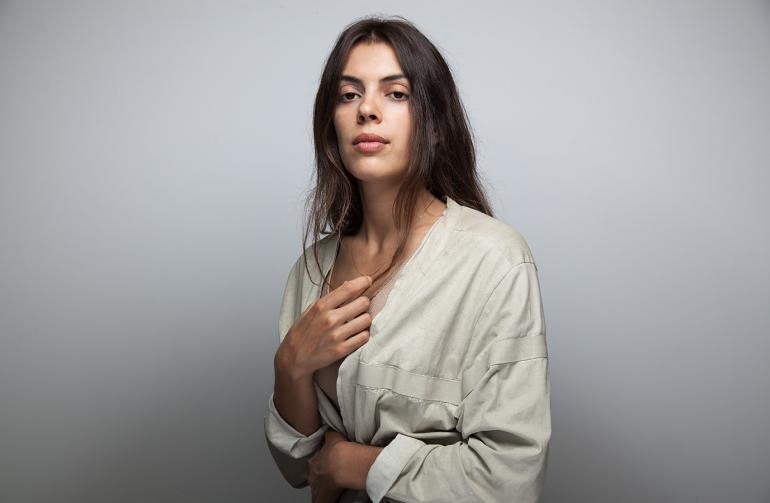 You can tell Julie Byrne is well-traveled just by listening to her music. There's something about its transient nature that shines through, especially on her sophomore record Not Even Happiness. Throughout the past few years, Byrne has found homes in Buffalo, Pittsburgh, Chicago, Seattle, New Orleans and Northampton, Massachusetts, and now, New York City. She's found herself writing about the aches and pains of changes and the enigmatic qualities of heartbreak throughout her time in different spaces. 
While it took some time (approximately three years) for a new record, it's a testament to Byrne's creative process: she didn't rush anything about the intricate songwriting. It happened organically, and the result is melancholic folk music that pays homage to her adventurous spirit. From singing about seeing the Pacific Northwest for the first time ("Melting Grid") to seeing the mountains in the sky in the early morning ("Natural Blue"), Byrne has the ability to make you feel like she's taking you on a journey.
Before her record drops this Friday, I spoke to Byrne about trying to find creativity in New York, traveling across the country, and discovering her own happiness.
Ilana Kaplan: Can you tell me about the title of your forthcoming album?
Julie Byrne: I would say it's a statement of aspiration — to come into contact with something that is beyond happiness and beyond distress to cultivate a strength that is unmotivated by fear, and for that sacred quality to be the place from which we do our work in this world. 
How did you find your happiness living in New York? How did that play into your music?
I found happiness here in time. In the past few years, I've developed strong friendships in New York that have made every difference. I returned to school for Environmental Science, a subject that commonly inspires such awe in me and such intense desire to continue to learn. I also spent this past summer working for the parks department in Central Park and Inwood Hill. It was one of the best jobs I've ever had. I'd walk into work every morning beneath a canopy of trees, past an english garden and into our headquarters at Belvedere Castle, a landmark that's been used as a Meteorological Observatory since 1919. Some mornings I'd get in early before the castle was unlocked and I'd stare out across the overlook. I've seen red-tailed hawks, great egrets, cormorants diving into the pond, resurfacing, then perching on a rock to spread their wings against the wind, drying them before they could fly. It's beautiful. 
Who are some of your kindred music spirits?
Johanna Warren and Vagabon to name a couple.
How did you approach your sophomore album differently than your debut? 
There's a lot more production on this album than on Rooms With Walls and Windows which is credited to my collaboration with Eric Littmann. I had hoped to work with Eric because of his extraordinary aptitude in music and although his skill and vision inspire him to adapt, Eric also possesses a distinct signature. We wanted the accompaniment on the album to be subtle with chosen moments of burgeoning emphasis, so that the underlying atmosphere that had been present throughout the song would suddenly emerge to claim it all. This is especially true of "Natural Blue" and "I Live Now As A Singer."
Referring to this quote in your press release, "The title of the album comes from a letter I wrote to a friend after a trip to Riis Park's 'The People's Beach'. It was the first warm afternoon of the year. I walked alongside the Atlantic as the Earth came alive for the sun. There was a palpable sense of emergence to everything. I felt it in myself too, and remember thinking I would trade that feeling for nothing… not even happiness." How did the title guide the theme and feeling of the record?
The title was chosen in the name of that holy burgeoning!
Why was "Natural Blue" the first single off the record?
I had written "Natural Blue" two years ago, and although it's precious to me there are other songs that feel more relevant and beloved. "Natural Blue" was just the one that received the greatest response from those who heard the unreleased album, so it became the single.
How large of a part did New York play in this record?
Well, I found New York to be an extremely challenging place to live and to create. When I came here, I quickly realized that what credentials I had at that time had little merit in such an unrelenting place. I hadn't graduated from college, and I wasn't in school. I pursued music with such devotion, but that didn't afford any stability. At one time in my life, it felt that living on the fringes and living without a home was very liberating, even in its most difficult moments. After being in New York and working in the service industry and feeling no sense of conviction for what I was doing to survive, I found myself at the end of that journey. I had no real reason to be here, but I wasn't sure where else I could go. I no longer feel that way, but I'd say that sense of seeking is very present in the album.
How did where you were living play into the records you created?
I wrote much of my first record in Chicago, but I had been living in Seattle for five months prior to its release. So, as beautiful and lush as it was, Seattle didn't have all that much time to make its way into song. I wrote very few of the tracks on Not Even Happiness while I was living in New York, many were written on the road or in the Southtowns outside of Buffalo, New York where the album was recorded.
How has living in different spaces and show houses influenced your music?
At the time that many of the songs come from, having no fixed home placed me at the mercy of my daily experiences and at the generosity of other people. It also saw me to the end of a fantasy I had that there was a material place I would find where I'd live beyond the reaches of pain that I'd long felt. Part of choosing to travel came from a desire to be released from the past and to begin again unknown, reflecting the ways I'd felt I had changed. And though I was experiencing growth in travel, it was the immense difficulty I felt trying to stay in one place that forged the realization — the emptiness that had driven me and remained with me, could not be satisfied by any external change. And although it's not easy to confront, there's a sense of victory in finally seeing it. Living in show spaces and wanting to be a part of serving the music community in that way connected me with people across the country. Years later, it was many of these musicians that set up shows for me and much of this album came from those experiences of travel.