Interview
Katie Moore's Picture of Montreal on "Fooled by the Fun"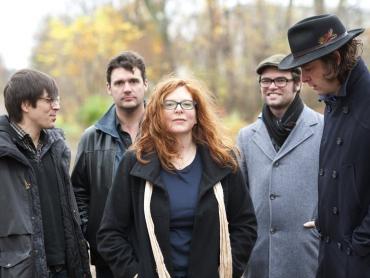 It is a truism of Canadian politics that you ignore Quebec at your peril. That adage speaks to the strong hand Quebec has always played in determining the outcome of elections as well as its constant spectre of separatism. Bilingual language laws, particularly signage, are rigidly enforced. Some Anglophones complain that they cannot get service in government offices if they don't at least try to speak French. The Quebecois then are something like the Catalonians, which support the independence of the Catalan countries from Spain and France. There are still those in Quebec who would like to up and seperate from the rest of Canada and take their natural resources with them. Twenty years ago, Quebecers held their second referendum on the topic of seperation, the No(n) vote was carried by 50.58%. It would be as if Texas up and left the United States.
Montreal is Quebec's cosmopolitan capital. It is one of -- if not the -- oldest and most corrupt city in North America. As Katie Moore, who has been at the centre of the folk and country scenes in Montreal for the better part of 15 years, suggests in this interview, Quebec's political instability may have contributed to creating an artist's mecca.
Mile End is a neighborhood in Montreal that steadily gained in popularity with musicians and various creators. Its low rents drew musicians like Warren Spicer (Plants and Animals) -- who produced Moore's new record Fooled by the Fun -- to set up studio space. Venues and an interlocking scene of musicians evolved. Arcade Fire and its cadre of musicians are associated with Mile End, but as of late it's been ex-pats like the Barr Brothers, for whom Moore has opened on occasion over the years, helping draw attention to their adopted stomping grounds.
But before all of that, there was Godspeed You Black Emperor!, the prolific post-rock band that might be described as Monteal's answer to Sonic Youth. Godspeed was ostensibly on hiatus since 2003 but stunned the music press with the release of Asunder, Sweet and Other Distress in March of this year. Through their Constellation Records label, they have released all their records and those of their labelmates Silver Mt. Zion (formerly many appelations namely Thee Silver Mt. Zion Memorial Orchestra).  Silver Mt. Zion has a similarly sprawling and revolving cast -- two of whom Moore has plucked for this album: Dave Payant (drums) and violinist Jessica Moss. Another ensemble Moss plays with, Big|Brave, just got a stellar write up in last Sunday's New York Times for their second release Eau De La. That record was produced by GYBE Ephrim Mennuck, whose bandmate owns the popular indie leaning venue Casa del Popolo. 
Beneath all that wattage, and down the lane at an aptly named dive Barfly, a fervent bluegrass scene developed ce qui fut sans lumière (which was without light). Groups like the beautifully named Notre Dame de Grass have been described by the Montreal Gazette as "arguably one of Montreal's most underrated musical treasures".  NDG cultivated players like the indomitable Joe Grass -- whose pedal steel is all over Patrick Watson's new release Love Songs For Robots and the Barr Brothers' stage show -- plus Josh Zubot, and Moore's bassist Andrew Horton.  Musical friendships arrived like Moore's with Angela Desveaux and cohorts playing in another country and folk group called El Coyote.  Moore's peculiar genius seems to have been to let both the bluegrass and the post-rock inform her plaintive songwriting.
Katie Moore sings in a lilting tremolo like a Leslie cabinet set to slow. That vocal quality alone has put her in high demand, as she's backed similarly acclaimed local groups like Patrick Watson, as well as national and international acts like Socalled, Stars, Chilly Gonzales, and Feist. Fooled by the Fun is Moore's calling-in-her-chips record. With the strength of her songwriting (for which she has won numerous awards), her voice, which has come into its own, and a robustly talented backing band, Moore has put forth one of the strongest Americana releases by a Canadian this year. Fooled by the Fun places Katie Moore handily on a spectrum of Canadian folk songwriters that includes Tamara Lindeman (Weather Station) and Jennifer Castle. The album is less stylish and slick than The Weather Station's Loyalty, less arch and acclaimed than Jennifer Castle's Pink City, making its persuasive simplicity its stock and trade.
Moore was in light spirits when I reached her after she played Pop Montreal for The Barr Brothers tour closer at Église St. Jean Baptiste. 
Luke C. Bowden: Katie, your new album Fooled by the Fun has been described as a musical snapshot of a group of players with whom you have long standing. I understand also that the songs were recorded largely in rustic locales in one or two takes. Could you describe first the setting you recorded these songs in and the feel you were going for?
Katie Moore: I recorded half the album at my parents' house, where I grew up. They live in a small town in Quebec, in a cute little house built in 1867 — the old Trans Canadian rail tracks pass through the bottom of the garden and beyond that is the lake of two mountains. The house is all wood and warmth and it's where I first realized that music was going to help me with the emotional ups and downs that come with being alive. 
For me, ideally, recording involves cutting yourself off from all of your daily responsibilities and getting intimate with some songs with people who inspire you, with a lot of laughter throughout the process. Warren rented some recording equipment and we just shut ourselves into that house, moved the furniture around, and didn't come out — other than to pay the pizza delivery guys — till it was over. The drums were just off the kitchen, the guitars were with the piano in the dining room, separated but the house is pretty open so we could see everyone. It was messy and cosy and fun, and somehow it worked. We played through each tune a few times and that was it ... move on to the next one. 
What then is the nature of your relationship with the musicians in the ensemble, in terms of the length of your friendships, other points of contacts, or bands you share?
Montreal is a small town, and musically it's even smaller. Everyone plays with everyone. And musicians are a bit of a different breed, so we all hang out too because we understand each other, or try to. And I think of my project as a bit of a vanity project, because no one's ever made money from it, so maybe you have to be my friend to agree to play with me? Having said that, I cherish the friendships of everyone in the band — I think they are wonderful friends and musicians. 
I met a lot the people I still play with at Bluegrass Night at Barfly -- a Sunday night bluegrass jam at a local dive that's being going on for 17 years or so -- including my good friend Angela Desveaux, with whom i have a country band, El Coyote, and who sings backup on this record. She has a few albums out on Thrill Jockey. And even my partner Andrew Horton — we played together in a few bands for years before the romance started. He has always been my favourite singer. I met Warren at a party in 2003 and there were some guitars lying around, and we starting playing Jimmie Rodgers tunes together and have never looked back. Mike O'Brien and Dave Payant, I met through the scene years ago and quickly formed a mutual admiration club.
Like I said, it's a small town.
Many reviewers have commented on the Rhodes sound on the album as being particularly distinctive.  I wouldn't have guessed, of all the musicians on the record, that those parts were recorded by Josh 'Socalled' Dolgin -- a Montreal rapper, Klezmer artist, and preserver of pieces of Montreal's fading Judaic history. Given how iconoclastic Socalled is, and such a creature of Montreal, I would be remiss if I didn't ask about him specifically.
I met Josh about 15 years ago. Our apartments looked onto the same back alley. Late nights, I would walk my dog and see him in his basement window practising magic tricks to an invisible audience. His place was the local hang and everyone would go there and smoke weed and hang out and sing songs. He had found a sample from an old record that goes, "There's nothing so unusual about being a Jewish Cowboy," and [he] wanted to turn it into a song. I think I was maybe the only "country" singer he knew, so he asked me to write some lyrics. We have been collaborating ever since.  
I really admire his piano playing — his nickname in the studio is "Tickles" — and don't think he does enough of it on his own records.
It seems a lot of the bands you've been in and shared bills with, like your producer and guitarist Warren Spicer's Plants and Animals or the Barr Brothers, are associated with and helped popularize the Mile End neighborhood of Montreal. Undoubtedly Arcade Fire and their various band members' other projects shone a bright international light on the area several years ago. Could you describe that neighborhood and what it became in terms of cultivating various musical and creative communities?
I moved to the neighbourhood in 1997, a few years after Quebec's second referendum for national sovereignty. Anglophone businesses have been so afraid of Quebec separating that they all threaten to leave town at the slightest mention of it, as if the world would end. And then from a separatist perspective, Montreal is seen as the thorn in the movement's side, because it's where most of the "no" votes were cast.
In 1995 the "No" side won by such a slim margin, and this was blamed on — or credited to, depending on your loyalties — Montreal. So this left Montreal in a weird position. As an international, vibrant city, yes, but one whose future was uncertain, a bit of a gamble investment-wise. As a result, rents were so cheap compared with other Canadian cities, and especially so in places such as Mile End, north of the Plateau, and downtown. Artists and musicians could afford to live there, and also rent studio space in industrial buildings, on a part time job, with lots of time to be creative. 
When I moved in, there was already a vibrant music scene, with bands such as Godspeed You Black Emperor! and Molasses playing in lofts and studio spaces, and the whole thing was very exciting. I couldn't take my dog for a walk without running into someone I knew, and that sense of community was a bubble, separating us from the rest of the city and the country. 
It does seem like, within the greater Montreal community and Mile End, that there is a bit of a subset of bands such as you've mentioned embracing roots music, whether that is country, folk, bluegrass or the French chanson tradition.  Can you draw international readers to some bands of this ilk, to look out for what may be local fixtures but are less well-known at large?
You can't throw a rock in this city without hitting a great band. Mike Fuerstack, formerly of Snailhouse, is a prolific songwriter. The All Day Breakfast String Band are an old-timey mostly instrumental band. Li'l Andy is Montreal's tallest country singer. Sin and Swoon do amazing duets, and Mike O'brien of Swin and Swoon has a solo project that is my favourite. Philemon Chante, Daniel Isaiah, Joe Grass. 
I don't want to draw too much attention to one player over another but Josh Zubot's contributions are highly notable.  Josh and other Montreal musicians like Joe Grass (Patrick Watson/ Barr Brothers) are real session aces and strike me as a young vanguard of players, who at first serve as able sidemen, but are increasingly becoming their own commodities as well. It's also a bit of a wonder that, in a city where you have to speak not just French but Quebecois to get a job, that Anglophone musicians can migrate to a relatively affordable cosmopolitan centre and make a go of it.  Do you think that is true? Are there slightly different standards for musicians in Montreal? 
Actually, Josh only plays on one song. He is an amazing fiddle player and fisherman, but most of the violin is done by Jessica Moss, of Silver Mt Zion. She also has her own solo project with loops. Joe Grass is from Moncton, New Brunswick, which is a bilingual province, so he speaks French (plus his girlfriend is Francophone). 
But I understand what you're asking, and yes, i do think it's different for musicians. Music is sort of a third language that we all speak, so it doesn't really matter if you can speak only French or English in a band. Plus there's Franglais, a mixture of French and English, which is my favourite. If there's a word you don't know in French, just spit it out in English and keep going. I love it when one person is speaking French and other English — true communication.
One thing that is noteworthy about your band's sound — and many of these bands' sounds, even on the proggish end of the spectrum — is a graciousness and reverence for silence.  I don't know if it's an extension of the jovial and convivial manner of many Francophones, or if this sort of holiness in music might be an extension of the deep piety of the Quebecois people, reflected even in their curse words.  I guess I'm talking about grace, but big G Grace. Jeff Buckley Grace. Do you get that?
I don't know, maybe it's a Canadian thing. We have so much space per capita, I think we're used to having room to breathe, and maybe that transfers into our music. When we recorded the Tracy Chapman cover, we all tried to remember that less is more. Everyone tried to play as little as possible, and then play less than that. Songs need room to breathe, too.
On Fooled by the Fun, the lyrical weight is buoyed up by the swinging arrangements with light dynamics and close interplay. In terms of the weight, I understand the title track is about losing a platonic friend, which is a very nuanced and time-of-life thing to express. But it's also an old theme — like Bob Dylan's Buckets of Rain, where he sings "Friends will arrive friends will disappear".  Are their other apologies?
Losing a friend is just like a breakup, only you don't have your friend's shoulder to cry on. And good friends, real friends, can take a lifetime to nurture, so it can be sad. My dad listened to the album and said that I was always apologizing in the songs. I hadn't even noticed until he pointed it out. 
If you've written a song as an apology does it matter if the person addressed hears it and there's some measure of reconciliation? Or is the song the catharsis? 
I think a song can be a way to get closure, so it doesn't matter if no one else hears it. It's "out there," even if it's just in the wind. It can't be taken back.
You made a couple of really interesting choices of covers, including a beautiful rendition of "Tu Ressembles a Tous Ceux Qui On Eu Du Chagrin" by Francoise HARDY (1970).  Can you translate that first line or verse and explain why you thought this song fit in with the overall theme's on the album?
Song translation is the toughest! Literally, it would be something like:
You remind me of everyone I know 
But I'm not interested in their pain 
because they're eyes aren't quite as bright or blue as yours. 
It sounds cheesy in English, but in French it's really worded beautifully. French is like that. It's a beautiful song about how we can all get hurt and that fear is what draws us to each other and keeps us away at the same time.  That's Ariane Moffat singing the duet with me.
More surprising, if only for what seems like sheer gall and chutzpah, you've covered Tracy Chapman's seminal "Baby Can I Hold You." Is it true that was done in one take?  How did that come about?
Tracy Chapman's first album blew me away — what a triple-threat: voice, songs, lyrics. And that song, to me, is perfectly crafted. It's hard to listen to [it] without getting teary-eyed, unless you're completely unfeeling. I had the tape in my car until recently, and as I don't really have many tapes anymore, it was on heavy rotation. We just decided to try it one night in the studio, [when] we had a little extra time. I think only about half the band knew it and we did it in one take. I just started it on the guitar and people came in when they felt like it. Everyone's uncertainty about the tune seemed to transform into giving each element a lot of space, which I think came out really well. I even missed a chord and got some of the words wrong, but we kept that take.
I noticed that you played the Shigawake Festival a few weeks back.  When you're out on the festival circuit are there other contemporary female Francophone or Anglophone folk or country artists you admire?
Oh there are many: Angela Desveaux, Jennifer Castle, Dara Weiss, Michelle Tompkins, Emma Baxter, Little Scream, Erika Angell, Lisa Moore. The last two are not folk but…
You played a lively show last night at The Burdock in Toronto.  What is next for Katie Moore?
Pop Montreal, Quebec City, and more shows in the fall!
* The author publishes his work at Northern Heads
photo credits: Caroline Desilets, Yanissa Grand-Pierre