Column
This Is the Kit: Channeling New Music From Paris and Bristol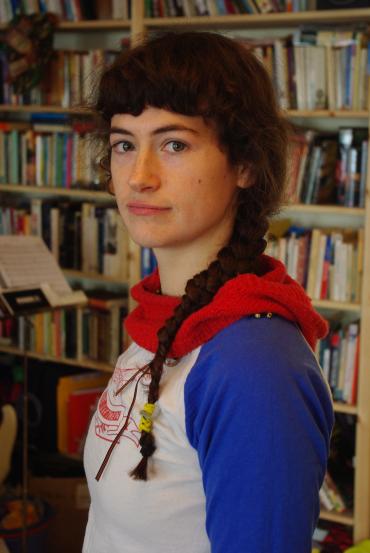 This Is the Kit is the musical collective that revolves around singer, songwriter, guitarist, trumpeter, percussionist, and banjoist Kate Stables. Stables plucks real moving life from her banjo, and sings warmly and crystal clear. Her collaborators add violin, bass, keyboards, guitar, and built-in harmonies, making This Is the Kit greater than the sum of its parts. So much greater, in fact, that Aaron Dessner (producer, songwriter, and guitarist for The National) signed This Is the Kit to his Brassland label, and has produced its latest album, Bashed Out, in the interim.
Stables' music has a basis in folk, but the sound itself seems to have moved house over the years. The music has made friends with all sorts of different types, played in different gardens, and added different tools to its trade. I asked Stables how she manages to keep such a contemporary feel to it all. "Gosh. Not sure," she told me. "I definitely don't consciously try and be contemporary."
I had seen on the band's Facebook page it's described as "folk, blues," but I asked Stables about that anyway, and her response explained a lot about her attitude to the music: "To be honest I had no idea that 'folk, blues' is on the Facebook page. What does this all mean? I guess it means I'm not that conscious of what sort of style it is."
"To me it's just songs and music," she continued. "But I guess you can't really put that as a genre? Or maybe you can! Plus, I feel like most songs and music that we listen to these days has grown out of folk and blues music. Musical family trees, etc. And the same is very much true about what I write and how I play too. It's all joined up, really."
The varying co-conspirators in This Is the Kit stand happily in the mix. London-based Rozi Plain (vocals and guitar) has released three impressive albums in her own right. Her connection with Stables goes way back to secondary school and growing up in Winchester. Stables explains: "I made friends with Rozi's brother Sam at the school juggling club and we've all been pals ever since. Sam and Rozi are who I first started playing music with. And Francois, I met in Bristol when he was living there."
She's referring to Brussels-based French musician François Marry, of François & the Atlas Mountains, who sublimely combine African rhythms with indie rock, folk, and pop sounds.
Also in the band is Rachael Dadd, with whom Stables formed a band called Whalebone Polly in Bristol in 2003. Jamie Whitby-Coles of The Liftmen is also part of the group. There are others; the list is long. So, naturally, I asked Stables what her bandmates have brought to the table.
"I think I did a lot of my musical growing up in Bristol," she said. "It's hard to pinpoint exactly what you get from working with people. I feel like when you work with people in music -- but I imagine it's the same in any line of work or creativity -- you learn about communication and group dynamics, and sharing, and acquiring new skills and ideas. And a big one is friendship too. Doing gigs and playing music together grows a particular type of friendship, I think."
The band's time is divided between England and France – not including touring beyond those borders, of course. Over the years they have supported acts including Jose Gonzales, Iron & Wine, and Dessner's own the National. "Going on tour with the National for their Trouble Will Find Me album was a totally huge educational experience," Stables recalled. "It made quite an imprint on us, just to see how people go about putting on a show that big. Jeepers what an operation. [It was] all pretty serious. And then along came this goofy English band every night to open the show. I'm not sure what the production crew made of us, to be honest. I think they thought we were a bit weird. But it was great fun, when we weren't getting told off by the stage manager for walking on the wrong side of the gaffer tape."
Bashed Out was released in April 2015 and This Is the Kit has spent much of this year touring. "Some of the songs off the new album we've been playing for years," Stables said, "and some of the songs we've only just started doing live as a band. So sometimes we try and make the songs sound more like the album than they did before, and sometimes we try and change it up and make them sound a bit different. Depends on how much practice time we get and who's in the band that day."
Bashed Out is new, and it is also old. There is a ruddy, earthy feel to lyrics like:
All we need, all we need, all we need
Is some greens, green leaves, green leaves
Sort you right out
Stables' calm, spotless voice carries, and follows the music in different directions. There is fresh folk and psychedelic flourishes. There are synths that manage to ground the songs, then later make them buoyant, keeping them current in that way Stables is not conscious of. It all sounds sweet and feels heavy.
Songs like "Silver John" and "Spores All Settling" signpost catastrophe and apocalypse, so I asked if she worries about the planet. "Sure, who doesn't?" she quipped. "But I also have faith that people have it in them to organize themselves and work together, and share skills, and keep going. Plus, life on earth will hopefully carry on even if humans stitch themselves up and snuff themselves out.
"I'd been reading a lot of Kim Stanley Robinson," she continued. "The Mars trilogy is incredible, and [I'd been] watching a lot of Studio Ghibli films. The eloquence and skill with which they both spoke about stuff -- be it political, ecological, social, scientific, you name it -- just really struck me. And I think those songs somehow came out of thinking a lot about their work."
Bashed Out has a sense of reaching for the simple things – a kitchen, dancing, fresh air, home. I wondered if these things have the power to stop the catastrophe. "I'm sure they do," Stables said. "If everyone just had a simpler, healthier, and kinder time in life then I think it'd make a hell of a lot of difference. But that's not why I write about those things. Those things are just what came out when I was thinking and writing one day.
"Songwriting is a funny one," she added. "I never have a real plan as to what a song will be about or why. It just sort of happens and then the more I play the song, the more I start to understand what it's about. Sometimes it's years later that I realize the significance of a song or line from a song."
Bashed Out is the third album from This Is the Kit, each of the three having been released on a different label. Needless to say, though, that is not the only difference signing to Brassland has made for this band. A concrete example can be found on the liner notes of Bashed Out. Dessner brought in his brother Bryce -- also a band member in the National and co-founder of Brassland -- to pitch in instrumentally. And there were further contributions from musicians such as Thomas Bartlett (Sam Amidon and Doveman) and Ben Lanz from the band Beirut, who works with the National and Sufjan Stevens.
Meanwhile, the touring continues. October brings them to Ireland for the Imagine Arts Festival, followed by a seven-date November tour in England. What's the first thing Stables is going to do when she gets back home?  "Tidy up. Whenever I get back home, the floor is covered with food and there's dirty laundry everywhere, and everything is covered in crud. [There's] lots of deck swabbing and vacuuming. No offence to Jesse and Mo, but it's pretty bad."
Ah, the glamour of it all just seems to pass some people by.