Interview
Korby Lenker Travels the Country for 'Thousand Springs'
When East Nashvillian (via Idaho) singer-songwriter Korby Lenker began working on his latest album, he decided to skip the studio and head to his home state to record in places that held particular meaning for him. Venturing forth with his guitar and some recording gear, Lenker captured his vocals and guitar in more than a dozen locales before spending months traveling the country to collect contributions from artists such as Nora Jane Struthers, Carrie Elkin, Molly Tuttle, Becky Warren and the Punch Brothers' Chris "Critter" Eldridge, among others. From Wisconsin and Seattle to Boston and Austin, he recorded their work in backyards, hotel rooms - even a bookstore - culminating with the release of his intimate and serene seventh album, Thousand Springs. In advance of the album's release on July 14th, Lenker took the time to talk in depth about the project.

Thousand Springs was recorded in a pretty unique manner. Why' did you opt to skip the studio and return to Idaho and other places to record it? 
I've been in Nashville for eleven years, and I love it, but at this point in my career, I wanted to make a record of songs about things that are personally important to me in a way that I wanted to hear them. I knew that I wasn't going to do the traditional studio thing, so I decided to record in Idaho where I first started playing. I raised money on Kickstarter, bought some gear and a high-end battery, and drove to Idaho where I set up my kit in all these different places. I recorded at Craters of the Moon, my dad's mortuary...really all over the place. The only place that had significance to me that I couldn't gain access to was my childhood home. I did knock on the door, but no one answered, so that's something for the next record.

Was each of the twelve tracks recorded in a different location?
There might have been one or two songs that were recorded in the same spot, but I was in a different place most of the time, and a lot of it was experimenting. I had two acoustic guitars, a Gibson and a Martin, both of which have their own flavors, and I would record things in different ways, listen to them later, and choose one direction or another to build on.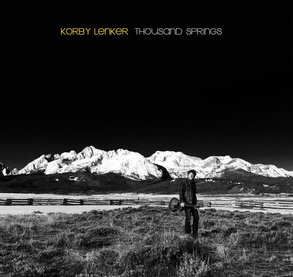 You have said that, "You've got to tell your own story and not try to borrow someone else's." So, are these songs your stories?
I mean, yeah. That's not to say they're verbatim autobiographical, but they're definitely my stories. In Nashville, a lot of the songwriting that happens has a goal, like, let's try to get a song in a movie or write a song for someone else to sing, but I've always had a very naive approach to songwriting. I still write like I did when I was a teenager, which is basically, 'I feel like this, and this is why I'm writing this song,' and this record returned me to that vigorously. I was writing songs that had a personal meaning to me – and there was no goal beyond that. I wanted to make something that was uncompromisingly true to myself, and with this record, I feel like I'm personally responsible for every beat, lyric, and sound on it; it couldn't be more me. It's absolutely personal and that's the way I want to hear music.

Absolutely, and there's something about hearing someone sing personal stories, the emotion is just deeper. And how about the title, Thousand Springs? Is there a personal reason you chose it? 
There is a geological feature in Idaho called Thousand Springs which is all these falls coming out of a canyon. I called the album Thousand Springs because it captured that place, which is near where I grew up, and I also liked the idea of Thousand Springs being sort of a re-birth moment for me.

The album opens with the delicate "Northern Lights" and closes with the tender and emotional "Wherever You Are" [about Lenker's then girlfriend's decision to abort their unborn child]. Is there any particular reason you have those songs as the album's bookends?
I don't really think of them as bookends as such. I feel like so many people put their fast songs or a single first, and I didn't want to come out with both barrels blazing.  With this record, I wanted to start anew and I felt like "Northern Lights" nicely set the table for this landscape that you'll be a part of for forty minutes. I put "Wherever You Are" at the end because it's the most personal song I've ever written. It's fragile and delicate and also very non-produced. I probably recorded that song forty to fifty times over the three months in all of the different places using whatever the set up was for whatever song I was working on at the time. At the end of the other songs, I would do another take of "Wherever You Are" because it would either end up too emotional, I'd make a mistake or I just wasn't happy with it. It's just a song, which is what I built my career on and in the end what I will live and die on, and I wanted to leave the listener with that.

Whether the songs are playful or solemn, the entire album has a very intimate feel, but a particular standout for me is "Love is the Only Song."  
I wasn't sure if that song was even going to make the record. I came up in a church background, my folks were Evangelical Christians, and while I'm still trying to figure it all out, religion is a part of my childhood. I've always liked the passage in the Bible known as the Beatitudes, the one that says 'love is patient love is kind.' It's a really simple way to express what love is in a way that I do feel to be true, and some of that played into the song. 

At one point when I was making the record, I was in a cabin in the woods outside Sun Valley and there was a piano there. It wasn't in perfect tune, but I loved the way it sounded and even though I play piano, I had never recorded with one so, I spent the whole day getting everything in place to get the right vibe on this song. I feel like a lot of my music always turns a dark corner or always has a little bit of a melancholy streak because that's me – I'm never going to be someone who thinks it's all going to be okay. People suffer, die, and life can suck...that's where I live. There's hope but there's always a "but," and I feel like this song has some of that in there. It's hopeful but not naïve.

That's where I live which is probably why I connected to it so strongly. Switching gears, on your last tour you began doing something called #MakeAmericaFriendsAgain. Will you pick that up once more when you begin touring to support Thousand Springs?
There are a lot of things I do entertain myself when I'm on the road and this is just one thing I thought of where I would approach total strangers and ask them if we could take a picture. I did it for a week and then came home, but I'll bust it out again on this tour for sure. People seemed to get a kick out of it, and I actually did make friends.

I wrote this song, "Let's Just Have Supper," with Nora Jane Struthers and really, the sentiment of the song is something that is pretty basic to my take on a lot of things. I'm not a super political person, but I feel that no matter what side you're on, there needs to be some sort of tolerance of other's viewpoints, so we wrote this song about that and it hit a nerve in people in a positive way. I built #MakeAmericaFriendsAgain on the sentiment that we all want to be loved and have people we care about, and we should notice the things we have in common rather than the things we don't. The song's a very simple way of expressing and encouraging that. There's not a lot going on out there that says let's just be together, let's just be friends.

There certainly isn't. To me, the song offers a really refreshing, and welcome, perspective.
Over the years, you've shared stages with artists from Willie Nelson, and Chris Isaak to Susan Tedeschi, Amy Grant, and others. Being that the record was made all over the states, where will you be touring to support it?
I'll be touring a lot and it will definitely be national. At the end of June, I leave Nashville for the whole summer, not returning until September 3rd. I'll drive out West and play Denver, Seattle, San Francisco and then work my way back East. Most of the time it's just me and my guitar, but I have this great band I play with when I'm in Nashville and I would love to get on a bus with them someday and play forever, Willie Nelson style.

Finally, is there anyone you're listening to that you think others should check out?
As far as I'm concerned, Anais Mitchell hung the moon. Anyone in the canon of great singer-songwriters like Gillian Welch, Townes, Dylan, and Prine are people I listen to a lot, as well as Robert Ellis, Anna Tivel, and Hiss Golden Messenger, who has a great vibe to his songs. 
Originally appeared on
The Daily Country