Interview
Kris Delmhorst's Latest Passes the 'Blood Test'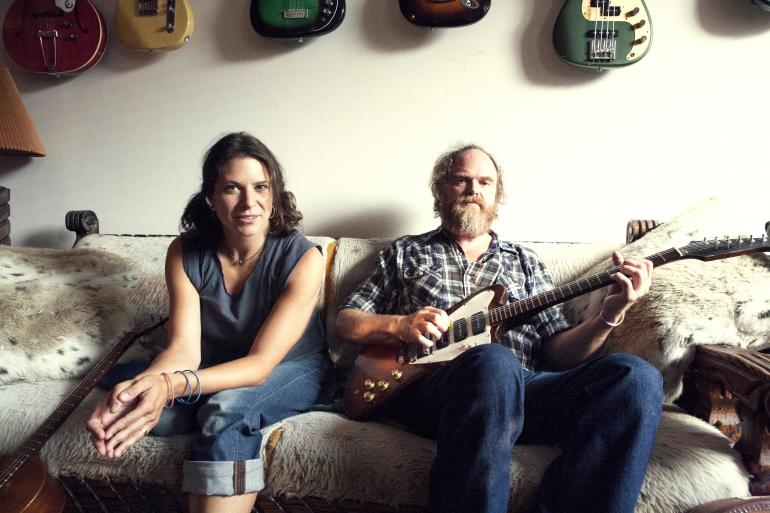 Something happens when Kris Delmhorst steps to the mic, guitar in hand. She partially closes her eyes, gets a wry little smile on her face and begins to sing. She is transported someplace special.
It appears to be a personal place — warm and cozy — and she obviously wants to take her listeners there as well.
"I just go in there, as far in there as I'm allowed to go at that particular moment — it depends. It always feels good but there are different layers of how deep you are on any particular song on any particular night. It partly depends on the room, who is in it, and who is playing with you. And partly on forces that are more mysterious," the singer-songwriter said.
"There is something about performing a song — it's one of most present and integrated experience that I have."
Delmhorst, a Brooklyn-born artist who calls western Massachusetts home, will take listeners to that special place as she begins a West Coast tour later this month. She's riding the wave of her seventh album, "Blood Test," which has drawn critical acclaim since its release last year. Delmhorst is married to Jeffrey Foucault, a talented singer-songwriter, and they have a daughter together. They share the same record label (Signature Sounds of Northampton) and sometimes the same backup players. But only occasionally do they share the same stage.
"Blood Test" represents Delmhorst's first release of all-new material since 2008's "Shotgun Singer" and the birth of her daughter, Hazel. With the almost-7-year-old now in school, Delmhorst has gone into high gear musically and the latest album reflects a flood of creativity and charm.
"I love it, I really do. It was an important one for me to make," she said.
When she set out to make "Blood Test," she tapped Anders Parker, a well-known player and production wizard who hails from Vermont, to help craft the effort.
"I knew Anders (Parker) but none of us (Parker, drummer Konrad Meissner and instrumentalist Mark Spencer) had really played together before until we got to the studio. It was kind of like a big beautiful surprise the whole way along. It always is really — even if you think you know what's going to happen, usually you're wrong. But in this case, I really didn't even know what was going to happen so it was a delight," she said.
"It was new to all of us, and the songs were new to them. Everyone had to listen so hard when we were playing together, and there was a real special focus that felt really great. To me, I felt very emotional making this album. I felt very moved by the music as it was happening — the whole time it was happening"
She said when musicians head to the studio, there are often lots of logistics that can take away from the pure creative process.
"It's easy to get distracted by how this is going to come out, how this is going to fit into the big picture of the album, how much time is left today, are we going to get though all the songs. The million of things that you have to worry about. In the best of circumstances, once you get into the mood, you can shove all those things aside and leave them outside the door and really tap it. And I felt like that, for whatever reason, it was really possible on this album. The process felt great and I love the result."
"Blood Test" is filled with gem after gem. From the title track to the sentimental "My Ohio" to the closer, "Lighthouse," Delmhorst's voice floats sweetly as a mother's lullaby and passionately as an aching lover's lament.
The critics agree.
As a singer, Delmhorst has "a gorgeous, tender, evocative voice and a textured and varied musical palette" (Amazon) and "a voice that breathes through the speakers" (All Music) while "Blood Test" is hailed as "moody, euphoric and transcendent" (Los Angeles Times), "a work of lo-fi beauty...evidence of an artist taking flight," (Boston Herald) and "as seamless and brave as it is brilliantly creative" (Irish Times).
"In terms of critical stuff, the (reviews) I've seen I feel good about. To be honest, the more I can have that happening somewhere in another room and not too close to me, the better. It's nice when you read a review and somebody gets 'it'.There have definitely been a bunch of those. But also part of the process — over a long period of time — is trying to put a little bit distance between yourself and what other people say about what you do, whether it's good or bad. Either one of those can lead off the fence," she said.
"It seems like people are receiving it well and that's certainly nice to know."
DELMHORST DOSSIER
- Born in Brooklyn, N.Y., lives in western Massachusetts;
- Married to singer-songwriter Jeffrey Foucault;
- Worked as a farmer, an environmental educator, a sailboat cook and bakery worker before embarking on music full time;
- Also plays fiddle, cello, viola, piano and organ, bass, mandolin and ukulele;
- Brought together two Jay Farrar associates — co-producer Anders Parker who joined with the Son Volt frontman on "Gob Iron: Death Songs For The Living" and guitarist-pedal steel player Mark Spencer, a Son Volt regular — for "Blood Test".
- Occasionally performs with Foucault and Peter Mulvey as Redbird.
DISCOGRAPHY
- 2014 – Blood Test
- 2011 – Cars
- 2008 ­– Shotgun Singer
- 2006 – Strange Conversations
- 2003 – Songs For A Hurricane
- 2001 - Five Stories
- 1998 – Appetite 
Q & A With Kris Delmhorst
Joel Barrett: What's in your CD player right now?
Kris Delmhorst: I just stepped out of my car and I was listening to 'Session Americana,' good friends of mine from Boston. I was listening to their new one and it's great. And at home, it's probably currently 'Led Zeppelin II' because daughter likes to dance after dinner. Led Zeppelin or Ray Charles. We have a kid who listens to Nick Lowe and Lucinda Williams. I was just listening to (Williams) new one, the first song of her dad's ('Compassion'). That one just kills me.
When did you know you wanted to be a musician?
There are different levels knowing that stuff. I remember the first time I was floored by music was when I was in kindergarten and my teacher used to play us music. She played us the Beatles song 'Help!' and I can still remember that feeling of, it made me feel so much, I couldn't contain it — I wanted to dance, scream, run and freak out. So in some ways I think that is the feeling I've been chasing ever since then. In terms of knowing I wanted to be songwriter for my livelihood — that really didn't occur to me until I was pretty much already doing it. That was kind of a series of following one's footsteps through the next. Then I had to quit my day job because I didn't have time to do it anymore. It was definitely not a plan. Who knows if I had had that idea, if I would have done it because it's kind of a crazy thing to do with your life. It was more of a groping my way along the path until I found figured out that was what my life was about.
How'd you hook up with Anders Parker? I know he toured with Jeff around here and in England.
He's sort of been in our orbit for a while and I've always really admired the music he makes. The idea of working together has come up a few of times and it has never been the right time.
You took part in the Concert Against the Pipeline in western Massachusetts, which raises thousands of dollars to help the Franklin Land Trust to oppose the Kinder Morgan natural gas line. Was that the first time you used your music for a cause, for activism, benefiting activism? Are there other causes that you regularly support?
It's not the first time at all. I haven't consistently focused on one issue but I'm always interested in ways that the music can be useful in that way. I'm not someone who tends to write at local and social issues in an unveiled way but obviously that's where my mind is a lot of the time. I think the first time I got involved was back in Boston in a project called 'Respond' (an album that benefited a local domestic violence shelter). I'm always looking for ways to get involved with that kind of stuff and of course the concerns of time and space are sometimes daunting. It's a good way to join forces with each other and have the sum add up to more than its parts.
Did you go to school in Boston?
I was living on Cape Cod with an old boyfriend and he got a job in Boston. When he moved, I came along for the ride. It turned out to be kind of serendipitous because of the songwriter culture in Boston. In a way, it was kind of like going to school because I was working in a bakery or working on the farm and going to open mic nights a couple of times a week and going to hear so many great players across a wide range of genres. That's where I met a lot of people who became my band mates, friends and collaborators. So that kind of a way, it was almost like going to college. It was a great couple of years and a great way to dive into music.
Did you really busk on the T?
I used to do the morning commute at the Davis Square T, which was right in my neighborhood. That was great practice in terms of repetition. If I was working on a song, I could go down there and play it for an hour and half, over and over again as people were cycling through. It was a cool little workshop space, like a little sketch book.
Who were some of your early influences, women singers or just singers in general?
Some go without saying — Billie Holiday, Neil Young, Tom Waits — obvious people. I was obsessed with music and listened to everything I could find. I listened to a lot pop music as a young teenager, but when I was old enough to explore on my own, one of first musical nodes I came across was Chicago blues. Jimmy Reid was the first person I found, then Little Walter. And then Muddy Waters and that whole scene. It's funny because it doesn't have any real direct bearing on what I do. But in terms of feel, and phrasing and that kind of stuff — that leaning back into song instead of attacking forward.
How about influences when you were just beginning your career?
Certainly when I started writing songs I was listening to Suzanne Vega, Tracy Chapman and Ani DiFranco — they helped turn the light bulb on for me that you can just play a song by yourself on the guitar and have it be riveting. It is funny to say but certainly I did not come out of any folk tradition and grew up in New York City listening to Top 40 radio until I started branching out on my own. Those guys sort of led me down that path.
Who are models for you career-wise?
The people who are most interesting to me are the restless seekers. To me that'd be Neil Young, Joni Mitchell, Rickie Lee Jones — artists who continue to turn corners, explore new 'rooms' and are not afraid to have a wandering path.
Speaking of taking risks, talk about the Cars album?
I have taken some turns along the way ... As an artist I need to have room to stretch out and get distracted or it's going to dry up for me. That's the way I work, so the Cars thing honestly was just for joy. For the joy of it, the fun of it. The whole thing was happy. It was fun, it was recreation in the spirit of that word. It was rejuvenating for me and all of us because it was a treat. I knew it would not be for everybody but for people who like it, they really like it.
Now the hard question, how do you balance it all — the music, the marriage, the family?
That is the hardest part. Any family with kids and two working parents starts off with a baseline of that and when the work is creative it's demanding. Both of us have to give levels of ourselves to our work that maybe we wouldn't have to if they weren't as psychically involved job. And then there's the traveling. Yeah, we have a number of levels of challenges in terms of getting the balance right. It's like riding a bike on a tightrope and every now and then you're actually doing it and you say 'Oh my God, this is working' and then there are times when it gets sloppy in any number of ways. It's just a lot of slogging through calendar meetings and trying to figure out what everybody's balance point is, how much do we all need to be home, together to feel like a family. That that's epicenter, that's going to feel stable there. How much do each one of us need to be immersed in our work to feel like artists and how much do each one of us need be on the road to make the whole thing viable — financially and artistically. When we figure it out, I'll let you know.
You're back up to speed touring and all, Jeff's been working on his next album, plus producing others' releases. How do you guys keep it together?
The energy from all those projects feeds into the others so there's a great synergy to what's going on. ...To be honest, it works better than I ever thought it would when we first knew we were having a baby. It felt like leaping off this vast cliff into the unknown. I suppose everybody sort of feels like that but with our jobs we could not actually picture how it would work.
You're originally from Brooklyn, but you write about the ocean a lot in your songs. How do you access that?
I spent some time on the beach on Long Island and I did work on a sailboat in Maine for a couple of years between when I put down classical music and picked up whatever you call what I do now. And then I was on Cape Cod."
What's next? I know Jeffrey's been talking about a duet album with you.
"We've been working on that quite a bit at home, trying to finish up. Jeff is ramping up for his release (of a new solo album later this year). The record cycle is a specific curve you go through and my record ('Blood Test') is coming in for a landing having been out all year. That's kind of a cool time because I'm right in the question of 'what next?' and sort of exploring. I have a heap of songs — finished ones and not-quite-finished ones — so I'm trying to feel through which song may be right for the duet album and which are right for my next album. Just trying to get the sense of what the next one will be. I'm just starting to have a vague sense of thematically where it's going. But musically, I don't know just yet and it's all too squishy to talk about. It's a little bit uneasy but also one of the most exciting parts of the cycle for me — this starting to look ahead to the next thing and into the unknown. And what's going to be the next couple years of my life."
How about a Redbird follow-up?
"Oh, boy. I wouldn't hold your breath on that. Redbird is like trying to get a hive of bees all in the same place at the same time. It's very challenging logistically. No firm plans but you never know."
-- By JOEL BARRETT