Interview
This Lady in Waiting Adores You: Lorraine Leckie Debuts Video from Rebel Devil Devil Rebel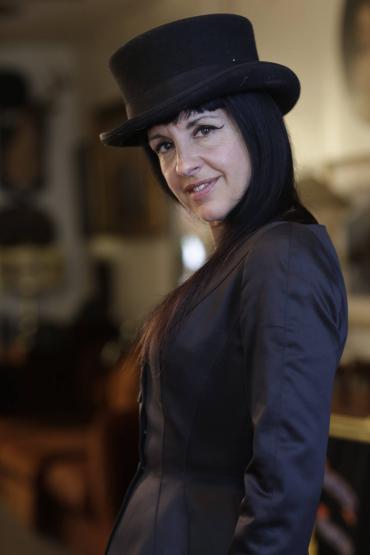 "The video was filmed guerilla style …you know, we just made it up as we went along!"
The svelte, noir folk rock goddess, poet, and provocateur known to No Depression readers from "Under The Sheets with Anthony Haden-Guest and Lorraine Leckie: The Story of Rudely Interrupted" (March 2013) revels in her devilish disposition.  Waiting to take the stage in the East Village's hallowed Sidewalk Café on a cool September evening amid hipsters, aspiring Americana rockers, and old drunks, Ms. Leckie can hardly contain her enthusiasm for her upcoming fourth album Rebel Devil Devil Rebel slated for release in November 2014.
Prominently featuring Lorraine's mighty ensemble - aptly dubbed Her Demons (guitarist Hugh Pool, bassist Charles Dechants, and drummer Paul Triff) Rebel Devil Devil Rebel, as produced by George Jackson emerges as a sonic rave-up worthy of Neil's Crazy Horse, with or without Daryl Hannah.  Please note: according to her official bio, Ms. Leckie was born on a horse in Northern Ontario where the aforementioned Rock 'n' Roll Hall of Famer was "God."   
Stirred by her pal Anton Newcombe of The Brian Jonestown Massacre, who also has a penchant for using archival footage in videos, Lorraine teamed with director Kevin Meegan for the first in a series of planned mini-films to correspond which each album cut. The debut installation, which makes its editorial bow on No Depression, is for the track "Watch Your Step" which stars Lorraine's stepdaughter Celina Leroy. You may know her dad, Billy Leroy of Baggage Battles and the legendary Billy's Antiques.   
"It's a 'warning song,' warns Lorraine. "The inspiration for the song comes from my sister who endured a long, terrible depression   - many people in our family died – so I wrote the song from her perspective. 'Watch Your Step' is literal – you gotta take care of yourself after bad times or you're never going to make it through." 
Celina's portrayal of a troubled woman is decidedly convincing. Of course, when I remind Lorraine that exemplary character acting runs in her bloodline - she laughs heartily, and agrees.  "Celina is amazing. She has such a presence. I wanted this video to depict someone who went through something terrible, but at the end, they came out a winner.  Celina's character leavers her apartment with nothing, not even a handbag – she's headed out to kill herself. Yet she is redeemed at the end – which is why we incorporated the baptism water, and a spirit animal which is the dog Twilight, who represents something from the other realm which is helping her to get through all this bad stuff…."
The strategy is for Kevin and Lorraine to forge a common thread in each film which Ms. Leckie describes as "old New York, a spirit animal, and an interesting person… guerilla style, of course!"  
Rebel Devil Devil Rebel will be out on November 13, 2014. You can access all things Lorraine, including upcoming tour information, at http://lorraineleckie.com/