Interview
Learning a Near-Extinct Tradition from West Virginia Ballad Singer Phyllis Marks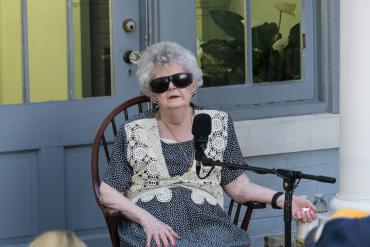 EDITOR'S NOTE: This spring, we're focusing on the music and traditions of Appalachia, both here at NoDepression.com and in our print journal. For more sounds and voices from that ancient mountain region, get yourself a copy of our spring journal, available for preorder now and shipping in mid-March. Better yet, start a subscription, so you get that issue and each one that follows — a total of four for the year, each 120+ pages, ad-free, of writing and artwork shedding light on the music you love.
*     *     *
According to folklorist, author, filmmaker, teacher, and musician Gerry Milnes, Phyllis Mariam Frashure Marks is the last active ballad singer in the state of West Virginia. The nonagenarian says she "learned by heart," via oral transmission, mainly from her mother, Arlene Layfield Frashure, and grandmother, Sarah Margaret Messenger Layfield, both of Irish ancestry.
Unaccompanied ballad singing like that which Marks performs took hold in Appalachia in the 18th century, as immigrants from the British Isles settled in the region. Traditionally sung by women inside the home, many of these ballads date back as far as 15th-century England, with some antecedents traceable across Europe. Today, ballad singing is nearly a lost tradition. Only a few living ballad singers who learned completely through a familial oral tradition remain.
Since 1954, Marks has performed annually at the West Virginia State Folk Festival in Glenville, what is now her hometown. The American Folklife Center at the Library of Congress took notice, recording Marks in 1978. In 1997, Augusta Heritage Records released a solo album of her singing, Phyllis Marks: Old-Time Songs of West Virginia, and in 2000, she appeared on a compilation called Lest We Forget: The 50th Annual West Virginia State Folk Festival.
In the 1990s and early 2000s, Marks taught Appalachian ballad singing at Augusta Heritage Center at Davis & Elkins College and trained four apprentices through the Augusta Folklife Apprenticeship Program. Today, Phyllis continues to teach ballad singing to her granddaughter Crystal Miller and still proudly performs annually at the West Virginia State Folk Festival and at other events in her community.
In 2016, the West Virginia Folklife Program, a project of the West Virginia Humanities Council, was awarded a Henry Reed Fund Award Grant from the American Folklife Center to host and record a free public concert with Marks. The recordings from that event are now part of the archival holdings at the Library of Congress.
I sat down with Marks in her Glenville home to speak with her before that public event. We chatted about her family background, ballad repertoire, and her evolution from a singer of "old songs" around the house to a beloved public performer and tradition bearer in her home community and across the greater Appalachian region. These exclusive highlights were excerpted from that original conversation.
Emily Hilliard: Phyllis, could you tell me where and when you were born?
Phyllis Marks: I was born at Sand Fork on June the 5th, 1927.
EH: Could you tell me about your family?
PM: Well, my father died when I was six months old, so I can't tell much about him, but my mother and grandma both sung old songs and I was with grandma quite a lot 'til she died when I was five. But afterwards, I'd remember little bits and pieces of the songs she sung and I'd ask my mother if she remembered it and then she'd help me. And I have a sister and some half-brothers and a sister that my father had by previous marriage, but they didn't live with us.
EH: Did your sister learn the songs too?
PM: Not very many. I learned to crochet and make rag rugs, and she said, she'd say, "How come you learned them songs and how come you sit down and make the rag rugs?" "Well, because you wouldn't sit still long enough!" She was always scurrying around the house.
EH: When you were growing up did you know other people that sang old ballads, old songs?
PM: Not too much. The older people did, but the younger people wanted to sing songs like "Blueberry Hill" and "Roses Blooming in the Wildwood," things like that.
EH: Before you started performing, would you just sing all the time around the house?
PM: Yeah, and mom sang all the time, too. She'd sing going up and down the road. People would say, "Arlene, are you happy?" and she'd say "No, I'm just whistling to keep up my courage!"
EH: Did you teach your kids your songs?
PM: Yeah. I asked my oldest son what his favorite song was, and he said "Dandoo." And when he was courting the wife he married, she said, "He just breaks into some of the silliest little songs!"
EH: When did you begin to write poems?
PM: Oh, they just seem to come in my head. I wrote one about West Virginia that was pretty long, but I don't write poems anymore. Oh, I did too — I wrote a couple silly ones. One was about my husband:
My husband shoots pool, plays cards, chases the old fox hound.
He shoots … and squirrel and he's really a man about town.
But the fences fall and the filth grows up and the house is going to pot
He sings his songs and he plays his games and he worries not.
He let the worrying to me.

The kids said, "That's Pappy!"
EH: When did you start performing your songs and poems?
PM: Well, when I was at school, I would say great long poems, but I didn't sing in public. And Dr. Patrick Gainer went to Webster County to see my mother but she wouldn't come down [to sing for him]. I was living on Lynch Run so they come up there on Lynch Run to see if I knew the songs … any old songs, and I did — I sang some. I was kinda bashful. And he said, "Well your voice is not very loud but there'll be a microphone there." And I said, "See all these kids, I can't sing without a rocking chair!" And when I went to the stage there was a rocking chair! I didn't really mean it!
That was the year before he made it into a festival.
EH: The West Virginia State Folk Festival?
PM: Yeah. I still didn't think I was much of a singer, I just thought it was because I knew the old songs and they seemed to like 'em so I sang other places. I've been down to the Vandalia Festival. I was down for the first one and I've been down several times since, but I haven't been lately.
Gerry Milnes has seen to it that I got money for my songs and he said, "Everybody's singing your songs. It's not fair, you need a tape." And he wrote a story about me in Goldenseal [the magazine of West Virginia traditional life].
EH: What did you think of how people reacted to your songs when you would perform on stage?
PM: Well this past year, a member from my church told everybody in church I was the star of the show. But yeah, I'd get a hand. I never got a standing ovation, but I got a big enough applause. I was pleased.
EH: How many songs do you think you know?
PM: Well the book that Erynn Marshall put out [Music in the Air Somewhere: The Shifting Borders of West Virginia's Fiddle and Song Traditions] — she put my repertoire of songs in the back of her book, but I'd have to think on some of them before I'd sing. I sing to my helper and she'll say, "Well, I've never heard that song before." I tell her, "Well, I know a lot of songs you've never heard before!" [Laughs.]
EH: Did it used to be that people remembered some of those songs?
PM: Well, some of them would be like you and say, "Well, I've heard that! But not quite that way." And I was in a nursing home for four years and they'd ask me to sing "Froggie Went a Courtin'" and I'd say, "Well, I can, but I bet I won't sing it like you know it."
I never did sing "Barbry Allen" very much, but I did when I was in the nursing home. I sung a lot of songs and said a lot of poems — some things I memorized when I was going to school.
EH: Do you think you were unusual for remembering all these songs? Did other kids sing them or did other people you know sing old songs?
PM: Once in a while, but not like I did.
EH: Why do you think that was? Do you have a good memory?
PM: Well, my mother had a good memory 'til she died at 82. But she got hardening of the arteries in her head and eventually it went to her heart, and you may think this is silly, and it may not be the reason I remember, but I thought if I'd hang my head down about five minutes a day and let the blood rush in to the veins and arteries that they wouldn't harden. So that's what I do! I don't know if that helps or not, but something helps.
Emily Hilliard is the West Virginia state folklorist and founder of the West Virginia Folklife Program at the West Virginia Humanities Council. Find more of her work at emilyehilliard.com. For more information about the West Virginia Folklife Program, visit wvfolklife.org.