Column
Leslie Rouffe: Speaking Up for Animals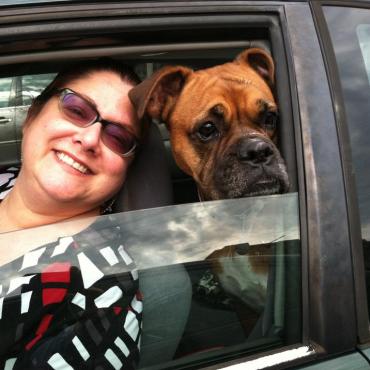 I've known Leslie for many years through our Americana radio connection. I really respect her honesty and passion for saving shelter animals. She always seems to be willing to adopt dogs who need a home.
Bill Frater: What got you started in the music business? 
Leslie Rouffe: I was in the direct mail marketing business; it was lucrative but bored me to tears. I decided I wanted to have a passion for what I did for a living. Life is too short. That passion was (and still is) music, which has always been a big part of my life. My fondest memories of being a kid are beating loneliness by dancing in the living room to The Beatles, the Americana Graffiti soundtrack, and, I have to admit, West Side Story!
What have you done since then? 
I started off working at a commercial folk station called WADN (Walden Radio) as a sales representative, from there I went to HEAR Music as a merchandise coordinator and then to Rounder Records as their Triple A/Americana Radio promotion manager.
What do you do now and how do you describe your business?
I oversee Americana radio promotion for Songlines here in Nashville. Meaning I am a gun-for-hire to work an Americana artist/band's new album to the Americana radio panel.
What was the first artist or album that got you into roots music?
Around the same time … early '90s ... John Hiatt's Slow Turning, Lyle Lovett's Pontiac, and Guy Clark's Boats to Build.
What artists define Americana music for you?  
John Hiatt, John Prine, Alison Krauss, Allen Toussaint, The Band, Little Feat, Jesse Winchester, and Rosanne Cash.
How do you define what Americana music is?
It's a pretty big umbrella, music based in roots. That includes blues, cajun, folk, root rock, alt-country, western swing, soul, rockabilly, bluegrass, etc.
What recent albums or artists are you excited about?
Margo Price's Midwest Farmer's Daughter, Mosey by Daniel Romano, Brent Cobb's Shine on Rainy Day and Jared Deck's self-titled debut album.
What are your most memorable experiences or memories from working in the music industry?
Making a real positive difference in an artist/band's career is extremely fulfilling for me. Also, so many magical moments at conferences; seeing Emmylou Harris sing with Willie Nelson and Daniel Lanois, meeting Solomon Burke, getting a front row seat to hear Lyle Lovett sing after a panel, hanging in Felton Pruitt's hotel room while he interviewed Kris Kristofferson & Stephen Bruton, seeing Johnny Cash at the first AMA conference in Nashville, those are just a few off the top of my head.
Do you have any other interesting hobbies or interests or anything else you wish to share? 
I also co-run a 501(c)3 in Nashville called Music City Animal Advocates, which is a nonprofit group whose goal is to create an animal-saving culture in greater Nashville. Here's a recent article that explains what we do.  I also foster for Emmylou Harris's rescue Bonaparte's Retreat.