Interview
Lights Out for David Corley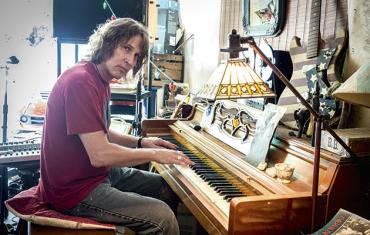 "With everyone's help, I've been trying to quit drinkin' myself to death, and [quit] smokin' like a fiend," David Corley says via the transatlantic email conversation we're having. I asked about his health after the heart attack that had nearly killed him last year.
Indiana native Corley is a late comer to a music career. He released his first album, Available Light, last year at the age of 53. His deep, smoke-filled half-talk, half-sung voice spans years worth of stories and panoramas. He's roamed his homeland over the decades, soaking in the minutiae of his day-to-day experience, quietly building a library of songs that he alternately performs, saves, or steals from. He's a strange concoction of otherworldly and down to earth. He is the voice of everyman and at the same time he is intrinsically, weirdly himself and nobody else.
In September 2015, as part of the European tour for Available Light, he was on stage at the TakeRoot Festival in the Netherlands when he hit the deck. We nearly lost him. After intensive care at the hospital, after a long, patient convalescence when he finally returned home, we gradually got him back.
Fast forward eight months. "I've been walking and running -- almost up to a coupla miles a day -- just so I don't drop dead on tour again," he says. Obviously his near-death hasn't dampened his irreverence. During this time, he has also been working on his next release, an EP titled Lights Out that was recently set free in mid-April, followed by another European tour of Ireland, Holland, and the UK.
"I wanted to put out a new record this spring and tour with that," he says, "but my heart problems set us back just long enough that an EP was pretty much all we can manage." The record's producer Chris Brown is also in the midst of making a new record, so time and resources have been stretched. "We've both been burning the midnight oil to pull this all together for the tour in May," Brown confesses.
If the EP is called Lights Out, does that mean all the available light has gone? "Most certainly the Available Light hasn't gone out," Corley replies. "It's actually a misnomer that we ended up calling the EP Lights Out."
Corley and his partner Kari Auerbach, and Chris Brown, came up with the name together. "It's called an EP," Aurbach explains, "but David writes songs that are of such a length -- even when edited -- that the actual playing time is more like a full-length LP."
"We were originally calling it Down With The Universe," Corley adds, "which will be a song on the record. But [then we] thought twice about it. On a lark we decided on Lights Out because there's a song on the EP called 'Lighting Downtown.'  It's a fun and kind of funny rock and roll tune, and 'lights out' is a line from it. Of course, [the fact] that I flat-lined last fall for a few minutes figures in."
In the lead-up to the April release, Corley released two tracks from the EP on Bandcamp, for sale and free streaming – "Blind Man" and "Pullin' Off The Wool." What was the logic behind releasing a couple of tracks before the EP is launched? Corley says, "We -- I, personally -- want to get music out to people, and our fans. We aren't trying to make [a lot of] money, just make a living.  So it was kind of like, here's a couple [songs]. We have 19 songs in the works for the new record, and the EP and what's coming up are just a few.
"We were going to [release] 'Pullin' Off the Wool' and 'Watchin' the Sun Go,' [which will be on the EP], to have a soul song and a rock-steady number," he adds. "But 'Blind Man' just happened to come together faster, and it was a deadline kind of decision. Chris and I both thought 'Blind Man' was just more put-together at that point."
I ask if he'll tell me about his muse in the first track "Blind Man." "Well, that's a real funny tale," he says. "Years ago I actually decided to move to California from Indiana in the middle of winter, and left in a blinding snowstorm. I decided to get as far south as I could, for better weather. I ended up crossing through Texas, and the southern route, rather than Colorado or Wyoming, which is a prettier drive.  
"Anyway, after an all-night drive in marginal, white-out conditions, I stopped in Austin, Texas, because it's a great music town. And well, it was sunny and warm. Unbelievable twist of fate. I hung at some bar there, and talked to this beauteous southern Texas bartendress, and we kinda hit it off. She wanted out of Texas, and I was headed west.
"The song tells the story of what coulda been," he says, "but I wasn't willing to take it on. I got back in my ride, and made it to the coast without a beautiful girl in tow. Life is funny that way. Who knows, she might have been the love of my life, but our timing was bad -- or I was blind to it."
The women who sing on Corley's new EP are the same singers who appeared on Available Light. They include Sarah McDermott -- "she's kind of the rock and roll side of things" -- and the "illustrious Kate Fenner," he says.
On "Pullin' Off the Wool," he adds that Fenner "sings with Sherman Holmes, of The Holmes Brothers, who she and Chris know from back in the days with the Bourbon Tabernacle Choir." The Holmes Brothers were an American musical trio originally from Virginia who mixed blues, soul, gospel, country, and rhythm & blues. Kari Auerbach explains, "The Holmes Brothers, famous and respected in their own right, helped out and influenced many a musician. Joan Osborne heavily credits them. They became good friends with Hugh Christopher [also known as Corley's producer Chris Brown] in the mid-nineties and helped him out too. Sherman is a wonder!"
"Sherman is like 70 years old and a soul man" Corley adds. "Such a cool dude, and it was real special to get him over to sing a tune.  He and Kate just ad-libbed in the backing vocals."
Beyond the music, the EP's sepia-tinged heart monitor cover art was designed by Auerbach, who has been key to Corley's recovery since events unfolded in the Netherlands last year. "I felt it would be very powerful at this particular place and time in David's trajectory to refer to hearts: Broken [hearts], distress, bandages, the thin line between life and death," she says. "That's how I came up with a distressed sideways heart, broken by an EKG pulse.
"I also felt quite strongly that absence can be more powerful than presence at times," she adds. "Think how Basquiat would cross out words to emphasize them or the use of negative space in art. Sometimes a photo can't convey that. David and I refined those ideas together and I brought them out in the cover, which I called 'Bandaged Heart.' The color and subtle light-leaks came from adding a sepia overlay. [That added] more reference to peering through muslin bandages or sticky plaster band-aids, fading light, and green-yellow EKG lights."
Of course, despite Corley's brush with a literally broken heart, he's ready to hit the road again. His tour of Europe starts in May. Joining him on the road, producer Chris Brown will accompany on keys, with Gregor Beresford on drums, Joey Wright on guitar, and Cait O'Riordan on bass. O'Riordan is perhaps best-known for her work in the Pogues. She and Corley met during the Irish leg of that European tour last year. There are also unconfirmed reports that backing vocalist Sarah McDermott is planning on joining them.
On the Netherlands leg of the tour, Corley and Brown will be joined by BJ and the Wild Verband who toured with them last year. "Fucking -- excuse me -- really looking forward to all this," an unrestrained David Corley adds, in conclusion. "I think we have the songs and the band to have some fun and get with it, so to speak.  Can't wait."
First posted on Alan Harrison's Rocking Magpie