Interview
Lindi Ortega Talks about Matters of the Heart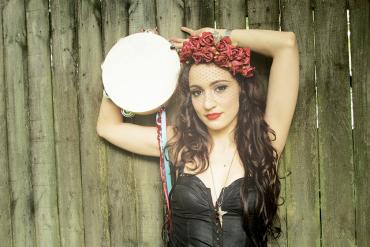 "Lindi is my compass," a woman was telling me at Gypsy Sally's in Washington, DC, a few minutes after the singer's set ended. "I always come back to her when things get difficult." Before she could tell me more, she apologized and made her way to a deepening line of people who were queued up to meet Ortega at the venue's merchandise table.
This is the place where Ortega meets her faithful fans, who share their stories about how her songs have affected their lives. There's "So Sad" from her first album, which helped one fan through the loss of a family member. There's "Angel," which someone found helpful while they were coping with depression. Ortega has come to learn that "Demons Don't Let Me Down" is a song people find uplifting during dark times.
"I always try and ask how they heard about the show or the music," she tells me by phone while on tour across the ocean from her adopted hometown of Nashville. "It's interesting to hear the different avenues [through] which they discover my music. It's cool to hear stories about why certain songs affected different people. I enjoy doing that part of it."
When Ortega came offstage in DC, she was still wearing her trademark veil and was easily spotted by her bright red lips. "It's a look," says Ortega, who put on red boots one day and never stopped. "Lots of musicians have looks. Some people like to wear jeans and T-shirts. I prefer to dress up. I feel it helps me to stand out. It's something that makes me unique. Maybe people will remember me from some of these little trademark things."
If it seemed like it would be a transition, going from being in character to meeting a group of people face to face, Ortega downplays it. "The only thing I can say is, [I have] confidence onstage that I don't possess when I'm on offstage. I don't know why that is. Maybe it's just the idea of being in front of people."
Ortega doesn't believe she is shy, but concedes she is introverted outside of music. Onstage, meanwhile, she offers a window into her soul. From behind the veil, Ortega peers out long enough to let us look into the vulnerability of her dark eyes. Using expressive hand gestures, arching her body in rhythm down to the syllable, Ortega reaches back and fills the club with the language of longing, loss, and love's struggles.
Does she find she goes to another space? "I guess so," she concedes, "but I'm not really sure where it comes [from]. It's sort of just what happens when I get up there and start singing. It's not like I sit at home and rehearse all my moves and figure out what I'm going to look like when I'm onstage. I just kind of feel the music. I guess I've seen videos and have been taken aback by things I've [seen] onstage. I'm sort of in the moment when I'm there."
This night, as she strapped on her acoustic guitar before "When All the Stars Align," Ortega talked about an idealized and romanticized vision of love. Imagine if you could send a Batman symbol shining in the sky, and when the right person saw it, they would know it was meant for them. It would allow people to find each other.
Ortega has written about the challenges of love using words to compare it to a disease and singing that she should "hold a funeral for every love I've lost." But on this night, for all her angst, Ortega seemed to heal. She dedicated "Dying of a Broken Heart" to everyone who had suffered its fate and came to spread the good news that we could all be resurrected. Ortega was like a priestess bringing the good news of love, and said she hoped people on the barroom floor would enjoy slow dancing.
I wonder about that dichotomy between the spiritual feeling of her show and the imagery in her songs. "I do have some dark songs," she admits. "But I don't want people leaving [my show], feeling depressed. I feel it's my duty to inject a silver lining. I mostly write about what I know and I have not had a good run when it comes to matters of the heart. I say unfortunately — but, in some ways, fortunately — because it makes up all the songs on my records. I don't know if it's a blessing or a curse, or maybe both. But, yeah, I try not to keep it dark all of the time."
At one point, she told the audience that she had tweeted that she thought there was a monster inside of her. I asked her about this. "I think we all have these skeletons in the closet or ... demons, or things that haunt us. It's part of the human condition," she says. "I guess some folks like to pretend that part doesn't exist and [they] want to sweep it under the rug, or whatever. It always makes me feel less alone when I realize that other people go through this same experience and it's part of being human. Sometimes I tweet things like that just to show no one's alone."
One of Ortega's signature songs is "Cigarettes and Truckstops." She'd been seeing someone for a bit and then had a few weeks apart. She wrote the song about longing to see him again. "I did see him again but it wasn't because I took a Greyhound," she says with a laugh. "I just happened to run into him again." 
Ortega acknowledges that there is a common thread of country music running in all of her records but says that she's never claimed to be a purist. "I listen to and am influenced by all kinds of music," she says. "If there is one thing I could say, it's that I like music that was recorded in certain eras, when they would record live off the floor with two microphones and a live raw sound. One day I'd like to record a live record."
Ortega's band puts you in the setting of old roadhouses and bars, led by guitarist James "Champagne" Robinson, whose playing evokes images of a mystical Western landscape. She says her mother planted the seed by playing Willie Nelson and Waylon Jennings at home, and tuning into the Dolly Parton Variety Show. These days, the grown-up Ortega is often compared to Parton, Loretta Lynn, and Patsy Cline, something she finds flattering but says it also creates a lot of expectations she feels she has to live up to.
Ortega's mother also had a crush on Kris Kristofferson and, these days, her daughter covers "Me and Bobby McGee" -- the song he wrote that was made famous by Janis Joplin. It's one of the many covers Ortega has taken on from greats like Solomon Burke, Sam Cooke, Johnny Cash, and the Bee Gees. The latter's "To Love Somebody" from last year's Faded Gloryville was recorded in Muscle Shoals, Alabama. The cover owes as much to the Brothers Gibb as the suggestive power of Joplin's version.
After seeing the movie Crazy Heart, about a broken-down country singer, Ortega thought about her own life and career. "I watched that movie and it made me question my future as an artist," she reflects. "How long could I keep doing [this]? And would I end up like he is at the beginning of the movie? There's this ambiguity [when it comes to] the future in music, because you don't know. Nothing's guaranteed. The trends may change or people may not dig what you do. You just hope what you write will have a lasting effect and people will want to hear it. But there's no guarantee."
Ortega characterizes today's music business as being challenging in so many ways. It doesn't offer the luxury of taking six months to get inspired and work on new material. Ortega says that she has to constantly tour in order to pay her rent and live. "The time isn't there to dedicate [myself to] something for months at a time."
Ortega moved to Nashville some years ago when she found she was spinning her wheels in Toronto and decided it was time for a change. The sense of history of some of her musical heroes pervades the city. She's also taken by the city in the Spring and the burgeoning food scene there, as many chefs open gourmet restaurants. And she describes the experience of playing at the Ryman as surreal. "I felt like I was in a dream," she says. "I don't think I've been more nervous for anything in my life."
Ortega doesn't come back to the States until mid-February when she begins a string of US and Canadian dates. She's managed to write a few new songs but when asked what's next, she's quick to answer: "Touring, touring touring," she says. "It never stops. Endless paved roads."
(This article originally appeared in For The Country Record.)