Interview
Lindsay Lou and the Flatbellys' Center Around the Song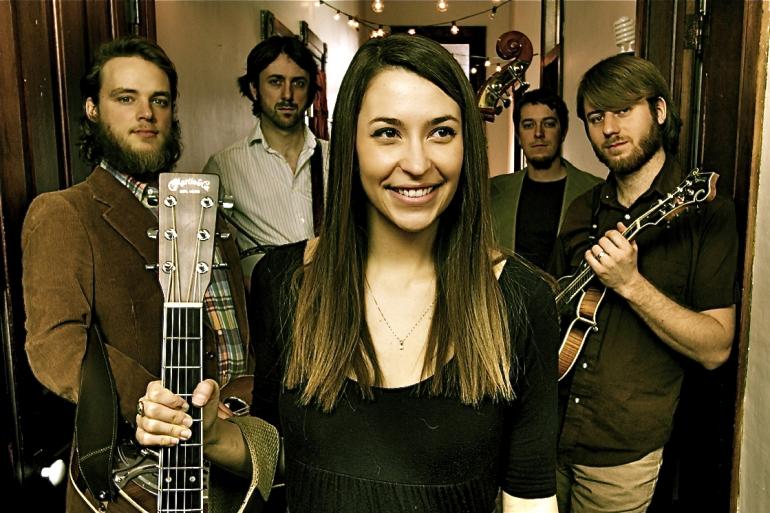 In an era when style and trends can become genericana, one Michigan transplant "soulgrass" band focuses on the song. It is infectious and joyful, soulful even. Lindsay Lou and the Flatbellys have moved to Nashville to spread their enthusiasm for their song-centric energetic music. In anticipation of Lindsay Lou's Northeast tour, I was delighted to get the chance to converse about the newest release, Ionia. The conversation was originally aired on Nine Volt Heart's broadcast on WMUA in Amherst, Massachusetts.
Lindsay Lou, You have a brand new release, titled Ionia. Is that named after the place it was recorded?
Yes, that's the name of the town in Michigan right smack between Grand Rapids and Lansing. We set up shop there and the studio came to us. Beehive Productions from upstate NY do a lot of work for Folk Alley and specialize in field recordings, they set up at festivals and do a great job of capturing that live sound.
And so it was recorded live in your home there in Ionia, Michigan, like in the dining room? Did you do isolation booths or overdubs or was it really just "live"?
It was really just live. We wanted to find that magical thing that happens when you play music together and that's sort of the draw...the addiction, the thing that keeps us addicted to the whole "music life" and we wanted to capture that. It is a really difficult thing to do and we were told by many that it was a bold mission to undertake and we did it. We're really surprised with how it came out. We succeeded. We captured what we hoped to capture.
Because the CD was recorded in your home, it brings me to the whole notion of what "home" means to a touring musician.
Well, I tell a lot of people who ask this question that awhile ago when we were being faced with the decision to uproot ourselves from Michigan...When you're only home three days a month maximum, it's really hard to figure out what "home"is. We've made the decision a couple of times to put all of our possessions in storage and just live on the road. I had some anxieties about that, having had a stationary life up until now. I would ask my Mom and she said "As long as you're with people you love, you'll always be home." And it's true, it doesn't matter where I am, when I'm with these people ( Joshua,Mark and PJ) it feels like home.
Your tour is booked solid. You've moved into your newly adopted hometown of Nashville. Any chance of taking it easy for a few days?
No. Not at all. We've been trying to tour smarter. Tour for chunks of time and then take chunks off so we can be creative and collaborative and do things in our time off. We actually are coming off of a twenty day layoff. I don't think I've gotten to bed before 4AM yet. There's always something to do and the community here in Nashville is amazing. The musicianship in this town is truly amazing. It's like you imagine it would be. There's a pickin party every night somewhere and one of your friends (or idols) is playing somewhere every night. It's amazing.
There are many bands moving to the area. Are there business reasons for moving there as well as creative ones?
We don't know yet. We're pretty much delving into the music end of it. Hopefully we've hired folks to handle the business end of it. At least for myself, the business side is a challenge. When I was a kid, I always wanted to be a singer and someone told me that the "music business" was 90% business and 10% music. With that knowledge I decided I didn't want to do it anymore. I had no interest in business. I was going to school to be a doctor which I did. I got a degree in human biology from Michigan State University. I had all but given up music until I met Joshua (Rilko, mandolin,banjo and vocals in the Flatbellys). When I met people in Micihgan's Earth Works Cooperative and other roots musicians, I saw that you could be really engaged in the music. The longer we do this, the more I realize that we can hire good people to help our creative vision.
The new album starts with an amazing groove which lets listeners know right away this is special. Tell me about the writing of that song, "Hot Hands."
Josh and I had taken a couple of months off of touring with the band to go backpacking through Central America. we were at a hostel in Nicaragua and I was sitting in a hammock. I had been listening a lot to Lake Street Dive. I definately was thinking of their groove and Rachel Price's melodic choices and singing. I don't think it probably comes out in the song but that's where my heart was. I was looking at my friends that I love and I got this melody in my head and these words. I didn't end up keeping the words but I took this melody and went into the hostel and made a couple of voice memo recordings of these ideas. When I got home to Michigan, I was talking to one of my oldest childhood friends who was just recently and madly in love. She was explaining to me all these things she's discovering about being in love. And I could relate to all of it. It helped me connect those ideas to the voice memo recordings made in Nicaragua. The rhythm of both guitar and bass on that song are unorthadox. The others added dobro and mandolin parts and it came together like a sort of lock and key. That's one of my favorite songs to talk about because of the way it came together.
The Flatbellys have released a disc just about once a year but is there a period of time when you worry that the "muse" is not there, that the magic disappears? Do you worry that this isn't going to last forever. Does this writer's block ever strike fear into you?
It's a fleeting thought that comes into my mind but I feel like I've done my best work yet. I feel like my best work is still ahead of me so I'm still so driven by that fact. Maybe one day I'll wake up and feel differently. Perhaps then it will be harder. I feel really good about our work on Ionia. Whenever I feel that way I'll ask myself, Am I ever gonna be able to do this again? But it's a fleeting thought because "life" takes over after that, you go on. Songwriters, we're always thinking, always listening to a person say a line or experience something that's a big idea. The wheels are always turning. It's an obsession. The recent move to Nashville from Michigan is inspiring us to write. I've already started to cowrite with another Michigan transplant named Rachel Davis. She's one of the most talented vocalists I've come across. We got together and had a songwriting session. Even though I'm here in Nashville, Michigan soulgrass is still pulsing through my veins.
Your music does have soul and the last song I wanted to ask you about talks about family and home and nostagia. It's called "Old Song."
That song means a lot to me. It was actually initiated as Kickstarter reward request. A longtime supporter of our music received a song written for him. His prompt for the song was...when you hear an old song and it reminds you of the past. I was in Central America sitting on a curb in Guatamala and I'd been listening to a lot of May Earlwine (writer of Ionia's River Jordan). I'd been singing her lyrics...these are sweet days. Hold on to what you love, no one knows how long it will stay and the chorus to" Old Song" came to mind beacuse of the prompt. Months later, by the time we made it to Costa Rica, I sat down and laid everything out on the table and assessed where the song was at. The whole purpose of this trip was to get reinspired and to get in touch with some ideas. I thought about what the idea of an old song means to me. I thought about my Uncle Stuckey who was the center of our family gatherings and jams. He would take out his guitar and start singing. Everyone would crowd around singing harmony. It was one of my most valued memories of growing up. I lost him my sophomore year in high school in a drunk driving accident which was a big loss. I took it upon myself to be the center of the jam, to learn all the songs he led the family in. That's the reference of the middle verse. The last verse is about Joshua's granparents who just celebrated their 60th wedding anniversary. All of these ideas seemed to be very closely related to me with this notion of hearing something that takes you back, being with someone who takes you back, playing a song that takes you back. Hearing that kind of song on the radio. No matter where I go or how fast life goes, I'll always have those things with me. I hove my chosen family and I have this music. I have the people within me that gave me these gifts. That's an invaluable thing.
That's the kind of songwriting which makes this tour a special one for the musicians as well as anyone lucky enough to catch a little Flatbelly live. The Flatbellys are in a groove, a serious groove. They love it. you will too. The playing is stellar throughout but the strength of the live show is Lindsay Lou's soulful voice. She has the range to jazz/scat in "Smooth and Groovy" to a gospel soul shouts of "The River Jordan". Most of the new disc Ionia is on the set list and tasteful covers of May Earlwine and even the Beatles,"Rain "is given a Flatbelly groove. The band sings bluegrass style from a single mic and their enjoyment of what they do is infectious. Mark Lavengood's dobro playing has to be seen to be believed. This enthusiastic energietic band is confidently, assuredly, proving to live audiences that thoughful songwriting can be a "joyful 'belly full'." Get yourself some.