Interview
The Linemen Close the Place Down on New Album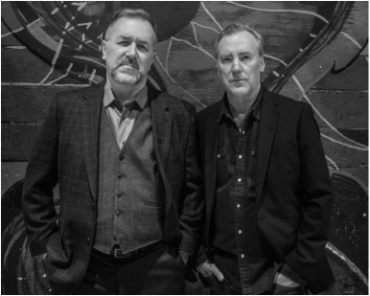 The Linemen's Kevin Johnson and Jonathan Gregg first met in the early '90s when the bands they were fronting, The Linemen and The Lonesome Debonaires respectively, started playing shows together. Around 2000, both bandleaders took a break, but ultimately reunited over a decade later to form a band playing a unique brand of rootsy, jangle-pop that would become the new Linemen. Their first album together, 
Close the Place Down, 
which was released in October, was captured at Brooklyn Recording by Andy Taub and mixed by producer/engineer John Alagia and contains ten tracks that range from beautiful ballads to energetic rockers. Both Gregg and Johnson kindly took the time to speak about their musical journeys, the new album and more.
Each of you has a long history in the business, but you both decided to take a break around 2000. Was there anything in particular that spurred those decisions?
Jonathan Gregg (JG): I had been doing it for a good long while. We released three albums that got some really nice press, but I wasn't breaking much new ground and was pretty burnt out, so when our bass player was offered a chance to play in the pit for the musical 
The Full Monty
, I thought maybe it was a good time to take a break from being a bandleader.
Kevin Johnson (KJ): I had the opportunity to start a rare book business called Royal Books which was going to be a full-time venture and so it seemed like a good time to take a break from music.
During the break, did you continue to do music in some capacity?
KJ: During that time, I kept up with my musician friends and did some writing and demos, but I was mainly focused on developing the business. Now, the business is successful and I have a staff which allows me more freedom; so in 2012, I decided it was time to get back to it. Jonathan and I have always been close friends and I've always loved his guitar playing. During his break, he had this incredible determination to learn the steel guitar and the fact that he could play, write and sing made me think it would be cool if we put together a band where wrote together and sang sort of in the dBs' mold.
JG: My business interest has always been music, and during the time I took a break that did not wane in the least. I had played pedal steel in college a little bit and was really interested in learning more, so I started playing it again primarily for fun and self-improvement. I had the opportunity to put in the time, and the more I played, the better I liked it, and eventually found my niche doing sessions, playing with bands and giving lessons. Adding another instrument to my repertoire was a wonderful thing; it gave me the opportunity to branch out into other spheres, and when I came back to the guitar I found it much fresher because I wasn't solely invested in that as my exclusive means of expression.  
When Kevin, who is one of my favorite singers and songwriters, called about four years ago saying he was keen to get back into it and do music together, that was exactly what I'd been wanting to hear, because I wanted to play my music again but not do the same thing as before.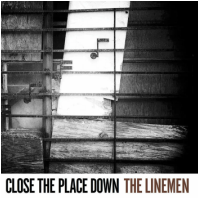 Why did you choose to continue with The Lineman name rather than go with something different?
KJ: KJ: The three other guys in the band (Scott McKnight on bass, Bill Williams on guitar and Antoine Sanfuentes on drums) were all in the Linemen before, and so I thought it was a good idea to keep the name and build on whatever legacy we had rather than try to start something altogether new.
Does this incarnation of The Linemen follow a similar sound or did you blend both bands?
KJ: I think it borrows elements from Jonathan's old band and the previous records I made. We get the Gram Parsons and alt-country label/comparisons, but we're both happy with being called pure pop and rock and roll too. We've never tried to fit inside a category; we are all about good songs, great melodies, and music that will last beyond our singing them.
Previously, you were both leaders in your respective bands, do you enjoy being co-leaders in The Linemen?
JG: Absolutely. We've been around, so it's not like we have something to prove at the exclusion of someone else. Since our very first gig we played together in the 90's we had a simpatico and mutual appreciation. We're good buddies who like hanging out, listening to the same types of music and playing each other's music. It's such a great asset to have someone as talented as Kevin to bounce ideas off of and share the responsibilities with; we're really grateful for the support we lend each other.
I think I brought something to their party and my music certainly benefitted from what they have to offer. I very much doubt that I would have been able to start anything without Kevin; it's been a great melding of our talents.
KJ: Yes, absolutely, it's a very collaborative effort.
Is 'Close The Place Down' the first release you have done since uniting?
JG: It is. It took a little while to get done in terms of scheduling, but it didn't take long to record. We spent a long weekend laying the basic tracks, then went back and did overdubs and vocals, but not a whole lot, as many songs are first-takes or close to it. The guys in the band are great musicians and were well prepared, and we really hit the mark in the studio. We picked the right tunes, did it at the right place, and were lucky to get John Alagia — who was a budding producer when Kevin worked with him in the '90s before going on to work with John Mayer, Liz Phair, and Dave Matthews — who graciously agreed to work with us mixing the album. I'm very happy with how it came out. I can't imagine it being much better.  
KJ: We had the opportunity to make this record at a world-class studio in Brooklyn called Brooklyn Recording. Our drummer Antoine is friends with Steve Jordan, who worked with Andy Taub there as drummer and producer on the new Keith Richards' record and recommended it highly. Since I am based near D.C, it was nice to get away from home and get immersed in a musical frame of mind and make a record. 
Were all of the songs written together since uniting, were some pulled from your back catalog or was there a mix?
JG:  Kevin and I co-wrote "Mystery In The Making" and "Lineman," and I wrote "Playing Hard to Get Even," but I hadn't written songs in a long time. As a sideman pedal steel player, I wrote down a few ideas here and there if I had an inspiration, but I didn't write much at all for a long stretch. I think for most songwriters, if they don't have a vehicle to write for, the impetus is much less; it helps to have an outlet for it. Other tunes were revived from my previous catalog, like "She's The One For Me," "Pictures of The Two Of Us," and "Unconditional," which I sing, but when you have a singer like Kevin you want to go with him as much as possible.  
KJ: All of the songs were written by me and Jonathan, either solo or in combination, or with Bill Williams or Scott McKnight, who are both highly regarded D.C.-area songwriters. Sometimes you finish a song and that's that, there's no need to collaborate, but once in a while you'll have a good chorus or idea, but you'll get stuck and that's when it's good to give it to another person because they'll bring in new ideas and pull it all together.
We're pretty severe critics of the songs we write. I feel like some artists are very prolific and often when they're prolific, their songs can range from some awesome ones to some that sound unfinished, and some that are mediocre - and I never liked that approach. I prefer to throw stuff out if it's not working, even before it's finished. Some songs we write wind up being a better fit for an album than others, but we keep quality control as high as we can with a less is more kind of approach. The two to three songs we took from Jonathan's back catalog were songs we thought were strong, and since they were previously only exposed to a regional group of people and we were promoting this record nationally, we decided to think of our back catalog as material we could use, but going forward I don't think we'll do that, everything will probably be brand new.
Why did you choose to bookend the album with "Close The Place Down" and "No Time Like Now?" 
KJ: I had always wanted to start a record the way I wanted instead of the way we thought radio or listeners would want it. I wanted to make a record that had a nice personal intro and "Close The Place Down" is very quiet and ambient, but it draws the listener in. "No Time Like Now" is another personal song that I thought was a nice quiet way to close the whole thing out.
Is there a story behind "Close The Place Down" that you can share?
KJ: The song is about the night I fell in love with my wife. We were at a bar that had a basement cavern area and we sat there drinking and getting to know one another until we were the only ones there, which was really cool. Then, we walked outside and it started snowing, which couldn't have been more romantic. I think many people have had that experience where you're the last ones in a place because you've become so involved in the conversation you're having and I thought that deserved to have a song written about it.
That's lovely.
Could you talk a little bit about the artwork and why you choose to title the album 'Close The Place Down?'
JG: Our drummer, Antoine Sanfuentes, is a professional photographer, and he took the cover photo, which is of a closed-down gas station in Memphis, I believe. It's austere, but has those hopeful notes in the middle. There are lots of things that go into making a package that you can feel good about, and that picture is fabulous.  
KJ: I got to thinking that "Close the place down" is an interesting phrase, where folks know what you mean when you say it, but whose meaning can change completely depending on context. It can mean a burn the house down into the night party playing rock and roll, or something more quiet and solitary, as in the case of the song itself, where you look up and say, "Hey, looks like we've closed the place down." So it has a nice ambiguity to it, and with Antoine's cover photo of the closed-up gas station there is a third meaning even, and it ended up working out even better than we expected. It's an art finding titles that cover the bases, and I think it was a good choice.
What are your plans for the rest of 2016? Will you be touring?
KJ: We've been playing the corridor from D.C. to Providence and in between and would love to expand, but one step at a time for us. If we get the opportunity to move further it would be great, but in the meantime, we really want to do more gigs along the lines of openers to get the music exposed to the right people.
JG: I am in New York City and the rest of the band is in the D.C.-Maryland area, so when we start to tour, we start in D.C., which is a great base of operations. We'll keep touring into December in places like Providence, New Haven, Baltimore and New York. I'd like to get further south to Louisville, or even California if the opportunity presents itself. The radio response has been thrilling, and I can't wait to bring it in person to as many people as possible.