Interview
Lori Yates: Honky-Tonk Heroine at the Top of Her Game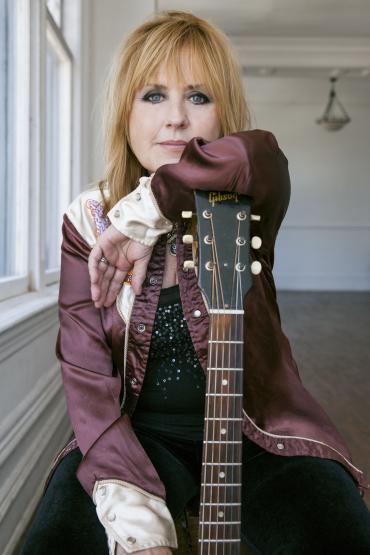 The first thing that grabs you is the voice. At times, it is gentle as a summer breeze; at other times, it is stronger than a hurricane blowing through town. Next, you notice the ginger hair. Finally, you are drawn to the infectious laugh. That's a snapshot of Lori Yates, but this Canadian songwriter is far from one-dimensional. Earlier this fall, as the leaves fell throughout Southern Ontario, the honkytonk queen — with punk and rockabilly roots and a long and storied career – picked up her Gibson LG-1 (circa 1960) right where she last left off and returned with one of the years' best roots records: Sweetheart of the Valley. On her seventh recording - the follow up to her acoustically-inclined The Book of Minerva - the alt-country heroine is at the top of her game.   
This is an artist who met Johnny Cash, hung out with Tammy Wynette, wrote with Guy Clark, jammed with Jerry Jeff Walker, partied with Harlan Howard, recorded with Greg Allman and ate jelly beans with Roy Acuff! That is a resume many a songwriter would love to claim as his or her own. 
Since its release last month, Sweetheart of the Valley, has entered the EuroAmericana chart at #15; it also currently sits at #13 on the Roots Music Report. 
Yates and I meet on her home turf at the Mulberry Café on James Street North in downtown Hamilton, Ontario, Canada, one week before her sold-out CD release party at The Spice Factory. Over a latté and muffin, we share laughs and chat about the making of the record, songwriting, her love affair with her new hometown Hamilton, and her ongoing musical journey.
Sweetheart of the Valley is Yates first solo recording since the award-winning The Book of Minerva (2009). Why so long?
"I don't know," she says. "I have a family and it's always a balance. People always ask, 'Why don't you just put out a record every year?' It just seems to take me a long time."
Right from the opening notes, the listener learns it was worth the wait. She admits she had 40 good songs to choose from and whittled this down to the 12 choice cuts. Hey Stella! backs Yates. The all-star roots band is a group of old friends, who used to play a weekly gig at Ted's Wrecking Yard, more than 13 years ago, when Yates lived in Toronto. The band features: Bazil Donovan (bass, from Blue Rodeo), Michelle Josef (drums), and David Gavan Baxter (electric guitar, mandolin and piano). The dozen songs were recorded at Baxter's TO studio (Knob & Tube). 
The songs were all written over the past couple of years and the recording happened fast. "It felt like we were breaking bread together," Yates recalls. "It was a special time … I don't think it will come around again."
The storied songs speak to locales where she's lived and the people who've touched her on life's journey. Take "Corktown," which describes the Hamilton rough and tumble tavern where Yates had a regular gig when she first moved to town. "Immediately, I was adopted by the 'punk scene' at The Old Corktown Tavern, which was voted best live dive," Yates says. "They hired me to do a matinee on a Sunday at this rough and tumble place.
"I ended up with a lot of people in the songs, not conciously," she adds. "I never used to be able to write a story song. 'The Ghost of Josephine' is written from a first-person guy's point of view ... it's a murder ballad. As for the title of the record, someone asked me, 'You are the Sweetheart of the Valley right?' and I said, 'No I'm not, I'm the author of it.' I'm not that much of a sweetheart!" 
Another one of the storied songs on Sweetheart of the Valley is "Trouble in the Country." The tune speaks to her experiences with the Nashville machine back in the late 1980s. As we chat, Yates recites the second verse to me: "The famous producer sat behind a big wooden desk and said/ 'The only redhead is Reba/What makes you better than the rest?'/He asked me again if my intentions were pure/If I knew the voice of Ernest Tubb and I said I wasn't sure." 
"That song is about meeting the legendary producer Billy Sherill," she explains. "The A&R guy that was representing me was into alt-country, which back then was called new country and featured artists such as Steve Earle and Dwight Yoakam. He did me a huge favor to introduce me to this vintage Nashville that was dying. This grizzled old guy is looking at me and I'm shitting bricks. Billy turns to the A&R guy and says, 'Who did you bring me now Larry?' Last week you brought me Candy and she was a stripper!'"
Thanks to that unnerving experience, the songwriter's Music City stint was short lived; it's all part of her twisted road and musical journey that features ditches and dives, ups and downs, and too many miles on the road to remember. 
Yates recalls the initial impetus to follow the white line from Toronto's Parkdale neighborhood to Hamilton more than a dozen years ago.
"We had a baby and lived in this two-bedroom apartment," she says. "As a writer/artist, I always felt wouldn't it be great to have a room of one's own? A two-bedroom apartment with a baby, there goes a creative life, so we started to look at houses in Hamilton.
"The day we came to look for houses, it's a cold February afternoon, I'm pushing the baby carriage and there is not a soul in sight," she continues. "We walked down Jackson Street. I looked up and there is Frankie Venom (lead singer of Teenage Head) on his balcony having a cigarette. I turned to my husband and said, 'Oh my god Terry there is Frankie' because I'm a huge fan. He's like, so what? But, for me, this was an omen … I never saw him again in the city, just that one day, and it just felt right."
Everything about Sweetheart of the Valley also feels just right; Yates is so happy with the result. Spend an afternoon with these dozen tunes and you are sure to agree. Just listen to that voice and – like the wind – let it carry your troubles away.