Interview
Love You Live: Lorraine Leckie & Her Demons Celebrate Paul Triff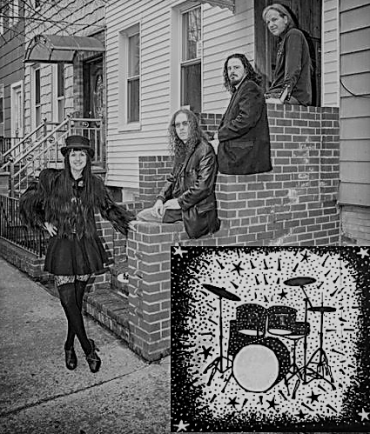 "That night Paul was at his very, very best. He was dancing around afterward. He stayed the entire night following the gig with everybody drinking. He said 'I love these songs, I had the greatest time.' He talked to everybody! Losing Paul was so hard. We're lucky we had him." Lorraine Leckie  
Bona fide rock and roll bands are a mishmash of family and war buddies. Blood may be thicker than water, but nowhere near as binding as guitar cables, studios, stages, and touring vans. Fortunately, for most musicians, we get to choose that familial combat troupe. It's a life rife with incredible highs and oft times insurmountable depths. It's a path we are drawn to - if we are brave enough to follow it - and damned if we do, and be damned if we don't! 
A tribe unto themselves, Lorraine Leckie, guitarist Hugh Pool, bassist Charles DeChants, and drummer Paul Triff were about as tight as kinfolks and soldiers get. Then fate intervened. You want to make the god of your choice laugh? Tell him your plans! Lorraine and Her Demons' future musical designs with Mr. Triff were derailed when two days following yet another triumphant show at the Mercury Lounge on September 29, 2015, Paul died suddenly of a heart attack at age 54. 
A Berklee College of Music alum with a rockin' swing disposition who also worked with The Shirelles, Mike Rocket & The Stars, Julian Velard, Pacific Orchestra, Chris Berardo & The Desberardos and Ten Ton Man, among others, the infinitely intertwined NYC indie rock community was stunned. We lost one of our own way too soon. And one that had overcome his demons (pun intended) and who was playing at the top of his game.
Fortunately, Lorraine recorded Paul's last show – and has made it available to the masses as a fitting and everlasting tribute to her beloved fallen drummer.
The majority of the tracks on Live at the Mercury Lounge are the Demons' interpretation of an acoustic duet record Lorraine cut a few weeks earlier in Prague with Czech violinist, composer, producer Pavel Cingl entitled The Raven Smiled.
At the Side Walk Café in the East Village, a venue where Lorraine & Her Demons usually tear the house down and then some via their monthly residency; Paul's survivors reminisce over their late, great comrade.  
Recalls Hugh Pool: "Lorraine goes to (expletive deleted) Czechoslovakia and cuts a record while she had bronchial pneumonia. We knew nothing about it, we never heard the songs. She comes back with the record and tells us we're going to have a release party at the Mercury - but we're gonna do it as the Demons. We were all like 'huh…okay…can we hear the songs perhaps?" 
Triff heard the record before Hugh and bassist Charles DeChants. Proclaimed Paul in a text message which the Demons preserved: "this record is as cool as hell man…I am digging the creepy trippy shit that's getting' put down! Like a gothic acid trip!"
According to Charles, who also loved the album upon first listen despite his altered state at the time, exclaimed "it sounds like witches on acid!" The bassist laughs, "that was one of my rare moments of eloquence."  
With a tear in his eye punctuated by a milewide shit-eatin' grin, Hugh waxes sentimental over Paul's love of City Island, his love for Jodi, his long commute to gigs and rehearsals, his signature sarcasm, his verbal barbs, and Paul's endless cigarette breaks. But the guitarist knew that it all signified that Triff was clean and winning the battle. "You could tell that he was fighting and that he was gonna be okay. If he ever stopped bitching, we'd be worried."  
Paul, who was recommended to Lorraine by singer songwriter Julian Velard, was the sole remaining original Demon. "He was the guy with seniority in the band, and Paul worked hard," notes Pool, "he kept his head down and refined his parts. He had the last word on a lot of our stuff - simplifying guitar solos, working with Charlie…"
Lorraine adds, "he was very bossy actually. But we needed that! He'd make fun of me for playing weird things. Yet he would often say 'that song plays itself' -which was a huge compliment. He loved to play 'Rebel Devil' because he said it had every rock cliché in the book!"
Triff's influence on the young DeChants was profound as well. "He was the first professional drummer I'd worked with. And this was my first professional band. All he had to say to me was 'you're a good bass player Charlie' and that was it - I gained confidence. It was all cool from there, that's what I needed to hear."  
What also needs to be heard is Live at the Mercury Lounge. "I usually don't care about recording," reveals Lorraine, "but that night I was crazy for recording this show. Usually I get the recording from the board and it is what it is. I brought in an outside device and Hugh worked with it. In fact, Hugh told me 'it's either going to be worth nothing or it will be magical. I had no intention of releasing it…but why was I committed to recording it so intensely? "
Pool, who was not around for some of the initial rehearsals due to other touring commitments, was impressed with the Demons pulling it together on short notice. "We don't let anything out of the room before we goddam like it!" To which Charles responds "or at least make peace with it!"
Hugh continues, "or at least bow to critical mass! The material on this record, with the exception of one song - was not material that we were playing for any length of time!  Other than 'Ontario' – all these songs were new territory for us."   
Engineered by Hugh at his Excello Recording Studios, Live at Mercury Lounge bursts forth with remarkable clarity and power, capturing the Demons in all their ragged glory with guest violinist Pavel Cingl.  
"Paul loved the material - and we worked it up!" boasts Lorraine. "And now we have this live album to treasure and share with everyone who knew and loved Paul…"  
"Always Got a Song" with Paul Triff
https://www.youtube.com/watch?v=0Y1FvkOdiMI
Live at Mercury Lounge is out now!
Video of "Always Got A Song" filmed at Billy's Antiques in New York City
For all things Lorraine Leckie & Her Demons: www.LorraineLeckie.Com