Interview
Lowell "Banana" Levinger Inspires a New Generation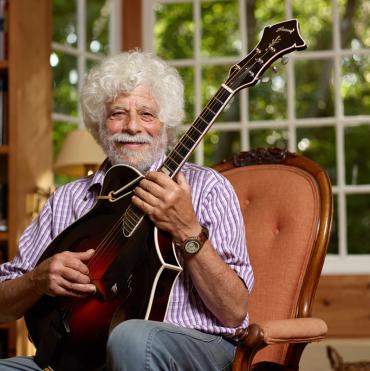 Back in October 1965, Jesse Colin Young, Jerry Corbitt, Joe Bauer, and Lowell "Banana" Levinger founded The Youngbloods, and the group went on to record some of the most memorable songs of any decade, such as "Darkness, Darkness," "The Pool Hall Song," and "Get Together," the tune that grew into the most enduring plea of a generation striving to make a positive change in a world torn apart by war and social strife. The message of "Get Together" is simple—"love one another"—but the song's final line pleads urgency: "right now." The song's brilliance is in its simplicity, juxtaposing in the first two lines love and its true opposite, fear: "love is but a song we sing/fear's the way we die." In the end, of course, the song recognizes the universality of three values: the power of love, the impermanence of all things, and the power of music.
50 years later, the world has changed very little and American culture is riven by fear and in many ways more divided than ever. When "Get Together" was first released, The Youngbloods sent a copy of the record to every member of Congress hoping to promote peace and cooperation in a society torn apart by a controversial and unpopular war. 50 years later, Banana Levinger chose September 11, 2015, to release his new album, "Get Together: Banana Recalls Youngbloods Classics," and once again he's trying to get the song into the hands of Congress and urging his listeners to do the same. He's made a video that he's sent out on his Facebook site and has provided a YouTube link so that others can send it their own congressional representatives.
While "Get Together" is certainly a focal point of Banana's new album, it's only one of 12 songs on an album that he's put together with loving kindness and a deep passion and respect for the music. A multi-instrumentalist, he plays a number of vintage instruments on these tunes, some of them originals written for this album, and several of these are Youngbloods' songs. In addition, he's called on the diverse talents of his many musician friends. For example, on the jazz rock "Supersonic Transport," which originally appeared under the title "Faster All the Time," on the Youngbloods' 1970 "Rock Festival" album, Nina Gerber lifts the song into the air with her transcendent lead fills. Ry Cooder and Darol Anger weave slide and violin around each other on "Darkness, Darkness," and Banana gets some help from his friends Martino Coppo and Silvio Ferretti, from the band Red Wine, on a straight-ahead bluegrass take on the Banana's "Hippie from Olema," Banana's response to Merle Haggard's "Okie from Muskogee." On the title track, Banana is joined by David Grisman on mandolin and Jesse Colin Young on harmony, all of whom are backed by The Grand Chorus that includes Dan Hicks, Maria Muldaur, Peter Rowan, and others. This new version is more meditative, with a cadence reminiscent of bluegrass artists Sean and Sara Watkins; the song gain power from its more deliberate plea to "listen!"
I caught up with Banana by phone recently and chatted with him about his music career and this new album.
HC: How did this album come about?
Banana: I've been doing a solo act for a good while now, and I've been playing a lot of these old Youngbloods tunes; people love them. I was finding that my voice was getting stronger and better, and I also fell in love with the tenor guitar. I'd also been writing songs, and I wanted to record some of them and several of The Youngbloods' songs, but I didn't want this to be just a Banana project; so, I called up Jesse to see if he was interested, and he said, "yes." All told, it took about two years to make from those first conversations to finished album. There's going to be a double album released in vinyl—in the UK only for now—but the CD has some beautiful art by Michael Hurley.
HC: How did you select the songs for the album?
Banana: These were the ones that we're falling into place more easily than others. I like to go into the studio with enough stuff that I can throw half of it away; I have enough songs for a second Youngbloods album.
HC: Tell me how you guys—The Youngbloods—got together.
Banana: I was playing in coffeehouses in a little bluegrass band I'd put together called "Banana and the Bunch, Old Time Music with Appeal." I was also in this blues band, The Trolls at the time, but I started sharing an apartment with Jerry Corbitt; he was a folkie in Cambridge, where the folk scene then was really active. Our apartment was a kind of Mecca where folks would come, and we'd sit up all night playing music. Jesse started coming through, and he and Jerry and Joe Bauer, who was living upstairs, got together and decided to start playing folk rock. They asked me if I wanted to play electric piano with them. Well, I thought, "The Trolls ain't going nowhere," so I told them I was leaving. We started playing Gertie's Folk City, and we were doing all our own, original stuff; never any covers. We founded The Youngbloods and then moved from New York City to West Marin in 1967, and Jerry left the and not long after we moved out there, so were playing as a trio until Michael Kane joined us on bass in 1971.
HC: When did you start playing?
Banana: I remember toddling up to the piano. My mother was a pianist, and she taught lessons, so we always had a piano. I started taking lessons when I was 4 or 5, and I hated it. (Laughs) I really enjoyed noodling around, but I wasn't interested in learning those songs in the piano book. I started playing the guitar when I was 12 or 13; when I was about 17, I heard Earl Scruggs and after ten seconds I was hooked and picked up the banjo. When I got to Boston, I went to all these folk clubs and sat at the feet of Don West, and his amazing finger picking, and Tom Rush, and
others. When I was a teenager, I played piano for a doo-wop group called The Chandells. They went to LA to cut an album, but I was too young to go with them. When I was 13, I played with Dan Hicks, who was just 15.
HC: Who are your three greatest musical and/or songwriting influences?
Banana: Earl Scruggs, Ray Charles, Andre Previn, Rodgers & Hammerstein, Sonny Terry, Lightnin' Hopkins, Reverend Gary Davis, Mississippi John Hurt; I started listening to them on KWBR, the "race" station in Oakland, and I'd take the bus to the record store—parents still felt okay about a kid doing that back then (laughs)—to order records from the Schwann Catalog, you couldn't buy them in the store them. John Hiatt, too; he's one of America's greatest songwriters; Chuck Berry--the American poet laureate of songwriting; okay, that's more than your limit. (Laughs) You know, I don't think people realize how great a songwriting genius Chuck Berry is. His songs have these great lessons about life in them. He packs into his songs all the lessons you should learn in order to live your life. One of my great influences is American Musicals; my parents had this great collection of records, and I still love listening to this music.
HC: What's your approach to songwriting?
Banana: Having an instrument in my hand and coming up with a melody and then augmenting it. I feel like I'm wasting time when I start trying to write words first; sometimes it works, but the songs have to be more than about yourself. Look; the baring of your own soul—as so many singers and songwriters do—is so boring. But, we have to have singer/songwriters writing songs everywhere, every day. Some of these have great melodies and harmonies; we need people to keep singing out. Let's only do the songs that are really, really good, and those will rise to the top.
HC: What are the elements of a great song?
Banana: A great song tells an interesting story that people can identify with. They can play the role of the central character in the story and feel the actions that character might feel and have some sense of just what it would be like to be that person. Those are songs with words; a great instrumental has a catchy hook; it also has a bridge that takes you to a place you didn't expect to go and uses that same device to take you back to your world.
HC: Your favorite mistake?
Banana: I don't live with regrets. Was it a mistake to move out to West Marin—away from the LA music scene—and raise seven children? Was it a mistake to drive down for an 11:00pm show from my house, arrive in time to set up, play, and then leave after the show, and not go to the all-night parties but to go home? Some people would call that a mistake, but I hardly think of the way I've lived my life as a mistake.
HC: How have you grown or evolved as an artist?
Banana: I spent the first 40-odd years of my career making other people sound good. I have always had to blend my voice with another voice and match its timbre; I accompanied Mimi Farina for 20 years. Over the past decade, though, I've gotten better as a singer of songs, and I realize my voice has just been getting better.
HC: What's next for you?
Banana: I have another album in the works that will include Youngbloods songs. I'm amassing a repertoire for a kid's record—Grampa Banana. I'd like to tour more, and I'd like to develop my European network.
HC: Any thoughts of writing a memoir?
Banana: You're the seventh or eighth person who's asked me that question, so maybe I should start thinking more about it. I don't have any plans right now, though I have plenty of material in my journals that I can draw on.