Interview
For Lydia Loveless, the Waiting Is the Hardest Part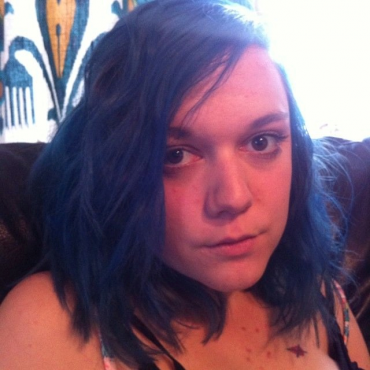 "Anti-dancing music, man."
They're the first words Lydia Loveless hears when she comes off the stage at the Stagecoach music festival in Indio south of Los Angeles. Jessi Scott, the Toyota TRD stage emcee, kicks off the conversation streamed to the rest of the world.  
"I know, I'm sorry" Loveless says sheepishly. "I should have made it more upbeat. It's been a rough year."
When she came out by herself on an oversized stage, the audience featured 100 people that had been line dancing to a DJ. Loveless was advised by the radio crew not to worry about her acoustic set because thousands of people would be listening.
If Loveless had any thoughts of placating the dancers with more of a "country" set, she bravely began instead with an emotionally wrenching and unreleased song. It's called "Out On Love" and one she played in New York late last year at Night Out With Richard Hell.
It's followed by "Somewhere Else," the title track from her last album. "That's a song about killing yourself," she quips in her wry humor and banter between songs. Leaving a long pause she qualifies it to say "on a sunny day." The longing of "Come Over" was next. Her voice steadily rose filling and absorbing the room. Coming out of it Loveless tells the audience "I think I'm flying by the seat of my pants." And then she proceeded to introduce a new song, "Longer," which is a heartfelt tribute to a friend who passed away. It drew an immediate response.
"Play all night!" someone shouts loud enough for the entire world to hear over tunein.com. But the set ends after just four songs and Loveless is pulled aside for a chat.
The  interviewer counters her opening barb by saying it's been a good year mentioning Somewhere Else which is celebrating its first anniversary. And then there is a documentary that is in the works called Who Is Lydia Loveless?.  But she hits it on the head when she suggests to Loveless that she has married punk energy with great country tradition. Loveless responds that she grew up on a farm. Although, as she says that gets pointed out a lot, it seems to have prompted greater self-reflection.
"It took me maybe a decade to realize how punk rock it is to be country," she says. "It's hard to explain to people when they say 'How do you marry that?' But that 'get off my land' attitude is pretty punk." The comment reminds of Loveless' stunning autobiographical song "Everything's Gone" in which she laments the loss and longing for the sacred rural ground in east Ohio where she grew up.
Scott continues by talking about those that came before Loveless like Jason & The Scorchers and Peter Case who started out "punk" but morphed into country. The interviewer suggests Loveless is not alone.
"I definitely didn't originate anything of this kind," Loveless says in a typically self-deprecating way, but one that is with humility and context. She wrote her first album when she was fifteen and recorded it when she was barely twenty.
It seems like another era when she posed for her first publicity photo that featured her sly smile and a handwritten street sign that read: "I have a God given gift of voice. I'm a country singer who has fallen on hard times. PLEASE! Attendance will be greatfully appreciated:) Thank you and God bless. Happy holidays."
It is tempting to think of artists being locked in time and place. Images and certain songs feed the tendency to typecast them in a way that doesn't take into account the changes that are occuring but not always apparent. As an artist Loveless is perpetually in motion. What she doesn't know at Coachella is that it's going to be another year until people get to hear the new music she's getting ready to make. Can time catch up with the music that's in her head?
The Sad Songs of Summer
(Lydia Loveless at The Herr. Photos by Molly M. Holtzinger)
Lydia Loveless had barely said howdy and was just one song into her set when she had something to tell everyone. She'd just finished her fourth album. Well, finished with a few caveats. There's still mixing, mastering and six months of promoting to do so, as she put it, so everyone could download it from the internet's real shitty sound. On that upbeat note we welcomed the start of her summer tour on a July night in Harrisburg.
A little earlier husband and bassist Ben Lamb told me that the band had spent just about a week recording, cutting seven or eight songs in April and another three or four in June. Not quite as fast as the Ramones but still quick work for a band that since May had logged more than 10,000 miles travelling across the country and throughout Europe. And in the middle of all this, they've started filming a dcoumentary called Who Is Lydia Loveless?
The Stage on Herr, a small room that is part of the revitalization of the Midtown District in Harrisburg, is good seven hour drive from their native Columbus and dead center in the Keystone state. It felt more like the band was dropping into someone's house. The building, on the national historic register of houses, adjoins a restaurant and the mystical backstage door actually doesn't exist--it leads into the eatery.
The room was intimate and people got here early staking out their numbered tables. It would have been odd to be standing in front of the stage blocking the view of those sitting at the tables. But I was hoping that eventually people would get up and crowd the stage like we had in February at the rock and Roll Hotel in Washington, D.C. in January, a show Loveless tells me later was transcendent. Although it didn't happen and there was a gaping hole in the floor, the night felt intimate and personal.
Tonight anyone out on date night have had their post-show hopes tempered when Loveless apologized about the mood and said it was of a night for sad songs. In fact it felt more like a group encounter with dialogue going back and forth between performer and audience and everyone chiming in suggestions for songs in between chit chat.
The group is powered by drummer George Hondroulis and bassist Ben Lamb. and built around three guitars, including Loveless, lead guitarist Todd May and Jay Gasper. Gasper emotes the sounds of Loveless' longings and heartache with the accents of his pedal steel as the soundtrack of  some of her best songs like "Chris Isaak." and "Verlaine Shot Rimbaud."  When he switches to electric guitar on "Wine Lips" and "Head," the songs come alive with the band's thunderous three-guitar climax. As Loveless' head arched back and threw her hair, and then came back, her thick waves and self-described "big afro" succumbed to summer, sometimes did not move in unison, covering her eyes and sticking to her face and mic as the energy and heat got more frenzied and intense. That my friend is rock and roll. 
When she finally finished the show during "Boy Crazy," Loveless was singing on her back and crawling over the stage. By the time she got up on her knees she looked like a woman possessed as she hovered over Gasper's pedal steel and took his finger slide and moved it over the strings from the place where he pointed her to begin.
Tonight we got a hint of the new and as of now unnamed record. The longing and melancholy of "Longer" had a full-band treatment now with a propulsive beat and a bass riff that I felt like it was like a subtle Metallica accent.  Midway into the set, the band broke out into a dissonant, distorted mirage of sound. May and Vesper playing with their guitars against their amplifiers to get the right feedback against Hondroulis' thumping backbeat. "Out On Love" now felt like an avant-garde performance piece as much as a song. Even "Same As You," second in the set and the first new song introduced, had an eerie, moodiness. "Bilbao," another new song inspired by the separatist Spanish city/county, had a melodic poppy feel with three guitars that had moments that reminded me of the great British band The Searchers.
When the line of fans subsides at the merchandise table, I approach Lydia and we head outside on the patio where the band is in a lively conversation about the Rolling Stones. We start talking about the new songs she'd just played and Loveless lights up a cigarette.
"Longer" was written about her friend Joey who died from a drug overdose. Her voice gets softer and she looks away and mentions that it's coming upon the anniversary. In fact tonight is the one year mark of the guitarist who played in her sister's band The Girls.
"It's hard to say something is about one thing because I take inspiration from so many little things," she says of writing, "but that song was definitely about Joey. I basically got really depressed and watched a lot of Lifetime movies and wrote that song."
Loveless was looking for more of a poppy sound for the song. She says she hates to mention any names of artists that she wants to sound like because people might infer she's trying to rip them off. But the general sound she was trying to get was grounded in Eighties pop. Her dad listened a lot to the Cars and she says that's a huge influence and inspiration for her. Of the band's arrangement, "It's definitely more poppy than when I'm solo and depressed and singing a song about someone dying," she laughs in the same characteristically self-deprecating way I remember from Coachella.
That reminds me about the Stagecoach broadcast. I mention that she offhandedly said "Something Else" was song about killing yourself. "It is a song about suicide," she says casually but matter of factly. "Probably all of my future albums will be related in some way to death. It's looming over everyone obviously. It's looming over my life because I think about it a lot. Not necessarily that I want to kill myself or anything. My focus is on making the best life I can." And then she laughs out loud adding "and when that fails, making the best death I can."
When I ask her about the line about the girl who "tried to drown herself her whole damn life," she talks about being the third-born of a very theatrical family. "I've been very shy and insecure," she tells me. "I guess that song is about trying to find the place where you can fit in which I never felt like I did. But I'm sure a lot of people feel the same way."
In "Somewhere Else," she sings about wrestling with the the separation of being gone and disconnected from where she grew up in East Ohio. Loveless said she's always been anti-being angry about something that happened in your past and is focused on trying to move forward. She also admits to being very connected to her roots and therein lies the tension she grapples with in both "Somewhere Else" and "Everything's Gone."
The heart and soul and effort that goes into having a farm is central to the story and shaped her identity. "People always ask, 'Well what did you do out there in the country?'" she relates. "It's such hard work. Everyday there's something going on. The cow fell, a bull got out, a goat steps on its own baby...a cat dies from distemper. It's been hard to know what to do with yourself when that's over."
What happened is not exactly clear but the family lost the farm and it went to auction. Loveless looks away and quickly says she doesn't want to talk about it except to say she's not angry about it anymore. But she qualifies this by saying it does suck not to have land to tend to. She returned during the filming of the documentary to Coshocton in June, an experience she said was both emotional and eye-opening. Overall it made her realize it was good her life had moved forward but it still made her sad to see the farm in such disrepair. She said the family living there had destroyed the house and there were no crops being grown.
Loveless said the town has always been shitty to her and she never liked living there. She is forthright in her disgust of the police and the huge methamphetamine problem gripping the area. An event during the filming reinforced this. When she drove to the site, she was stopped for speeding and because the car had out of state plates, the cop wanted to search it. "All I wanted to say was 'Fuck you...Deal with the meth problem."
I imagine that "Everything's Gone" which she played along on guitar tonight, is so emotional that it must be exhausting. "I don't like to play it a lot," she says with an exasperated laugh, "but it's one of my better songs.You want to feel that sadness in a way but people don't all feel that sadness so it's hard to share it with everyone." 
What Loveless feels strongest about is her new music and that she is writing much better songs. She also takes pride in producing her music. "My music career has been odd," she reflects. I started at fifteen and the songs I wrote then are on my first album. It's weird when you watch American Idol and they'll play a Vegas casino before they've played another show. That's kind of how I feel about my first record."
This reminds me of the line that she sings in "Everything's Gone," about how some years have passed. It's hard to believe that was a decade ago and reminds me of a note I saw at the merchandise table that the first album CD The Only Man  is almost sold out. It's unlikely you'll see it again. I also thought of one fan who bought two copies of Loveless' album Indestructible Machine, the album with frenetic energy, country twang and charming honky tonk undercurrents that originally casted her as an alt-country artist. That sounds like a different era and when the band tried to strike up the riff of "Bad Way To Go" during encore time, she said to cross it off the list. Whether it's forever only time will tell but it's clear tonight she's in a different place.
Who Is Lydia Loveless?
Who Is John Galt?
When I first heard the title of Gorman Bechard's new documentary, I immediately thought of one of the greater universal questions. And I can't help but hear the opening line of Ayn Rand's novel Atlas Shrugged everytime the new film about Loveless is mentioned.
The question Who Is Lydia Loveless? is one that Bechard first asked himself when he saw Loveless four times within the space of two months last Fall. Bechard wrote an impassioned essay  that he never knew what he'd see from night to night, coming away completely surprised and renewed believing that rock and roll could still be viable. His post had the kind of feel of Jon Landau's "I have seen rock and roll future" the night after he saw Bruce Springsteen in Boston back in 1974.
By the time he saw her for the third time, he proposed doing a film, a new project for the director who previously directed the film "Color Me Obsessed" about the great Minneapolis band The Replacements. He's also chronicled Husker Du and the Archers of Loaf. His film "A Dog Named Gucci" about animal rights premiered this year. Loveless sings one of the verses in the closing song called "One Voice," a song originally written by the Wailin' Jennys.
Loveless admits she thought the title was a little cheesy and has had to take the expected ribbing of friends and family. When she introduced her band at the Herr as "We Are Lydia Loveless," she was speaking for all five members who were in front of the cameras. Loveless spent several days at her house in Columbus in June as the director peppered her with questions. It was somewhat less strenuous for the band but the feeling of everyone I spoke to at the Herr seems to be universal--we trust we won't end up looking like assholes.  
On the shoot in Columbus, director Bechard brought friend and writer Scott Hudson to assist with the filming and he reported on in an episode of his great podcast called The Ledge. Hudson shared how the band couldn't understand why there was such a fascination watching them during rehearsals. Since the film was designed to capture the making of a new record, one of the interesting things we'll get to see is  a song created from start to finish. In the film to be released next year, Loveless strums a new song called "Desire" on her acoustic guitar, then takes the band through it during rehearsal where they take it in and construct the sound and arrangement and then finally record it in the studio.  
Hudson elaborated on it further writing in the Argus Leader: "Being able to witness the creation of the follow-up release to Somewhere Else is akin to being with Wilco for the creation of Yankee Hotel Foxtrot, The Replacements in their Tim sessions, or even being in Villa Nellcote throughout the marathon late nights that produced Exile On Main Street. A fan of any band couldn't ask for anything greater."
Loveless told me that the thing that most excites her about the film is how it will show the band's progress. If she had any trepidation about the director being a fan who might be disappointed or openly judgemental about the way the new music was progressing, she said her fears were quickly allayed. She said he was like a fly on the wall and eventually she didn't notice the cameras were even there.
During her post-Coachella chat, Loveless quipped how she will have to be eloquent and appropriate for the film which, in itself, is a clue to its feel. Bechard told me he hopes it captures Loveless' honesty and sarcasm. "I want people laughing in a good way because she's really funny," he says, imagining the finished film as a rock and roll comedy. Bechard is relying on an unscripted and conversational approach to the filming. He decries the close-mindedness of many music fans and how many bands have made rock too safe and unauthentic. His feeling is that Loveless and her band are the real deal. He just hopes there are enough rock and roll fans out there to realize it.
(Every Night a Different Set: Director Gorman Bechard (r) with Jay Gasper and Lydia Loveless. Photo by Scott Hudson) 
"You Can Do This...And Do It A Little More Interestingly"
Can the clues and secrets to Lydia Loveless' future be found within the grooves of a record that is nearly thirty years old?
Lydia Loveless wasn't even born yet when the Replacements' album Pleased To Meet Me was released. But it's the record she has chosen to focus on for her guest appearance on Episode 91 of My Favorite Album, hosted by Jeremy Dylan. Dylan is the director of the documentary Jim Lauderdale: The King of Broken Hearts and host of the podcast in which artists talk about how a particular album has inspired and influenced their own work.
The marvels of modern technology have brought Loveless and Dylan together during morning in Columbus and night in Australia where Dylan is based. Dylan gives Loveless an eloqunt introduction, describing her as the ambassador of cow punk, an Americana songwriter who evokes the experience of sitting in a dive bar in East Nashville with smoke lofting in blending in with the texture of her voice.
Loveless talks about how she didn't hear Pleased To Meet Me until she was seventeen, a time when she was listening to a lot of country and punk music. It was a time when she admits she was unsophisticated in her musical tastes.  "When I was younger, I just wanted to write my songs and I didn't give a shit what was going to happen after that."
When a boyfriend put on the album Tim, for the first time the realization occurred to her: this is really what I want to do.
"It's kind of hard for me to bridge the gap between being the hillbilly kid who wanted to play country but I knew I could do something more interesting than that. Being introduced to the Replacements was my 'Oh wow' moment that 'you can do this and do it a little more interestingly which I don't think is a word."
Dylan traces the Replacements from being young kids throwing shit at the walls to writing more polished pop songs. By the time of Pleased To Meet Me, you hear horns and "Nightclub Jitters" among a diverse palette of sounds. Or as Loveless puts it: "You can hear them honing their craft."
The Replacements may not only be an inspiration but a parallel for Loveless' own ambitions. Loveless said she loves being in the studio and pays attention to every detail. Loveless wants to get more into production and as she describes, being able to "separate everything I hear in my head." 
(Lydia Loveless Making Her Next Album. Photo by Scott Hudson)
Part of this relates to her own self-described pop obsessions. "I'm a crappy Indie artist in that I'm always keeping up with pop artists," she says. She cites Marina and The Diamonds as making her favorite record this year and wants to get in the making of beats and writing more pop oriented songs. When you hear Loveless talk, you completely understand why she reimagined Kesha's song "Blind" and sang it like it was something she wrote herself.
"Discovering the Replacements helped me realize I could write songs instead of thinking about what genre I had to fit in or who I had to please," she tells Dylan. "I had the realization of trying new things and not being afraid of that. That's why the album means so much more to me now that I'm older."
Loveless takes away the lessons of the importance of working on her craft and being less of that punk-ass kid that isn't going to take advice from anyone.
It's clear she learned another valuable lesson about the expectations of others. 
"People will say it's not a very Westerberg song but Westerberg wrote it so how can you say that?" she said of the band's frontman Paul Westerberg.  "I think what they mean is that they want Westerberg to be the hard thrashing guy that's always pissed off and snotty. But he can write these songs that sound really personal."
And then going back to her next album, she says something she's likely thought through on a lot of levels: "This is the record where if people don't like it, then they probably don't like me."
The Future Is Unwritten
There are some moments in your life you never forget and you replay them over and over in your mind. For me, one was on the cold February night when I went to the Rock and Roll Hotel. The best moment of the night came where drummer George Hondroulis holds the beat steady in "Really Wanna See You" and then she comes in slashing chords against guitarist Todd May's melody line. Later in the fury of the song, the strap on Loveless' green romper fell at the same time guitarist's May's mic stand fell back. He got on his knees to play scratchy guitar solos with his mic on the lower frets of his Fender against his amp in rock and roll nirvana.
This summer it happened again at the Herr when she played electric guitar by herself and someone called out "Everything's Gone." The breathtaking and stunning song may be her greatest achievement, a stunning narrative about the anguish she felt about being forced to leave the rural ground she grew up on when her family moved from their farm to the city of Columbus. She was only fourteen but she was still reconciling the emotional damage and fallout she explored a decade later on the songs of Somewhere Else.
As I stood to the side of the stage, I realized how lucky we were to hear this as she doesn't often perform it. My cousin Larry Campbell, who toured with Bob Dylan for eight years, once told me about a night they played "Boots of Spanish Leather" and how standing onstage it hit him about the place Dylan was in when he wrote that song at such a young age. I have similar thoughts as I listen to "Everything's Gone" from Loveless who wrote the song in her early twenties and just turned 25 in September.
I once saw Rickie Lee Jones at a small club called Toad's Place in New Haven, Connecticut. I had flashbacks of how Jones became enraged when people would not stop talking during songs. When I saw people at the bar of the Herr in full conversation, I thought Loveless might lose her cool. I asked her if she was aware.
"I thought about that," she admitted after the show, "but part of me is so angry all the time that I tried to think of it as 'Who else gets to do this and how many bands in America and in the world don't have a crowd talking over them?' Maybe that sounds pretentious but I've tried to ease up on my anger."
Where does she think the anger comes from? She thinks it's biological and adds that she feels people have always been shitty. She goes on to tell me she is getting a tattoo of Joseph Merrick, also known as the Elephant Man whom she's always admired. "I'm getting it to remind myself of how worse it could be and how uncivilized and fucked up humanity has been."
When one song after "Everything's Gone" she strums the opening chords of "Really Wanna See You," it feels like a slow motion reel of the screenplay in song she wrote for the opening track of Somewhere Else. Without the full tilt band treatment, Loveless seemed like she could cross examine her inner obsessiveness and angst with a reflective perspective that seemed like she was on the outside looking in. It was softer and more tender with its underlying frenetic vulnerability intact. The personal "please" in the bridge sounded soulful. 
Bob Dylan said that he came to the realization he could go out and reinterpret his songs night after night. That epiphany resulted in years of what people now refer to as the Never Ending Tour. It seems like Loveless has honed the skill or has the genetic framework to do this even with a relatively small body of work. Consider how she and guitarist Todd May remade her songs as a duo for the Folkadelphia Session at WXPN studios last Fall, the set released by the station over the summer.)  "Steve Earle," the tongue in cheek tale of a local hopeful that followed Loveless around Columbus, gets an eerie treatment. Loveless and May turn a once comical romp into a dark, foreboding pyschodrama in which danger lurks marked by his relentless calling and the singer's newfound intimidation.
By the time she hits the stage at Skully's Music Diner in Columbus October 15, Loveless will complete the third and final phase of filming for the documentary.  "Let's film some cool footage for a movie show," says the ticket site advertising the best $5 value you'll come across this year.  
While the loving commitment to humorous and sometimes arcane details frames Color Me Obsessed, a film about a band that broke up around the time Loveless was born, Loveless herself is still a work in progress.  Where Bechard's previous documentaries have looked back on bands retrospectively, Loveless' story is still developing, hence prompting the title of the film. The compelling proposition as a director is there isn't one answer to the question. Whether it's possible to fully answer the question is a question in itself but might be beside the point. One could argue the answers we get may be fleeting because these are moments in time.
In the meantime she continues to tour, most recently opening for Jason Isbell, and pairing up with Eddie Spaghetti on a duet on the Supersuckers new album Holdin' The Bag due the day after her Skully's gig. The singer hasn't performed since June and has been raising funds to fight stage 3 oropharynx cancer. In "I Can't Cry," Loveless delivers a deadpan performance marked by the sly delivery of its fourth line, "And your dick's in the dirt," a song just begging for a big screen soundtrack, perhaps appropos of a Spaghetti Western. 
Loveless' new record most likely won't emerge until Spring in tandem with the release of the film. Until she gets to share her new music, the waiting must be the hardest part.  The singer tells me she already has a backup plan just in case.
"If this album doesn't work out, I guess can always work in a nursing home or something."
(Jukebox Graduate: Lydia Loveless In Front of Her Greatest Hits.  Jukebox and photo courtesy of Scott Hudson)
A version of this interview originally appeared in For The Country Record. Special thanks to Molly Holtzinger and Scott Hudson for sharing their photos.