Interview
Mark Edgar Stuart On His Love of Memphis, Reclaiming Sun, and 'Trinity My Dear'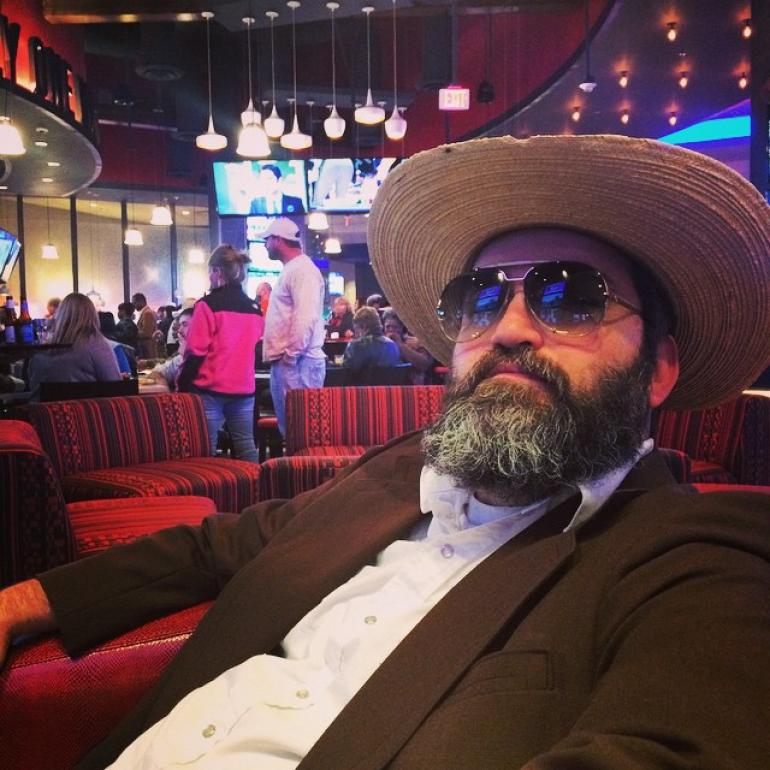 Imagine suddenly you hear nothing except your own thoughts and this goes on for weeks.
Some things in life seem to happen randomly and in the depth of despair, you'd be hard pressed to think they're happening for a reason. For Mark Edgar Stuart, he never thought he'd make his own record but that was before the veteran Memphis sideman was diagnosed with cancer and underwent chemotherapy.
"I had a lot of time hanging around the house with no hair," says Stuart, a survivor of lymphoma who has just released his second album, the stellar and authentic Trinity My Dear. Stuart started finger picking on his acoustic guitar, learning off You Tube and found being sick was good for creativity. "I sucked singing," he admits. "I learned if I sang mumbo jumbo to my own chord progressions it sounded okay. I started making demos until my voice didn't annoy me."
If Stuart felt that he never had anything to write about, he soon was dealing with tragedy when his father had a heart attack and passed away that same year. That was the impetus for writing and he wrote "Remote Control," a moving tribute in which he recalls the heartfelt memories of spending time with his dad, a lifelong figure of inspiration who was everything to him. The debut album was called Blues For Lou and Stuart established himself as a great raconteur.
Trinity My Dear
is a sometimes plaintive narrative on life, love and the struggles we go through in relationships. Stuart's earnest, humble demeanor underpins the sparse homespun folk arrangements of songs largely resulting from personal events. The beauty of
Trinity My Dear
is the simplicity and elegance of the arrangements in a time when authenticity is elusive.  
Stuart relates that he and his wife Emily were trying to have a baby for years with no luck. They tried intravenous fertilization to no avail. The song "Joe Is Enough" was written about the day they learned it failed. Their boxer pit dog Joe, who is on the inside of the sleeve, is the best friend they have for sure Stuart relates. Looking back, he views the whole process as a heartless scam and money for which they are still in debt.
Stuart had no intention of recording something so personal but felt that the performance, which was done in one take, came out perfect. The title track is accentuated by the cellist Jana Misener of the Memphis Dawls whose lines support, follow and reinforce Stuart's hopeful plea in the wake of the couple's emotional rollercoaster. It's similar in the way Stuart places friend and background singer Kait Lawson to sing along in "Wasted"—a song he wrote for her about some of the things she herself was going through. Lawson's harmonies on "Wrapped Up In Nothing New" from his first album are like brushstrokes that add color to the subtleties of Stuart's masterful and intimate arrangements.
When Stuart talks, he'd be the first to tell you roots music is all he knows. He recalls he couldn't play sports growing up in Arkansas and looking funny, music became his outlet. Starting in the seventh grade, he began playing upright bass in the school orchestra. But he desperately wanted to be cool and given that classical music wasn't cool at the time, his dad bought him an electric guitar a year later. He went back and forth between the instruments, urged on by his father who said if he wanted to go to college, he'd better get good at the upright and get a scholarship – which he did.
The main reason he moved to Memphis was to play music. Thanks to his father, everything he was raised on revolved around Sun Records, the legendary label that issued records by Elvis Presley, Jerry Lee Lewis, Carl Perkins and Johnny Cash. The site of Sun Studios in Memphis is where the four gathered as the Million Dollar Quartet.
At the age of seventeen, Stuart found himself at his first recording session. It was a gift to friend Bryan Jackson whose uncle Wayne was the driving force of the Memphis Horns, the legendary horn section which played on every record made by the Memphis label Stax including Otis Redding and Sam and Dave and Elvis Presley. The uncle booked a night at Sun as a birthday present for his nephew who brought along Stuart.
Stuart's upbringing and passionate connection to Sun inspired him to record Trinity My Dear there. The studio, he says, is pretty much the same as it was back in the day, however it's gone through lots of changes over the years and thanks to Matt Ross Spang, the control room has been restored with all the old vintage analog gear. "There's definitely a vibe."
Given that not of a lot of local music gets recorded there, Stuart envisioned a singer-songwriter project to "reclaim Sun so to speak." The funky groove of "Myra Gale" is accentuated by friend Al Gamble on keys. The two played together in many bands before Gamble joined St. Paul & The Broken Bones. Stuart imagines the sound of fellow Arkansas-ites and Americana pioneers Levon Helm and The Band when he hears Gamble's clavinet.
The melancholic "We Were In Bloom" was a song about the summer after his senior year in hometwon Pine Bluff, Arkansas. He recorded the backing track down the street from Sun at Sam Phillips Recording Service, the place the man who discovered Elvis Presley built after selling Sun Records to RCA. The original Sun session guitarist who played on all the old hit records was the engineer there until he died two years ago at 80. Stuart calls Roland Janes a treasure and an unsung hero. He penned a song about him on his Soundcloud page. "Hell," Stuart chuckles, "even Dylan stopped by to record with him a few years back. Bob knew what was up."
Stuart wrote "Myra Gale" about the marriage between Jerry Lee Lewis and a thirteen-year old teenager who turned out to be his second cousin. It turned out to be the downfall of his career. Stuart says he love Jerry Lee and the piano player was always his dad's favorite. The song he explains isn't the most flattering and relates the turbulence of his career. In the song Stuart tried to capture how Lewis blamed everyone else for his problems and missteps in life. Stuart's father wanted "The Killer" to be his son's first concert but the mid-Eighties were the lean years and he played in a half-filled gymnasium the night Stuart saw him.
"in typical Killer fashion, he walked out on stage played one song and said the piano wasn't in tune and walked off," he remembered of that typical night. Still that didn't stop Stuart and he says he has tried to see him every opportunity he gets. He recalls how surreal it was to be standing next to Steve Winwood backstage watching Lewis play in Memphis. In the 90s he saw Jerry Lee walking out of a Dodge's Fried Chicken store with a bucket of chicken, clad in a red velvet tux and two women half his age, one on each arm. "Jerry Lee Lewis is the King," Stuart states matter of factly. He was and always will be." Last year he finally got a picture with him playing in a band that shared the same bill in Memphis.
When I ask Stuart if he feels a direct lineage with roots music, he answers by saying "yep, it's all I know. I live and have lived in the heartland of it all. My family has deep roots." The two albums that blew him away as a child were "The Best of Chuck Berry Featuring My Ding-a-Ling" and Tony Joe White's "Black and White." The landscape of the south and heritage still informs his music. He uses the early twentieth century backdrop of Louisiana in homage to his grandmother who was bounced from home to home and was raised by black sharecroppers in what he calls "the little house behind the big house." Stuart's mother knew nothing of this for eighty years. In "Louise From Derrider," he closes the album on classical guitar, Eric Lewis on dobro and Andy Raitliff on mandolin. He thinks they got it on the third take.
One day while on Beale Street, Stuart ran into Levon Helm, the subject of one of his first songs. Stuart views Levon as a fellow "Arkie done good" and was a huge influence of the man who played all over Arkansas and Memphis when he was young. He saw him for the first time when he was fifteen in Helena. "I was a bass man and he was a drummer. I always wanted to be on his team." Stuart read his autobiography and watched all his movies and his Memphis bug was planted again. "Had to get to Memphis," he says.
Fast forward ten years, Stuart saw him on Beale Street and got his autograph. Most importantly "he was everything I hoped he would be." The two talked for ten minutes making the Arkansas connection, and Helm laughed when Stuart told him he was from Pine Bluff, the city he says has "quite the reputation and is similar to Memphis." Helm's own experience with cancer was very influential to Stuart. "I always said 'if Levon can beat this, then I will.'" In 2012 Stuart had just overcome his own battle and couldn't wait to tell him about it. He then learned that Levon had become very ill again.
"I was devastated," Stuart remembers. "I thought Levon was better. I thought he had beat cancer. The show was pretty rough that night." Stuart went on to write a song and played it for a few months before Levon died. A year later he was asked to perform at the Little Rock Film Festival which was debuting a new movie about Helm with all of his family and friends in attendance. It was a special gig but Stuart says he rarely plays the song "West of Mississippi (Diddy For  Levon)" anymore.
It is worth trolling through Stuart's Soundcloud page where you can hear some of his more humorous and offbeat songs like "Junkyard Weirdo," "Jihadi John" or "Don't Blame Jesus (If He Don't Come Back)." Stuart's acerbic wit and take on pop culture reminds of John Prine, Randy Newman and Steve Goodman, sprinkled with echoes of a young Bob Dylan. If Stuart is an able satirist, he can't help from dabbling in writing about world happenings. "'Jesus' and "Jihadi John,' I just wrote 'em" he says. "The whole Beatle connection of 'Jihadi John' intrigued me so I ran with it."
The ton of 'funny' songs he's written (save for the romp of "Third D.U.I." from his debut) haven't found a place on any of his records but he thinks his next album will be all light-hearted and upbeat material. "I Can't Remember The Last Time We Fucked" is an homage to Rod Norwood who ran a guitar show in downtown Memphis and Stuart says sold guitars to everyone. The Memphis legend has Keith Richards tattooed on his chest. They both went through cancer together and Norwood is still dealing with it. "When you're a songwriter folks are always telling you what would make a good song title and it's usually terrible," Stuart says. "Well this one was so terrible, I felt obliged to write it and I did it. For Rod!"
Is there something Stuart would want people to know about him? Perhaps it's that he's shy and insecure but funny and above all just an everyday dude. "I'm not trying to be somebody but certainly would love to be somebody," he adds. "I love my new passion for songwriting. I love writing way more than performing."
The city still remains a beacon and for Stuart, there is no place like Memphis. He cites its music, its history and its struggles as what make the city what it is. "It's not pretty and sometimes Memphis is downright ugly," he says candidly of the city he calls beautiful – but with an edge.
When I ask him to compare it to Nashville, he quickly shoots back: "Nashville? Hell, they got their own prime-time TV show called 'Nashville.' No further explanation. In Memphis no one is too worried about 'making it,' and those who are move to Nashville."
Stuart laments that most of the blues, R&B and rockabilly is being done by people not from Memphis but who are transplants. Punk and rap are strong here. But he lights up talking about the singer-songwriter scene that has sprung up and gained momentum, saying he's honored to be part of it. In fact it was fellow Memphis songwriter Faith Evans Ruch who first introduced me to Stuart.
Looking back, he doesn't think he learned much from college. Perhaps the night with Jackson at Sun and the experiences of climbing in a van with three other guys, as he says, and seeing the world, was his real education.
These days Stuart is using word of mouth to help drive awareness of his music, playing folk festivals, house concerts and coffee shops around a three-hundred mile radius of Memphis. He talks reverently about the North Mississippi hill country which is half an hour from the city and he considers still being part of the scene. "Now that is some authentic folk and blues music that you won't see on Beale."
On his travels, he is no doubt fueled by the number of private messages he receives on Facebook from people who have been moved by "Remote Control" and what it means to them.
Stuart calls it a blessing.
"I'll probably be singing that song the rest of my life," he reflects. "I'd like to say my dad co-wrote it with me."
This article originally appeared in For The Country Record