Interview
Mark OToole joins Las Vegas elite on new album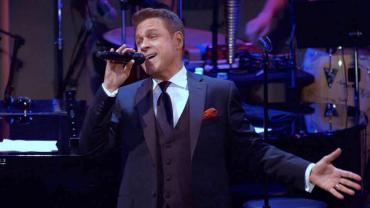 Having headlined every casino and nightclub in Las Vegas, Mark OToole can be considered an elite crooner. With his new album This Is The Moment, OToole's gift for soaring, crystalline singing can now be treasured beyond the bright lights.
Q: What was your introduction to music? How old were you, and how did it affect you?
A: As far back as I can remember, I grew up in a household that had music playing constantly. Either the radio was always on, or the stereo was blaring one of the hundreds of records my parents had. Frank Sinatra, Herb Alpert, Patsy Cline, etc. I would watch my parents dancing and singing around the house while they did their chores and it put everyone in such a great mood.
Q: Did you grow up in a musical environment?
A: No, nobody in my family played a musical instrument. My dad was a policeman, and my mom was a secretary.
Q: What styles of music had the greatest impact on you creatively?
A: I loved Sinatra, he was so smooth and articulate. I love all genres of music, but there was also a lot of country music playing in my house as well. As I got into my teens, I loved the Eagles, Fleetwood Mac, James Taylor. But for sure Manilow was the one I found myself singing and connecting with the most. My parents got divorced when I was 17 so I was really feeling his torch songs.
Q: How did you learn how to sing?
A: I never took a lesson in my life. I don't know if that's good or bad but I must be singing correctly or I wouldn't have been able to survive this long! My parents bought me a guitar when I was 9. I took lessons which got me through my teens and my first band at the age of 16. I would lock myself in my bedroom and play my 45s for hours on end, singing along and pretending that I was playing in front of sold-out concert halls. I also abused my friends on many occasions by making them listen to me without consent. Joining the all men's choir in my church really helped me as well with my confidence and using my voice as an instrument. Plus, everyone in the choir was 70 and older so to them I was a breath of fresh air and they would encourage me and make me feel so great. At that point I thought, if it's good enough for God then it must be good enough for the public.
Q: What was the first song you ever sang?
A: I remember "Mack the Knife" if my memory is still intact. I loved the way Bobby Darin phrased his words and his ability to make a song into a story with so much energy and fun. The CD, This Is The Moment, are all songs that have made an impact on my life. The first episode of Star Search I was on in '94 I sang, "It's Only Make Believe," which kick started my next 25 years headlining in Vegas. My favorite movie is The Wizard of Oz, so of course "Somewhere over the Rainbow" had to be on there as well. "Play Me" by Neil Diamond was the first song I learned to play on the guitar so I had to put that on as well.
Q: What is the most personal special track on the album and why?
A: I am so glad you asked this. When my mom passed away a few years ago it damn near killed me. She was my best friend and never missed a performance. I heard a very obscure Manilow song called, "You're There." He never recorded it, but I knew I had to. I went to Joey Melotti's home, who happened to be Barry's musical director for many years and to this day still plays all his show around the world with him, and recorded what I believe to be the best track of the album. And by the reviews, everyone agrees. It's a song about people who have passed in your life but you just know they are still there, whether it's the way a shadow moves or a feeling that overcomes you. I actually had recorded a conversation with my mom and I remembered that as I said goodbye to her on the phone as I always did, I told her I loved her, and she was crying and said,"I love you, too." After recording the song, I thought what a better way to end the CD than with the actual voice of my mom. I can't hear the song without welling up every time hearing my mom's voice.
Q: How have you evolved creatively?
A: I think I have finally come into my own, sort of speak. This is the best work I have done in my 45 years as a performer, and I'm happy with how my voice has matured and I feel that my control is at it's peak. I'm always learning and looking to better myself. Don't get me wrong, but I am at place in my personal life and career where I feel really great. I'm extremely blessed.
Website: