Interview
Matt Eckstine Talks New Album and More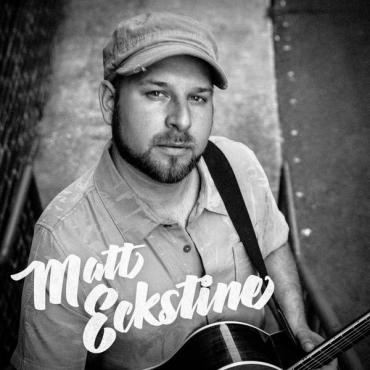 Earlier this year, Matt Eckstine released his debut solo album, a subdued yet impactful, ten track collection that begins with the thoughtful "Wheels" and travels through the blues-tinged "One Orange in The Tree," the hopeful, serene "This Heaven," and the relatable "Lonely Tonight." With only guitar, harmonica, and a voice that is quiet yet undeniably sincere, Eckstine speaks universal truths that will move you. Recently, Eckstine took some time to answer a few questions via email about his roots, the album, and more.

After years fronting The Accomplices, why was now a good time to venture into a solo career?
The band collectively decided to put things on hold for the time being with two members relocating across the country and starting a family. Instead of scrambling to create a band and hitting the clubs, I see this as a perfect time and opportunity to focus on songwriting/storytelling and exploring the opportunities of a solo singer/songwriter career.

Coming from a four piece, how different was the overall approach to this album? And did you enjoy the recording process?
The approach to this album was like nothing I have ever done in the past. When recording with a band, there is a lot more production and so many different moving parts. It felt refreshing to record an album that wasn't over-produced. I went into a favorite studio of mine, Elevated Basement, in Savannah. We set up the microphones; I sat on a stool, got comfy and went through my catalog of songs. The songs were recorded live and bare bones, with no additional overdubs or musicians. Ultimately the songs that made the cut were the best lyrically.  
Why did you bookend the album with "Wheels" and "Big Dog Blues," both of which were on an Accomplices' album?
I decided to open up the album with "Wheels" because it was the first "keeper" that I began playing at open mic nights, and one of the first tunes I presented to The Accomplices. No significant meaning behind ending the album with "Big Dog Blues", except I do like that the album ends with my famous dog bark! 

One of the three new songs on the album is "Lonely Tonight." What's the story behind the song?
I had been doing some deep soul searching and personal reflection when I wrote this song. It started with the melody that I hummed and figured out how to play on guitar. Once I got the hang of the guitar part I started singing, and the first thing that came out of my mouth was "This isn't working, it's not playing out, the way I thought it would, I think it could" I just love how sad, honest and yet still optimistic that line is. I followed that theme for the other verses using imagery of a lonely night and falling off the track of mental stability. What really sells this song for me is the bridge: "Don't it get lonely at night? Don't it get lonely at night? Stay with me tonight". It's a vulnerable line that cuts to the bone.  Sometimes when you get the blues, the only thing worth doing is singing about it, and then the blues heal you. 

What's ahead for you tour-wise/professionally?
I am currently working with a studio in Savannah on releasing a 45 single on vinyl.  I have recorded a full band version of two of the new songs on my acoustic album, "This Heaven" and "Two Fools".  I am really enjoying the freedom of working on one song at a time with a team of studio musicians and producers. I will continue with this approach until I have a record in the can.  As far as tour-wise, I plan on booking a solo tour to support my album release this fall, and make a regular loop in the region every eight to twelve weeks.  

I really admire how guys like John Prine and Todd Snider can set up a song with a great story. I feel like it makes the song much more memorable and invites the listener into the head of the artist. It's easy to put your nose down and barrel through your material, but the little stories and banter with the audience is what keeps an audience engaged and makes a singer/songwriter a great performer.  I am going to give that a go for now and see if the shoe fits.  I have talented support musicians lined up for when I need to beef up the sound, but I am mostly focused right now on exploring the singer/songwriter scene and venues in the southeast.
 
Finally, is there one recent release you cannot stop listening to and recommend others check out?
I really like the new Dangermuffin record "Heritage". They are out of Charleston, SC and are a great group of guys. They made a fantastic record.

For more information visit his official website
Find him on Facebook and Instagram
Purchase the album HERE
Originally appeared on The Daily Country