Interview
The Milk Carton Kids: Not Pissing Anybody Off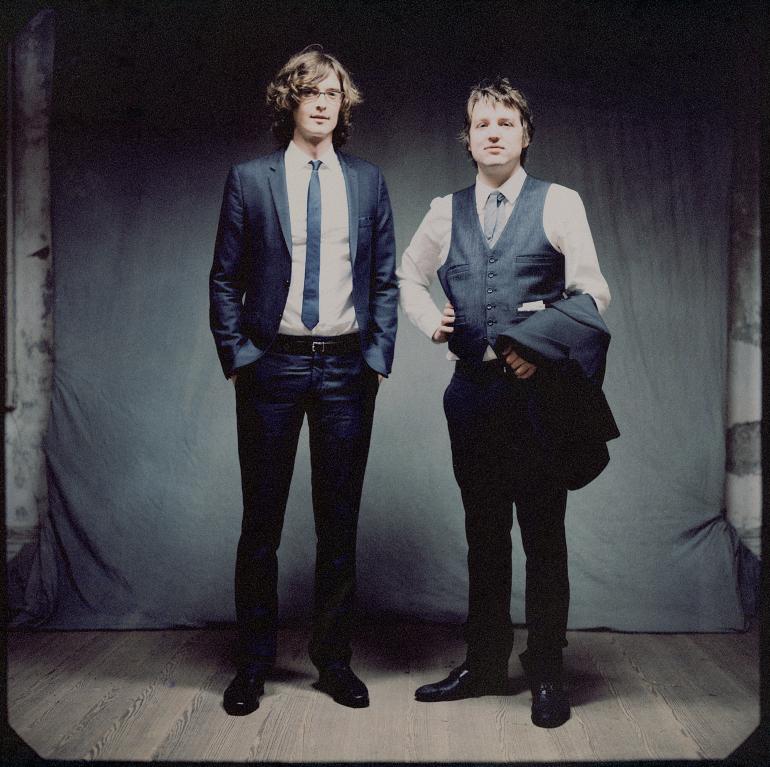 The Milk Carton Kids are not going to add a rhythm section, or a keyboard. They're not going to sing political folk songs or shake their hips. They're not the second coming of Simon & Garfunkel or the Smothers Brothers, or any other duo to whom they've been compared (for their harmonies and humor, respectively, no doubt). They're two songwriter/guitar players from California who, once upon a time, decided they'd see how far their two voices and two guitars could go.
It's a simple thing, really, you'd think. Their entire collaboration circles around one question: "What can be done – how many thoughts, feelings, and ideas can be explored – within the confines of this particular sonic limitation?" It's like what a poet does with haiku or sonnet. If you don't understand the form, it all starts to sound the same. But for the artist, limitation can be the greatest challenge. Because while that's a lovely philosophical question in and of itself, what makes the form of the "folksinger duo" so compelling is what each individual brings, and what their combination produces. In this case, one need only sit with Joey Ryan and Kenneth Pattengale for a short time to realize these are a couple of complicated guys, whose collective mind works somewhat like a Rube Goldberg machine.
Which is not to say that The Milk Carton Kids is an experimental music duo, by any stretch of the imagination. They're the first to admit that their first two recordings didn't differ much from one to the next, in terms of style and attack. A casual listener or lazy critic might see this as a lack of growth or imagination. Of course, at the very least those people would have some beautiful harmonies and easy-on-the-ear arrangements to listen to. At most, they'd be missing the point entirely.
The point, however, is not lost on the two men who make up this duo.
This February, I sat down with them during Folk Alliance in Kansas City. There wasn't really an agenda to our interview. News about their arresting, nail-on-the-head new album Monterey (out May 19 on Anti- Records) had not yet been announced. Though our conversation eventually turned in that direction, I really just turned on my recorder and asked what they wanted to talk about. I'm including most of our conversation below, starting with a discussion about something I wrote, not because I appreciate their appreciation of my appreciation of Punch Brothers (though I do), but because of where it led our conversation.
Those who have caught The Milk Carton Kids live in concert will know that conversation between these two can be meandering and lovingly antagonistic, usually riddled with sarcasm and irony, eventually landing somewhere close to what they actually mean to say. It's important to frame this interview as such, since it might otherwise seem all over the place.
Like a good guitar solo – something these two know a thing or two about – there are some notes that don't seem to fit into the key, but they must be struck to get us where the song is going. In fact, that's what their music is about: chasing the melody, finding strength in the silence between notes, freedom in limitation.
Joey Ryan: Someone was talking about how we don't have any faith in anybody to know what they're listening for.
Kenneth Pattengale: There's a breeze in here.
JR: No there's not. [laughs]
KP: What are you talking about? Are you telling this fascinating story about the German guy?
JR: No, no. She wrote an article about Punch Brothers new record. ... [A friend of mine] was saying that all the people who were writing about it – first of all nobody was writing about it. And the people who were, were distracted by how they look like a bluegrass band but aren't a bluegrass band. They just didn't understand the point of the record, musically or lyrically or thematically, but the whole thing couldn't be more obvious. I [said,] 'Did you see the one article on No Depression that totally gets it?' And he was like, 'That was the one. There was one person that totally captured what a proper music review should be of the thing.'
KP: So this interview is going to be about your music journalism as seen by The Milk Carton Kids, as told by [Joey's friend]. [laughs]
JR: No, because this article does everything a music review is supposed to do. It gives you a perspective on Kim as a person, historically where she's coming from. When I finish reading the article, I feel like it's enhanced my own ability to listen and receive the album, but also I kind of know you a little bit and I also would like to know more. It's just a delightful, insightful, helpful thing to read while listening to the album. That never happens. Music reporters and writers suck and don't know what they're doing, except for you. [laughs]
KP: What my problem is on that front, is that there don't seem to be music reviewers that will offer any negative opinions anymore. This is the most fucked-up part. All these people who are writing are whining a little bit about Punch Brothers supposing to be a bluegrass band, but they're not. [Those reviewers] can whine in a context that's preordained to be acceptable because they know they're not going to ruffle any feathers, really. But I would like to read the review of someone who disliked the Punch Brothers record and wrote why in a smart way. But nobody does that anymore.
Kim Ruehl: Well, maybe nobody wants to piss anybody off.
JR: I wrote an article that I never thought was good enough to send anybody after the first time [we played] Newport Folk Festival, titled, "Nobody's Pissing Anybody Off." It wasn't actually about music reporters, it was more about artists. Because the artists aren't pissing anybody off either. Everybody's really happy with everybody else.
KP: Until you sit down to dinner with people. [laughs]
I watched a video the other day that one of my coworkers insisted I watch before I talk to you guys today…
JR: Oh, god, that one? We've got to pull that down. That's from Seattle in, uh, Kenneth knows the date literally of every single show we've ever played, within a couple days. Sometimes you're off by a day or two.
KP: That one was June 18, plus or minus a day. Actually no let me take this back. That was June 15.
JR: I didn't want that to go online, that interview.
KP: What interview?
JR: The Fretboard Journal one.
KP: Oh yeah, I broke my rule and read the YouTube comments on it and everybody says, "Boy, Kenneth Pattengale is an asshole." [laughs] So they got that right. … Jason Verlinde didn't know what he was in for that day. What was your impression of the video?
I thought it was kind of hilarious.
KP: You enjoyed it? My problem with it is this: I am just generally self-loathing, but in that video we were two months into a two-and-a-half-month tour and I was alcohol-logged, bloated, and … I was at my end … and then I did a 30-minute thing and I probably didn't say anything positive in that interview. Whatever.
I thought it was good because it was a real moment. You could tell you'd been on the road for a while. You were being real.
JR: I like being antagonistic with each other, because that's how we push each other. But the spirit of it when we actually get upset with each other goes into a whole other…
KP: We weren't upset with each other during that video.
JR: I was upset.
KP: Well that's a personal problem. … Oh, I see. You thought I was tanking the interview.
JR: No, I think it's important to be antagonistic for the sake of the content of what we're talking about [in our music], but the tendency to be sort of personally attacking is something we can also fall into.
KP: Was I personally attacking you?
JR: Yeah.
KP: I don't remember that. I remember being grumpy and attacking writers that say the thing [about a song revealing itself to the writer].
JR: Yeah but I had just said that and then you… whatever. We're now going to argue over whether we were arguing. [laughs]
KP: Well that's why it was funny. That wasn't personal. You're a big softy, Joey Ryan.
JR: Well then maybe it was just me who was trying to personally insult you. … I get embarrassed when we let ourselves get off into that level of communication, rather than remaining productive in our antagonism, which we've been pretty good at. That antagonism has been essential to our relationship, to be mindful of when the arguments become personal as opposed to content-related.
KP I can't say I agree. And you're an idiot. [both laugh]
I want to know about why artists don't piss each other off. You were starting to talk about that a few minutes ago.
JR: Artists don't piss each other off. And we don't either.
KP: Well I'm glad your article didn't come out because actually it turned out … the guy's a phony.
JR: Well, the point was to say – throughout the festival there was no element of subversion whatsoever, except [this one] set, which it turned out later was a show. The first set, the first time I'd been exposed to him, he was pissing people off. A lot of people. He took the entire festival to task – he took all the sponsors of the festival to task for being falsely branded old-timey and folky. Like that moonshine that sponsors the festival, that comes in mason jars.
KP: He's like, 'Oh you're happy sitting there drinking your moonshine out of your mason jars,' and Joey was like, 'Yee! This is fun!' But he's a phony. The guy's a big phony. He writes about going on dates with girls in Los Angeles and how it's so hard, then he dances around like a rooster.
JR: Everyone's sitting around in the sunshine, enjoying their old timey aesthetic, and he was calling everyone out on it. He said, 'Everybody rides their bike and they all recycle,' and he's going, 'Don't fool yourself. The carbon footprint of this festival is nothing to be proud of. Even as good of a job as everyone thinks they're doing, we're still fucking it up.'
Sarcastically. 'Sorry to ruin your sunny day sitting on the lawn, but you're still fucking everything up. That moonshine you're drinking is not moonshine. That's made in a loft in Brooklyn by a trust-fund kid and distributed to boutique markets with an old timey font. That's not moonshine. That's a marketing aesthetic.'
Whether I agree with him or not, the point was, it just felt totally subversive, even to the people who are supposed to be the ones doing the subverting. In that way, it was temporarily inspiring to me and shocking. We don't even try to be subversive.
KP: And nobody should. I hope your inspiration was dampened by the realization that that's not part of music anymore. In hindsight, that's what we always think the music of the '60s and '70s was about – subversion.
JR: Or punk music, or the stuff from the underground, which naturally has an element of subversion to it, which you don't really see anymore.
Except for Kanye. He pisses people off.
JR: That's also just marketing. He's trying to launch a clothing brand.
KP: I can't stand it. And I'm glad people find us to be entertaining, if anything that we do resounds, it's because we're trying to have an honest go at being the best musicians that we can. I think, ironically, because we're not really super great musicians, the struggle for us to find that becomes entertaining. But that's in a wholly vain, insular, world dominated and run by us. If that's entertaining, whatever. We're not saying anything larger about the world or solving anybody's problems or telling anybody how they should behave or anything. That's not the place of music anymore. I wish it was. I wish people looked to music for that, but that's not it. The whole thing is an accessory.
JR: Do you think that's the role of music?
No. Not really, not these days. I do appreciate it when it does that well without being preachy. But it's not entirely true that you don't comment. On The Ash and Clay, you talk about a lot of stuff. It's not just about you and "Oh I love this girl."
KP: No, we actively reject that. But "The Ash and Clay," that's a song I wrote in 30 minutes because it was a song that we could go onstage and sing honestly every night. That's the thought that I had, but it's not meant to be overreaching.
When you think about the way John Prine writes songs, as forward and brash as he is in all of his subject matter, John Prine songs don't work if he's not so subjective and hyper-personal about it. His personality comes over even bigger than the large shit he's talking about. I'm not comparing "The Ash and Clay" to any John Prine song, because it's not meant to be a call to arms in any kind of way, or an eye-opener. It's meant to be an observation, a personal thought that's worded in a way that isn't accessed through matters of the heart or romantic cliché. If that resounds with people, awesome, but that wasn't the point.
When Josh Tillman goes on at length, chastising audiences for coming to his show and paying his bills or whatever, I get his point, but do I fucking care? No. It would actually be a more pleasant experience to see that guy, who seems like a genuinely talented and good musician, if his thing was something where you watch it and it feels honest. But it seems like he's using himself in a way that's just off-putting.
JR: Interesting. What appealed to me about him at that festival – maybe I'm making it out to be something different than it was – was just that he was expressing a different emotion than absolutely every other person. He was expressing anger and frustration, and there was no other anger or frustration. It made people uncomfortable to see someone expressing anger and frustration on a sunny day on a grassy field at a folk festival, when people are singing about love or politics that we all agree on, or any of the other accepted subject matter for a folk festival. He came out of left field, the whole place of intention that he was coming from. ... I don't know almost any of his songs, except for what he played that day, but that day he strung together a set of songs that had tension, and then I fell in love.
We don't know him at all, and here we are talking so much about him. I just saw that one set.
What's your new record about?
JR: I still have not clarified my thoughts about what to say the album is about.
KP: Time to start clarifying there, buck-o!
Well, how do you even talk about an album? You guys spend so much time playing live and writing songs and collecting songs, but do you think of it as a product, or … how do you start thinking of it more as a collection rather than songs you throw into your set?
JR: It's sort of ad hoc, I think. Assigning meaning to the work is a whole thing.
On the last album we had a very clear directive we gave ourselves which tied the record together thematically. I think incidentally this album came together in a way that's a reaction to that. It wasn't explicit. We didn't explicitly give ourselves marching orders about what we were trying to achieve on this album, other than the methodology of making the album. The real intention that drove a lot of the way the album came together was just in the way we were going to make the album, which was making it on tour, recording it on stages, not in studios, Kenneth engineering, not having anyone else in the room. This doesn't' speak at all to the content of the songs or what the album was about, but to the extent that there was a clear directive that guided the process, it was that
We're not going to go into a studio.
We're not going to make it all in the same place.
Every time we give a performance, it's very unclear whether or not that performance has to be the one that ends up on the record.
We made the album over seven or eight months, so that every time we gave a performance, we always knew we had the next day to do it again. To me, because of that freedom and lack of pressure in every given performance, the performances we selected for the album are incredibly liberated and spontaneous.
KP: It's like a jazz record. There's no stigma in the jazz world if you go and play the same song 300 times over 20 years. There are recordings of Miles Davis playing the same song 250 times. There's something about the structure of jazz music, obviously that validates that, because so much is improvisational. When it comes to the way I contribute to the band with my guitar playing, there's a through-line there. It's entirely improvisational. The 100 nights a year that we play on the road, half of them, I'll tell you with a complete straight face that I'm utter shit on the guitar. People might not agree with me, but if you see the next night maybe you have a different opinion.
JR: I agree with you but only in comparison to the nights when you're firing. But even on your worst nights, it's fine, it sounds good.
KP: My point is that it's always context-dependent and quite different … [but] you can't really expect people to receive the music that way. This record, to me, is but one set of the performances of probably what will be the next two years of these songs. I imagine a year from now we'll make another DVD – I guess DVD Is an antiquated word now – but a film, that might capture what's happening a year from now and probably a lot of the same songs will be on there, and they're going to be completely different versions on account of the fact that [an album is] just a document, it's just a snapshot.
The first two albums we made … when you have the structure both mentally and physically of going into a studio and making what's supposed to be the definitive version of a song, there's an unnatural, strange energy and pressure that starts to exact itself on the decisions you're making and the performances you get. I found it to be very stifling when it came to both Prologue and The Ash and Clay. I think all of those performances sound tight and lacking of a purpose or an honesty or truth. We've probably performed "Michigan" 400 times now, and my guess is that the album version goes somewhere in at about number 300. I'd rather have 300 other versions of that be the one that everybody listens to. To whatever extent that we could give ourselves even the possibility of getting some of those recordings to be the thing on this album, I think we did it.
I'm on a little bit of a break from listening to it. I guess it's about three weeks old now, the album. But Joey went back and stated listening to it lately. Even in that, he started hearing things that he wouldn't have honed in on when we were checking it as we went… hopefully we allowed ourselves enough of the dynamics and enough of the roughness around the edges, that it'll be something that has a number of sides to it.
JR: I find, because of the way we made it, similar to a jazz record, the specific performance that's on the record, is an important feature of the record and it might call attention to itself, as much as the song or the lyrics or the harmonies, which are completely written and composed and not at all improvisational. But that's the stuff that I don't really know what to say about, to talk about lyrically and thematically what the album is saying.
KP: Who ever wanted to know that anyway? One of my favorite albums of all time is Tom Waits Mule Variations. I don't want to know what that guy says the album's about.
JR: Does he say that it's about anything?
KP: No, but Tom waits never would, probably.
JR: What do you say when somebody asks you that?
KP: What that record's about? Who cares? Just go listen to it.
JR: But somebody just asked you and they're sitting in front of you, so what do you say? You, as the artist, are sitting here with Kim Ruehl and she asks you what this album is about.
KP: Not relevant. It's not relevant.
JR: But that's insulting to the person who asked the question.
KP: No it's not. It's relevant to the conversation we're having.
No, I think it makes sense. It's perfect, actually, because I'm sitting here and I have no idea what we're going to talk about. I didn't know you have a new record coming and then I thought, even if you do have a new record coming, I haven't heard it, so the "Tell me about your new record" conversation would be kind of boring. I have a hard time thinking of you as recording artists because what you do is more about what you do live. You make good recordings, but that's not what you're about. So it's perfect that this is what you did this time, the way you made this recording.
KP: I think it was essential. The man at the label we work with, Anti-, he heard this record and said nothing but positive things like a good company man should. Despite that, he let slip that he's been silently wondering – I guess you can't really wonder any differently – but he's been silently wondering when we're going to start fleshing arrangements out with other instruments or other band members, or other musical ideas.
JR: She doesn't [like that].
KP: You didn't look at her face when I said it. She doesn't think highly of it.         
JR: I wanted her to extrapolate…
KP: So this is the point. Andy says that he apparently hadn't allowed, in his mind, the idea that there was actual real growth to be made. And I don't blame him because we made two records that, other than the songs themselves, don't exhibit too much growth. When you put those albums back to back, they sound like one long album. But this album sounds different. In the minutia it sounds different, but anybody paying attention to it close enough realizes we're doing a very different thing.
I think that Andy realized he had the wrong impulse, which was that he'd heard two albums that sounded the same and thought the way that we were going to change that at some point is to start changing [instruments] and was corrected when we delivered an album that changed approaches and succeeded. So I'm happy with that. And also this album, while I like what it is and I think that it'll do well as what it is, I don't think the story is complete. I think we just scratched the surface on what Joey and I are able to bring out of each other as musicians in that context. I think we found a new way to play with the dog, so there's still some playing to do.
JR: Is that an expression?
KP: Playing with the dog? No, it's a metaphor that I just came up with.
JR: That's an original, right there.
KP: Are you trying to figure out if there was some extra meaning there? No, it was a pretty straight metaphor.
JR: But is "playing with the dog" something that people generally try to find new ways to do? Like skin a cat would be a similar thing that's more of an accepted idiom. Like we found a new way to skin a cat, rather than play with a dog. [laughs]
KP: No, but the mental image...
JR: How many ways can you play with a dog?
KP: Well, for three years we've just been throwing the Frisbee at the dog.
JR: And now we have a tug-of-war coming? I like it.
KP: It's an infinitely more positive image than the two of us holding a cat and trying to figure out how to skin it.
The Milk Carton Kids' new album Monterey is out May 19 on Anti- Records. You should hear it.