Interview
Mipso Comes Down the Mountain, and Into Their Own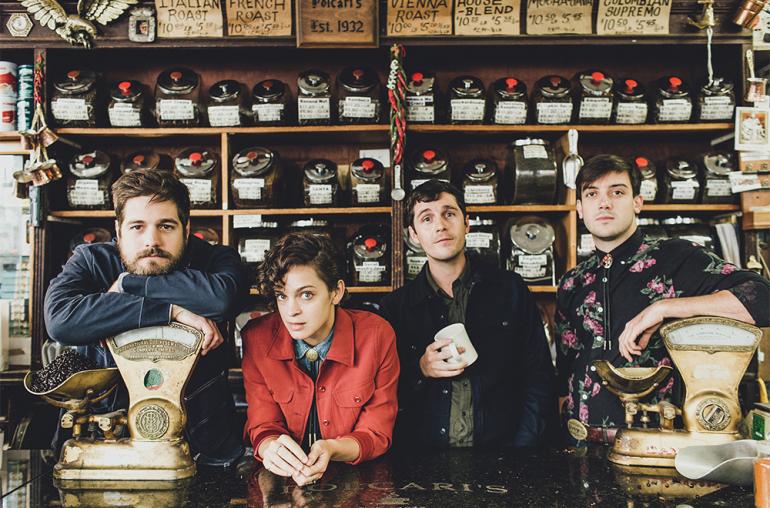 The release of a new album Friday was maybe only the second most exciting thing to happen to Mipso this week.
The quartet's alma mater, University of North Carolina, won the NCAA Championship on Monday night, a rare evening this basketball-crazy band happened to have off amid a heavy touring schedule.
About a year ago, they also pulled off the road, so to speak, to begin writing what would become Coming Down the Mountain, their fourth album. First they spent a few winter days in a cabin in Wisconsin, by a frozen-over edge of Lake Michigan, gathering ideas, themes, and thoughts. Then, after a few more months of touring, they holed up on a farm in rural North Carolina, not too far from where the band got its start in Chapel Hill, fleshing out songs they had written individually and listening to records to pinpoint studio sounds they wanted to try out.
"Touring is kind of as cluttered a social space and mental space as you can imagine, always bouncing from one thing to another, and kind of in compromised spaces with a lot of overlap," says mandolin player Jacob Sharp. "It's rare to have space to let your mind truly settle down and wander. So I think that we've started to gravitate toward spaces like farms or barns as just a place of stasis."
The result of those pauses, those intense bursts of thinking and writing and playing, is an album of 10 tunes that explore that tender spot just past the midpoint of your 20s, where the band now resides, when you're taking stock of the past while looking to the future. Just as in that stage of life, the album exudes a sense of wistfulness among moments of joy, a few worries amid youthful confidence. Some regrets mingle with a wide-open view of the future.
A 1970s Laurel Canyon vibe was in their ears and on their minds as they were making the album, but another place figured prominently, too. Three of the band's four members have recently moved away from Chapel Hill, and they wanted to pay homage to their old stomping grounds one last time. Coming Down the Mountain producer Brad Cook is a beloved figure in the music scene of the state's Triangle region — Raleigh, Durham, Chapel Hill/Carrboro — and many of the guest musicians are rooted in that fertile ground as well, including Cook's brother, Phil, on piano and organ, Eric Heywood (who plays with Tift Merritt) on pedal steel, and Mandolin Orange's Andrew Marlin on banjo. (Adding to the North Carolina flavor is a mention of fried chicken and biscuits chain Bojangles' in the album's liner notes. It's not the official food of North Carolina, but it probably should be.)
"It was kind of a celebration of the community we're so proud to have learned from over the last five years as we were, in different ways, getting ready to leave," Sharp says.
Early on, Mipso, with its rich harmonies and acoustic guitar, stand-up bass, mandolin, and fiddle lineup, was pegged as a bluegrass outfit, or at least bluegrass-adjacent. It's not a mantle they resisted, exactly, but it never was that good a fit. If they must be categorized, they might be better placed into whatever genre someone might dream up for Punch Brothers, Sarah Jarosz, or the Decemberists — a genre categorized by skilled playing, intelligent lyrics, and a nod to rootsy folk traditions but with feet firmly in the modern world.
For Coming Down the Mountain, Mipso wanted to continue to stay true to themselves while exploring new territory with their songwriting and stretching into new sounds. Drums, keyboards, pedal steel, and electric guitar — "all that stuff we've kind of flirted with in the past but never brought fully into the mix," Sharp says — make their presence known and add a new texture, maybe a new edge to the sound.
"We knew on this one we didn't want to limit ourselves," Sharp explains. "So it was less an intentional 'Let's blow up the model and expand the sound' and more 'Let's let these songs be what they naturally are.'"
Tapping Brad Cook (formerly of Megafaun) to help shepherd the songs into their final forms was a step outside their previous work with producers from the stringband world, and, in a way, a perfect pairing of their passion for music and basketball.
"When he walks into a room, he kind of takes control, but in a really sensitive way," Sharp says. "From the first time we worked with him, we realized he was not only this producer and musician who we admired and trusted, but also kind of a coach in a way that we thought we might need for this album."
Cook, as it turns out, is a fellow basketball nut. It's something "he gets especially philosophical about," Sharp says with a laugh. "He'll talk all the time about certain coaches and how it is that they, almost from a Zen perspective, trick the individuals into being this bigger thing."
Indeed, even as Mipso's four members — Sharp, guitarist Joseph Terrell, fiddle player Libby Rodenbough, and Wood Robinson on bass — tend to write individually, and bring different perspectives to the subjects they cover and emotional strings they tug, they bring the songs to life as a team, and their sound is remarkably cohesive. From the first laid-back strums on the title track, which leads the album, or the spirited fiddle kick-off on "Hurt So Good," you can identify that Mipso sound, even as you can trace how it's evolved and matured over the years.
In the lyrics, there's an awful lot of movement — long drives, trains, going up and coming down that mountain. And while it wasn't on purpose, Sharp says, it's not a surprising motif for a band that's logged as many hours in vans as Mipso has over the past few years.
"Some of that movement [became] the casing for talking about the emotions of what it means to have kind of a turbulent couple of years," Sharp says, "especially within what, for us, from a political and community perspective, felt like a particularly chaotic year, 2016. Some of those schisms and felt disturbances definitely worked their way into the album."
But touring has been a balm, too, in troubled times.
"I really appreciate that this amount of touring and this life has allowed me to ingrain myself in as many communities across the country and world as I have," Sharp says. "That's something that I'm grateful for. I don't think there's any other thing I could have done in my early 20s … that would have offered as optimistic a place to look on a chaotic world from. We constantly depend on people, whether it's a promoter or the team that we've hired to work with us, or people in a town to give us directions or houses for a night. We lean on people all the time and see both how we're different but also that we have a lot more in common than we might like to admit."
Maybe that craving to find and cherish some common ground is what makes Mipso so appealing. Their different perspectives pull in a lot of people, and it's hard not to relate to the joy and energy and turmoil of one's 20s, even if those years are getting a bit small in the rearview. It's also a thrill to see a band that has found its feet but keeps reaching upward and outward, not unlike a basketball player eyeing the hoop.
"It's our most collaborative and confident album yet," says Sharp. While there are some new directions in their sound, he says, "to us it just feels like us."
"These are the types of songs we want to make and how we've learned to create them together, and this is the sonic profile that came most organically. So for me this represents a really mature, emotional take on where this band is right now… This was a confident, joyful process of creation, and we feel really good about giving it to the world, especially right now, in a time when I think we need stuff that's both more jubilant and confident."