Interview
Mulebone Runs the Voodoo Down with Keep On Movin'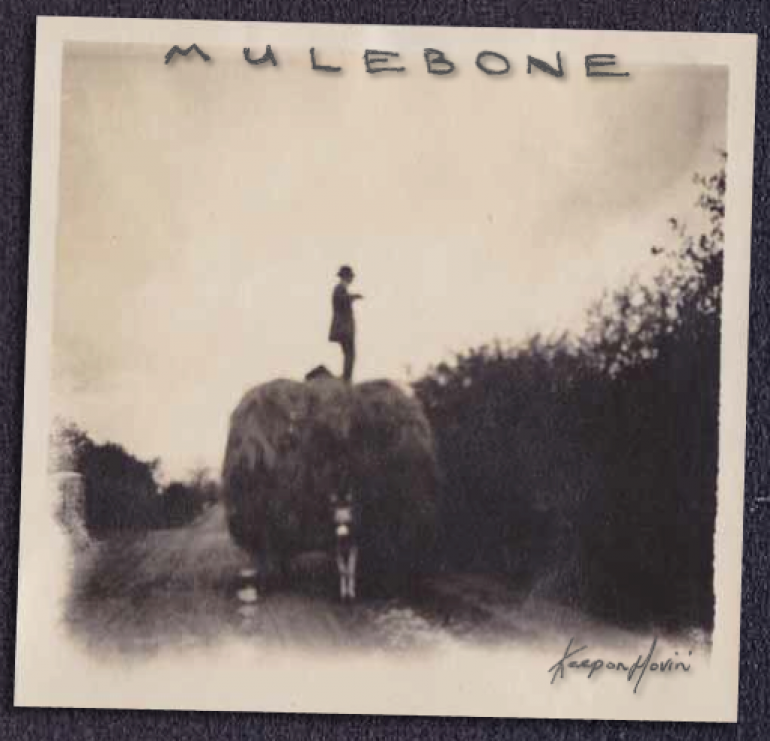 "You cannot mine this territory! The last thing I want to do is to sound like every other blues band! It's not the just 'blues!' It's art!" 
Step back everyone. Hugh Pool is on a roll at the Sidewalk Café in the East Village – a noted hipster venue wherein he routinely raises the roof, oft times in tandem with songstress Lorraine Leckie as her Demons guitar god.  When this master guitarist, songwriter, recording engineer, producer, and musical provocateur wishes to make his thoughts known, you can be sure that everyone in the joint is paying attention.  
His partner, John Ragusa, is on a roll as well. However, the Mulebone flautist and woodwind virtuoso is distinctly low key and unequivocally cerebral on the topic of the duo's brilliant new release, Keep On Movin' – which seamlessly melds tradition with modernity. As for his decades-long relationship with his animated collaborator: "Hugh does not have an inauthentic bone in his body…" intones Ragusa.  "His knowledge of music is very deep…there are lots of players out there who are derivative. The music of Mulebone is rooted in what Hugh does…this is not a white suburban kid singing the blues the way Eric Clapton did. He knows this music, then he 'owns' it!"   
Unlike most "blues" ensembles, Mulebone dispatches with the essence of that which defines the genre as known by the masses – a rhythm section of bass and drums. Imagine a blues collective minus a bass line cobbled from Willie Dixon, coupled with a pounding back beat. Proclaims Pool: "A duo is very sympathetic to an audience! People tell me 'God damn, that's a lot of music coming out of just the two of you. Our sound is backwoods and fairly primitive. But it's deep, and it's fresh. There's a lot of athleticism in what we do."
Throughout the dozen tracks which comprise Keep On Movin' , Hugh and John quarry the same aforementioned territory as Miles Davis during his electric years, and cats such as American jazz multi-instrumentalist Yusef Lateef (whom Ragusa briefly played with), who intuitively employed space as rhythmic catalyst while quoting motifs steeped in jazz, blues, African, folk,  country, soul, and every permutation thereof. Ragusa explains, "I love flying without a net. What we do is similar to the way Mississippi Fred McDowell worked. There's that 'droning' aspect that keeps you entranced…it keeps you in the moment. You do not miss the bass and drums, but you feel it."
The checkered history of Mulebone is the stuff of documentaries or, if you will, television sitcoms.  Mr. Pool revels in war stories that range from the hysterical to prophetic: driven by his passion for the blues and moving forward with Ragusa, he nearly blew off his first wedding anniversary for Mulebone's debut; listing their home addresses and phone numbers on early indie releases; discovering that their music had scaled the American Music Association Reports sans their knowledge; their residence at New York City's iconic Bottom Line wherein Mulebone won over audiences spanning gay cabaret to opening slots for Dave Edmunds, Al Kooper, and Commander Cody among many others. Pool still treasures legendary owner/promoter Alan Pepper's letter of recommendation, which remains sealed. There's the tale of how their B.B. King's Bluesville radio appearance inadvertently materialized into their 2011 gem Bluesville Sessions; John rescuing songs that Hugh had forgotten about in the Mulebone dustbins; their early cassette-only releases which helped them develop a following…and so on, and so on. When you talk Mulebone with Hugh, you learn about the real life of American indie music artists.
Keep On Movin' – as you would expect – was recorded live in the studio on a vintage Neve console onto ½' tape. No overdubs. The album is adorned with sepia photos of unknown origins: the cover depicts what appears to be a country squire in a bowler cap atop a hay bearing mule; the interior digi-pack reveals an image of a sympathetic pooch; and the back shot portrays a rural landscape. Declares Pool, "these pictures are over one-hundred years old! I discovered them in a treasure trove of junk in my attic."
John elaborates: "this album actually came into focus when Hugh found these pictures. We don't know who took them or where they came from, but they have a certain magical vibe about them that affected us.  So we put these prints on a music stand in the studio to inspire us – to channel their spirits!"        
Hugh's world weary delivery defines the opening title track, which gradually builds with repetitive guitar motifs illuminated by Ragusa's improvisations. Cuts such as "She Wants My Name," and "Ain't No Price to Pay" universally detail the human condition as it exists now and most definitely how it did whenever and wherever the above-mentioned album images were captured. Pool and Ragusa outpace each other on the rollicking "Million Miles from Nowhere," among other highlights. For the record, Hugh's tools include: guitar, National Steel, Cigar Box Guitar, Banjo, Harmonica, and Boot Board. John plies the C, Alto and Wood flutes, Fife, Tin Whistle, and Pocket Trumpet. 
"Hugh and I have different styles in many ways, but we share common ground," notes Ragusa. "And you hear that on this record."  Pool interjects – "John is poetic. He is smooth. He can play chamber music, you can put him on stage in a salsa group, and he can play legit jazz…"  
The album title is equally significant as it represents the musicians' collective and individual resilience – and commitment to their work. As an inebriated Sidewalk patron ambles over to our interview table, Mr. Pool commences his sermon: "Keep on Movin' is not about avoidance! It's not about acceptance! Even in death, your spirit is moving! Literally, what you have to do is keep on moving!"
Amen!
Mulebone's Keep On Movin' is out now on Red Tug Records. For all things Mulebone, visit www.mulebonemusic.com